Hearts of Oak are taking Ghana's Twitter by storm.
Elaborate transfer announcements might be commonplace, particularly in Europe – think Alexis Sanchez playing the piano for his move to United, which has become the ultimate meme on social media – but in Ghana, this is relatively new.
Most of the clubs in the country, the ones that are on social media anyway, restrict themselves to simple photos of the players with a one-sentence welcome message.
If they are lucky maybe they'll get a mobile phone video with the standard two-finger salute and an awkward smile.
A few have tried to buck the trend including Ashgold and NC Special Competition champions, Asante Kotoko, to varying results.
Rivals Kotoko, in particular, have offered some egregious updates, sparking the anger of their fans and the amusement of opposition supporters.
Kotoko, usually very creative with their designs and announcements on social media, have earned the ire of fans, particularly on Twitter with recent attempts to communicate their activities to their 124,000 followers on the site.
In the last month, the club sent out a number of, according to many of their fans, half-hearted tweets announcing club signings, exits and other announcements.
The tweet involved the confirmation of the departure of Adingrah Moussa is one such post.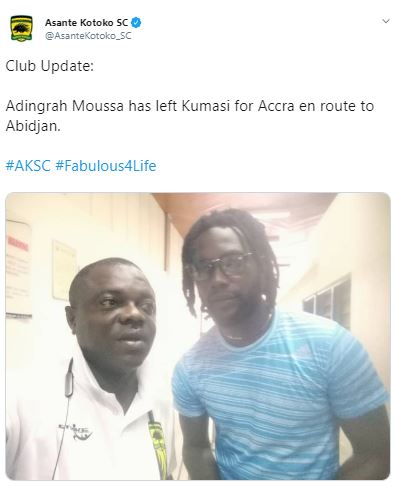 However, Kotoko's recent failings on social media have been put into starker contrast by rivals, Hearts of Oak's upturn in online form.
The Rainbow club has outstripped the other teams in terms of their engagement with fans.
Dominic Eshun welcome to the Phobian family. We wish you a happy stay. pic.twitter.com/jhPnNnpC5R

— Phobians (@HeartsOfOakGH) July 22, 2019
Their announcement of new signing Dominic Eshun got fans buzzing as it was accompanied by a well-shot, very well edited and emotional video.
Oooo phobia go kill me ooo Kw33….. This is professionally professional from the greatest club in Ghana

— MR DAVE 🇬🇭 (@AnsahDavidKwam2) July 22, 2019
This is really amazing I wish other clubs in our country learn how to unveils a player. Big ups HeartsOfOak

— George kofi koomson (@Georgekofikoom1) July 22, 2019
New striker, Bernard Arthur, might not be the biggest name to be making a move in the window but you wouldn't know it with Heart's announcement and the excitement it has generated all over social media.
We are delighted to announce the signing of striker Bernard Arthur. The former Ghana youth international has signed a long term contract with our club.#AHOSC🔴💛🔵 pic.twitter.com/vsxodKuJ0r

— Phobians (@HeartsOfOakGH) August 5, 2019
Proper unveiling. Accra hearts of oak 🔥🔥🔥🔥🔥🔥🔥🔥🔥🔥🔥🔥 https://t.co/tfjKmmtqnb

— quarshiega (@nuworkP) August 5, 2019
Hearts of Oak taking this player unveiling to a different level.

Bernard Arthur is in pic.twitter.com/SpO9x6RzaS

— Saddick Adams (@SaddickAdams) August 5, 2019
Hearts of oak's branding dier A1 oo https://t.co/zGKrmxW7nQ

— Emmanuel👊 (@EmmanuelTiTi6) August 5, 2019
Whoever is behind this hearts of Oak unveiling needs some accolades, impressive. Hope the others learn and do it better.. Phobia https://t.co/4xveVnopkU

— susan sarpomaaoa (@susansarpomaaOA) August 5, 2019
Hearts Of Oak is winning the social media game.

— El Chico Malo. (@lordtee) August 5, 2019
Master class video… we up to a new level with a different style
I know s3 we will achieve our aims and we gonna get our huge name back
In the Coach I trust

— Acquah Seth (@kobbysnoop09) August 5, 2019
Chaley ,,I can't stop watching diz video ..
Heerrr..
Phobia…..

— KAY (@KAY68841040) August 5, 2019
Even with announcements of new deals for current players, the club are not showing any signs of slowing down.
Attacking midfielder Manaf Umar has signed an improved contract at the club as he looks to take his career to new heights in the famous rainbow colours. #AHOSC❤️💛💙 pic.twitter.com/uGQCEaHTgo

— Phobians (@HeartsOfOakGH) July 25, 2019
Midfielder Mitchelle Sarpong has committed himself to an improved deal at the club and insists that he has more to offer going into the new season.❤️💛💙 pic.twitter.com/lDoNDySsdx

— Phobians (@HeartsOfOakGH) July 26, 2019
great photographs, great graphics, great everything ❤️

— WanReal (@YawBlavk) July 26, 2019
Now Phobia is doing something! Up up, now learn the social media terms and we good to go

— Genevieve Naa Amerley Quaye (@NaaBardina) July 26, 2019
This ma club hearts of oak ,big ups to the management

— Edem Zigah (@ZigahEdem) July 26, 2019
Good news and nice pictures, pls add video clips. But great work done

— Agbanyo Godwin Kofi (@godkofi81) July 26, 2019
Fans of the club will hope that this newfound success on social media will translate into equally impressive results on the pitch.