Kumasi Asante Kotoko might have just been named Team of the Year at the Ghana Football Awards on Sunday night but their recent social media work has left fans less than pleased with the club.
Kotoko, usually very creative with their designs and announcements on social media, have earned the ire of fans, particularly on Twitter with recent attempts to communicate their activities to their 124,000 followers on the site.
In the last month, the club has sent out a number of, according to many of their fans, half-hearted tweets announcing club signings, exits and other announcements.
The most recent transfer-related tweet involved the confirmation of the departure of Adingrah Moussa.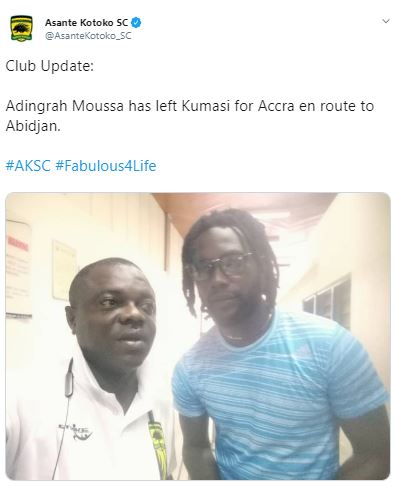 While the tweet was brief and did not offer much information other than the fact that the player was leaving Kumasi "for Accra en route to Abidjan," it was the picture which accompanied the post that irked fans the most, with one asking if the club's social media manager worked for free.
Is the handler of this account doing it for free?

Such childish photography

— Sahara (@sark_silas) July 21, 2019
Picture quality is terrible! Let's big up a little

— CatalinaWineMixer (@kofibabonee) July 21, 2019
Did you take this picture with a Siemens phone 😅😅😂

— Fiifi Mayborn (@jayfiifipaulo) July 21, 2019
Can you delete this tweet.

— Nana 🇬🇭 (@WarrenCFC) July 21, 2019
On July 15, the club announced that five players had been put "on transfer". While it was encouraging that the club was making an effort to let fans know the status of the squad, the ambiguousness of the tweet became a complaint for fans.
We have put the following players on transfer;

Obed Owusu
Dany Zabo Teguy
Umar Basiru
Stephen Nyarko
Daniel Nii Adjei.

We thank them for their services and wish them all the best in their future endeavours.#AKSC pic.twitter.com/d56962C6At

— Asante Kotoko SC (@AsanteKotoko_SC) July 15, 2019
Had the players been sold? Had they been put up for sale? Had they been released? It was almost impossible to tell for some people on social media.
Kotoko paaa, are they on transfer list that you want other teams to come for or you have released them, reframe your Grammar and come again, pic.twitter.com/4DaOUJlERP

— Addo-Darko (@AddoDarko4) July 16, 2019
Ahhh, u have released them or put them on transfer? If they're on transfer, it means they still have a valid contract with u but you're hoping someone buys them. Get ur facts right and come again. If u played FIFA, u'll understand this thing. 😂😂

— Evans Attuquaye Klottey (@NiiAttuquaye1) July 15, 2019
Released or selling?? Bcos some media are saying dey have been released

— Demigod Chesky (@DemigodChesky) July 15, 2019
Released or on transfer list? Please communicate to us well… if they are on transfer them why the bye
This means you've released(sacked) them let us know… COMMUNICATION

— Acquah Seth (@kobbysnoop09) July 15, 2019
Senanu starts rehab after surgery.#AKSC pic.twitter.com/xuZh1dARtf

— Asante Kotoko SC (@AsanteKotoko_SC) July 17, 2019
One of the most infamous tweets to come from the club in recent times announced the club's impending signing of three players; Justice Blay, Kelvin Andoh and Kwame Baah.
The picture went viral after it was first tweeted on July 4 by the club leaving Kotoko fans especially disappointed and even opposition fans shocked.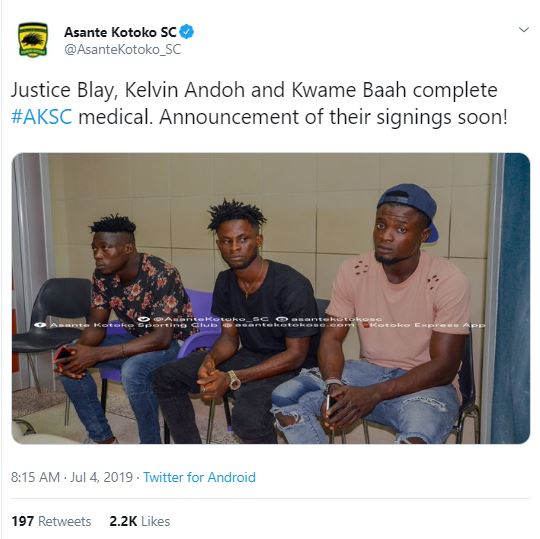 Eish Chaley But Ghana are we cursed or what? The standard of these European clubs when someone completes a medical compared to this is like Heaven & Hell tbh… sad sad sad wow!

— O. W. U. R. A. K. U. 🇬🇭 (@Kante_Tackle) July 4, 2019
What kind of picture and announcement is this????,can't we be professional for once and value our brand please

— EMMANUEL TUFFOUR (@TuffourJR) July 4, 2019
Ebi like the players bore already😂

— TUESDAE🇺🇸🇬🇭😋 (@CobbyTuesdae) July 4, 2019
Ebi like the players bore already😂

— TUESDAE🇺🇸🇬🇭😋 (@CobbyTuesdae) July 4, 2019
Why does the pic make them look like they are some "criminals"? Can't you employ graphic designers and professional photographers for these kinda things? Oh c'mon

— Sam (@SamAgyekumJnr) July 4, 2019
So Sad is that how to present a player coming to hav medicals as if dey are invited to a Police headquaters for investigation…

— Joint K (@JointK95) July 4, 2019
Your biggest club in Ghana this?

— #JoshESQ.💫❤️ (@josh_gunner1) July 4, 2019
It hasn't been all bad for Kotoko as at least the consistent updates keep fans in the loop, with many of them appreciating the engagement.
GOOD NEWS FROM 🇩🇪GERMANY…@richardsenanu14 has undergone successful knee surgery.#AKSC pic.twitter.com/i4O3UFsYHu

— Asante Kotoko SC (@AsanteKotoko_SC) July 10, 2019
However, Kotoko's recent failings on social media have been put into starker contrast by rivals, Hearts of Oak's upturn.
Dominic Eshun welcome to the Phobian family. We wish you a happy stay. pic.twitter.com/jhPnNnpC5R

— Phobians (@HeartsOfOakGH) July 22, 2019
Their recent announcement of new signing Dominic Eshun has fans buzzing.
Oooo phobia go kill me ooo Kw33….. This is professionally professional from the greatest club in Ghana

— MR DAVE 🇬🇭 (@AnsahDavidKwam2) July 22, 2019
This is really amazing I wish other clubs in our country learn how to unveils a player. Big ups HeartsOfOak

— George kofi koomson (@Georgekofikoom1) July 22, 2019
Kotoko fans are looking across the social media divide a little enviously and while their recent trophy haul might be greater, they will expect better engagement with the public to back their claim as the best club in the country.