The Maltavator Challenge is back on our screens in just two weeks and as the excitement builds, it's time to meet the six energetic Maltavators who will be representing Ghana in this year's show.
They have shown how they turn their goodness into greatness at the Maltavator Challenge recruitment events earlier this year, and now they are taking on contestants from Cameroon, Cote d'Ivoire, Ethiopia and Nigeria for a chance to walk away with a massive $20K USD.
Representing Ghana will be:
Akumba Baba Solomon- A student in sports science at KNUST. He says, "As long as I have life in me, there's no need to stop! As long as my system keeps working, I will keep pushing".
Emmanuel Gyefa- A police officer from Kumasi. He believes passionately in what he does and always gets the outcome he wants.
Ibrahim Abdul-Hateef- An actor and model who grew up in Takoradi. He believes his strongest attributes are discipline, confidence and go get it attitude!
Juliana Aventiwin Akuka- She plans to be focused and determined throughout the challenges and is hoping to go all the way to the final for the 20k USD.
Precious Appiah- Who is a beautician and network marketer. She can't wait to take on the challenge and is going to show her can-do attitude by trying her best in all the challenges.
Richard Elorm Kuevorme- A personal trainer from the Volta region. He entered the Maltavator Challenge to show the world what he's capable of. He believes his strongest attribute is the way his body adapts to any challenge.
Guided by the new presenters, Nigerian MTV VJ, Ehiz Okoeguale, and Ghanaian TV and radio personality, Regina Van-Helvert, each contestant will tackle a series of challenges set to test their physical strength and mental agility, to see who has the can-do attitude to go all the way and win the $20K USD grand prize.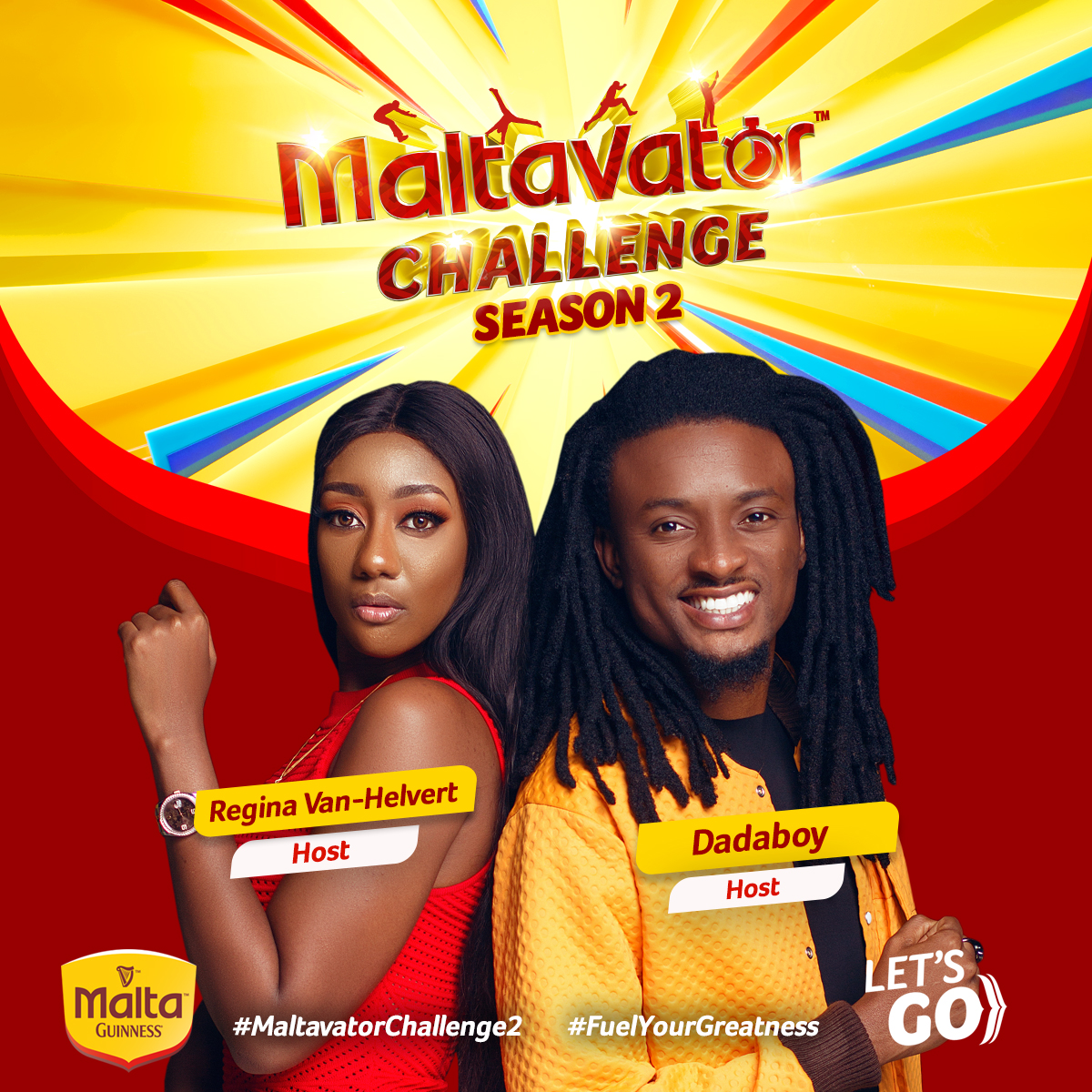 They will be fuelled with Malta Guinness, which is high in B1, B2, B3, B5 and B6 vitamins so they can all give their best effort.
Season 2 starts in August 2019 on a screen near you – watch this space for full broadcast details, or like the Malta Guinness Facebook page at https://www.facebook.com/MaltaGuinnessGhana/
The great taste, goodness, energy and vitality of Malta Guinness has been fuelling people across Africa to greatness for many years and inspiring them to live life to the full. Malta Guinness is packed full of goodness, vitality and energy.