The Premier League enters game week 5 and for Fantasy Premier League users, "The  Oracle" gives away five players you should consider picking.
Here are the five players you should consider to help rack up some points to make up for the losses of the previous weeks.
JAMIE VARDY (LEICESTER CITY)
The first one is Jamie Vardy, Leicester City striker, playing against Manchester United away from home.
Manchester United have conceded four in the last two games. And has been hit by some injuries with Luke Shaw, Paul Pogba and Anthony all out for the game.
So this is a weakened team and you expect Leicester City to punish them.
You saw what they did to Chelsea where they controlled the second half and dominated them with Jamie Vardy at the thick of things.
However, his season started a week after and he's scored a couple of goals and he is hot and you expect him to continue his goal-scoring prowess against Manchester United.
SON HUENG-MIN (TOTTENHAM HOTSPURS)
Tottenham Hotspurs have really not started the season so well but trust them to be impressive after the international break.
When he is fit and Mauricio Pochetino wants action, he is the one they go for.
Don't be surprised to see a front-two with him and Harry Kane up there for Tottenham Hotspurs and for a game against Crystal Palace, I expect him to be the difference.
Palace is going to sit very deep and the game will need his mobility in and around the box for Spurs.
And don't be surprised if he gives you a chunk of points in this round.
WESLEY (ASTON VILLA)
This is the first time he is making the list. He plays against Aston Villa.
Villa didn't necessarily start the season well but they got their first win of the season against Everton where he scored and you should expect him to continue that form.
West Ham themselves are also unpredictable when they play away from home and with Aston Villa knowing they would've to rely on home form to be able to stay up in the Premier League, expect them to go all guns blazing against West Ham.
MOHAMMED SALAH (LIVERPOOL)
Then there is the Egyptian king and he plays at home against Newcastle.
When Liverpool plays at home, I always say choose Salah ahead of any player because of his home form absolutely imperious.
Away from home then you can bench him but Salah playing at home against Newcastle should give you some massive points.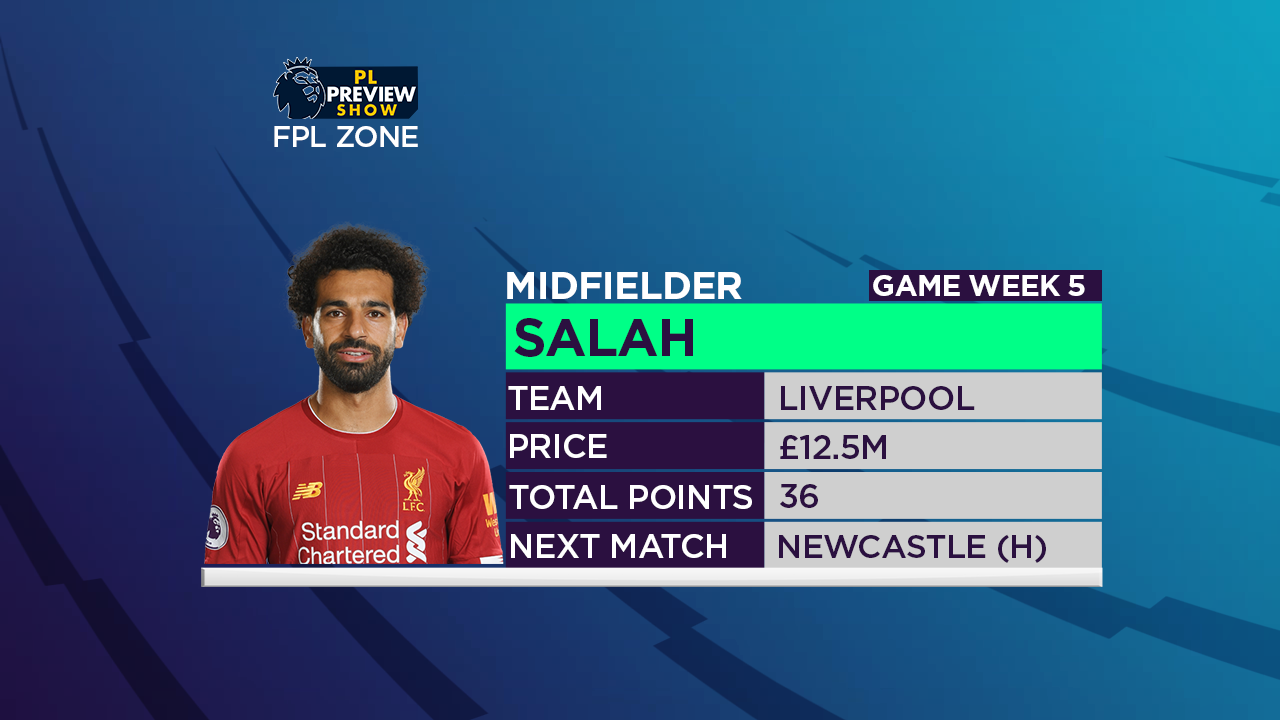 Newcastle United themselves have changed their style of play. They are no more the defensive side we saw under Rafa Benitez.
Against Spurs, they were solid but Spurs had some chances to kill the game but at that point in time Spurs have not kicked start their season properly.
But against Liverpool, they will come under pressure. This team has four wins and sits on top of the league already.
And with all the questions being asked selfishness, expect him to come up with some answers.
SERGIO AGUERO (MANCHESTER CITY)
He is my captain pick of the week.
If there is any team he loves scoring against, it is Norwich City. He scores them for fun.
The way Norwich City plays will obviously give in to Manchester City.
Against Liverpool and Chelsea, you see they are easy to defend and easy to score and Manchester City will get goals in the game.
Aguero is the man on form in the fantasy league this season with 40 points in just four games and that's an average of 10 points every game week and this is the reason why you should go for him.