Following a six-month dream reign as WWE Champion, Ghanaian-born wrestler Kofi Kingston saw it all come crashing down in 10 seconds on Friday Night Smackdown.
The title fight against Brock Lesnar had been built up to be a major battle between two of the WWE's leading names but was over before some fans had even taken their seats.
Kingston eager to get the fight underway jumped straight into an F5, Lesnar's finishing move, and was out for the three count.
Having got over the initial shock of seeing the reign of Kofi Kingston end so abruptly on the night, fans took to Twitter to express their frustration with the WWE.
According to a number of people, it was disrespectful for the company to make Kofi lose his title without a fight given the length of his reign.
Kofi Kingston deserve Better! Such embarrassment shouldn't have happened to Kofi Kingston after all he worked hard for that title

— Shatta – DKB – FunnyFace👑👑👑👑 (@FabrusL) October 5, 2019
So #KofiKingston had to drop that title eventually, sure. I get that. But he should have been allowed to go down fighting. This should have been a desperate defense. Not an 8-second squash to a heel.

A part-time champion again. Great.

Stay classy, #WWESmackDown. pic.twitter.com/wXsZVcEpNX

— SuperJamoose (@SJamoose) October 5, 2019
So unreal the amount of disrespect WWE showed to Kofi Kingston

— Pope (@Champagnep0pe) October 5, 2019
I don't care what anyone thinks or says…Kofi Kingston was one of coolest champions we've had in a long time. An absolute GOAT in my book. #ThankYouKofi pic.twitter.com/g7lzdhysJ7

— ☠ JusBOOXtreme 🧟‍♂️ (@Jus2Xtreme) October 5, 2019
Great the WWE has taken a step backwards. Won't see that title defended for at least 6 months way to go WWE Good job. You should fire the entire writing staff

— RogueOne (@BillySupinski) October 5, 2019
10 seconds. That's how long it took to turn a 6 month feel good story into a marketing campaign for the new channel.

— LoneLee (@XLoneLeeX) October 5, 2019
Welp! No more spending money and watch WWE ever again! Time to move forward with our new WCW Nitro @AEWrestling pic.twitter.com/VdhXkAIYJm

— Jesus Esparza (@JesusEsparza986) October 5, 2019
Kofi deserved better

— Samantha Katzel (@skatzel1397) October 5, 2019
The amount of disrespect WWE showed to Kofi Kingston just now is unreal.

Seth kicks out of F5's like they're nothing. Roman can stomach them for breakfast but Kofi eats one and it's game over? Who said yes to that? #Smackdown

— Marjorie Poole (@Marjori13165242) October 5, 2019
One hour later and I still can't believe WWE did that. Ruin 180 of fun and breakthrough success for Kofi Kingston for a "money match" with a guy who never wrestled in the USA and a do-little champion because of some UFC history. #SmackDown pic.twitter.com/GHpGsQuHMo

— Joe Bates (@JoeBates1992) October 5, 2019
Nothing but respect for Kofi Kingston still MY WWE Champion. #Smackdown
pic.twitter.com/MBI3g4geXa

— Musical Critic (@MusicalCritic) October 5, 2019
I was hoping when I woke up this morning I'd find out #WWE really didn't end Kofi Kingston's title run like that. #Smackdown

— Scott Fishman (@smFISHMAN) October 5, 2019
Others were much more accepting in the change of holders, describing Kingston's reign as 'boring'.
Finally Kofi's boring reign has ended.
The new champion: Brock Lesnar.👏👊

— Daniel Acevedo. 🇸🇻 (@D_Acevedo95) October 5, 2019
Good. Kofi was boring anyway.

— Ray Stranding – ラヤン (@YakuzaNinja4k) October 5, 2019
Kofi Kingston became the WWE Champion in April when he beat Daniel Bryan at WrestleMania.
It was the first world title for Kingston in the WWE, although prior to that he had been United States Champion and Tag Team Champ.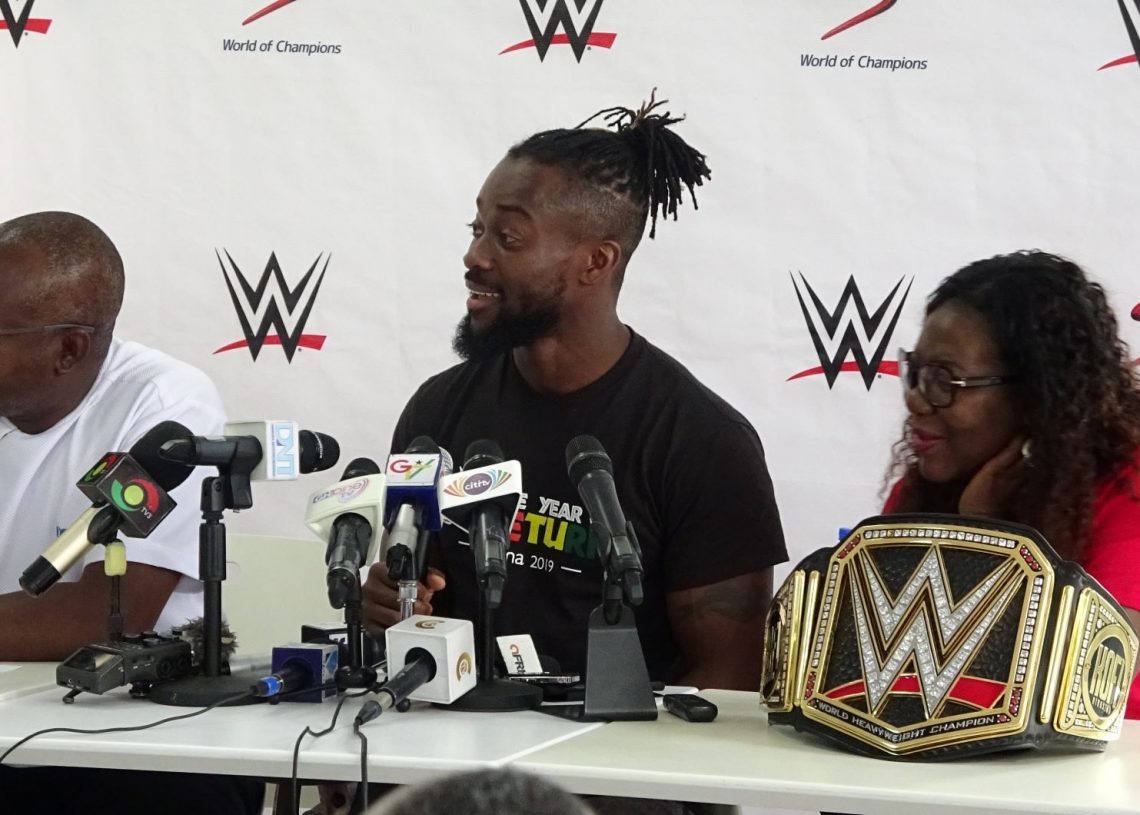 He became the first African-born world champion in WWE history, sparking some jubilation from Ghanaians on social media.
Kofi's star in Ghana had risen so much that his recent trip to Ghana received extensive media coverage.
See the video below:
DID THAT JUST HAPPEN?!@BrockLesnar just took @TrueKofi's championship in 10 seconds!!! pic.twitter.com/goeiQ5CDHg

— WWE on FOX (@WWEonFOX) October 5, 2019