It was their first defeat after two draws and one win in the ongoing Ghana Premier League, but for Liberty Professionals midfielder, Michael Sefah, it was a special moment and a memorable one for him.
This is because he scored his first goal on Sunday for the scientific soccer lads since joining the team a year ago from his Gabonese premier league side, AS Pelican.
The highly rated midfielder, who has mostly played as a centre back for the team, made a mark when he headed home the opening goal in just over 30 seconds at the Carl Reindorf Park through a corner kick.
Sefah's goal, which unsettled Hearts of Oak for a moment, could compete for the fastest goal of the season so far.
The goal looked to the match winner until the 84th minute when former Liberty striker Bernard Arthur, finished off a sleek Phobian move to deny the home side a victory.
Kofi Kodja completed the comeback for Hearts of Oak in the final minute of regulation time to seal the victory for the Accra-based side.
Speaking after the game, Michael Sefah expressed delight at his first goal for the club.
"I was really happy to score today against Hearts of Oak. I had that in mind but I knew it was not going to be an easy game. But I scored and I am very happy", he said.
Michael Sefah has been critical since his arrival at the club with his fighting spirit, energy and ferocity in midfield/defence. The versatile Sefa is always seen setting the tone beautifully for his side, flying into tackles, pressing relentlessly and tracking back doggedly, as his physicality unsettles opponents.
Sefah is a typical box-to-box midfielder with terrific energy. He sets a high tempo with his voracious work ethic and enthusiasm. He's a good passer of the ball, loves shooting from long ranges and dribbles when necessary.
While blessed with plenty of technical and attacking qualities, he does not eschew defensive tasks. With his permeating driving runs, sleek passes and discipline, the youngster has already drawn comparison with Ghana legend Michael Essien, who is coincidentally his motivation.
Coach Reginald showers praises on Sefah
Former Liberty Head Coach, Reginald Asante, had huge praises for Michael Sefah during the Special Normalization Committee Competition, and said he will be a jewel for the nation quickly.
"He has genuinely played a major function in the Liberty team. Technically and tactically he's a strong player. His effect now is pretty critical and essential in the Liberty set up now. He's a great defender, and then one particular great defensive midfielder. He's a multi-functional player; he plays each the centre back and then defensive midfield. And at present as our formation goes, we play the 3 back, and he commands the central defence. He's maintaining the backline solid".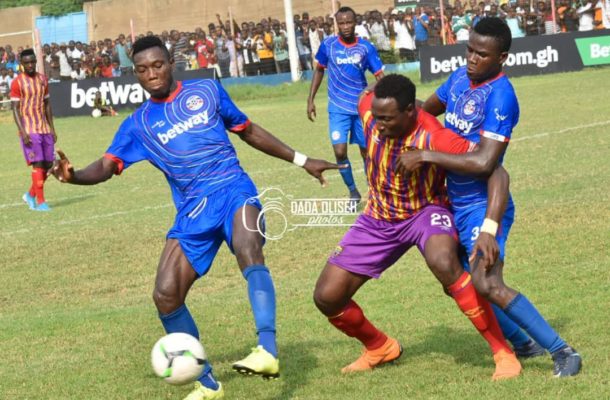 Sefah can play in the national team
Coach Reginald Asante Boateng also stated that Michael Sefah has the high quality to play in any of the national teams.
"I see him that in the subsequent year or two, he deserves a call-up in the national group, and I consider he can make a strong effect in the national team. It can be in the Black Stars or the second Black Stars. He has what it takes to be in the national team" he noted.
More about Michael Sefah
Michael started his career as a footballer with Blessing Soccer Academy, a colts club in Ghana's capital before joining South Africa's Stars Academy where his exploits attracted several suitors but it was Stade Migoveen of Gabon that won the race for his signature.
He was with the Gabonese second tier side for half season helping them gain promotion to the top-flight before switching camp to AS Pelican, also in the Gabonese top-flight with whom he stayed with for three seasons before returning to Ghana to re-launch his career with Liberty Professionals last season and was instrumental for the Dansoman based club in the Normalization Committee Special Competition.
After spending almost 4 seasons in Gabon and a season in Ghana, Sefa looks mature, adding a greater sharp physical edge and leadership quality to his burgeoning quality. "I think I'm mature now. I look fit and my knowledge, understanding and interpretation of the game and how to launch a subsequent assault response has increased" Sefah told kickgh.com.