Newcastle's Christian Atsu suffered a heavy defeat in the quarter-finals of the e-Premier League tournament.
Representing his club in the competition, Atsu met his match against Liverpool's Trent Alexander-Arnold, who secured a ruthless come-from-behind victory against the Ghanaian.
Atsu took the lead in the fourth minute through Allan Saint-Maximin but from then on was pinned back in his half for most of the first half.
Alexander-Arnold found the equaliser through Roberto Firmino before turning things around with a goal from Georginio Wijnaldum.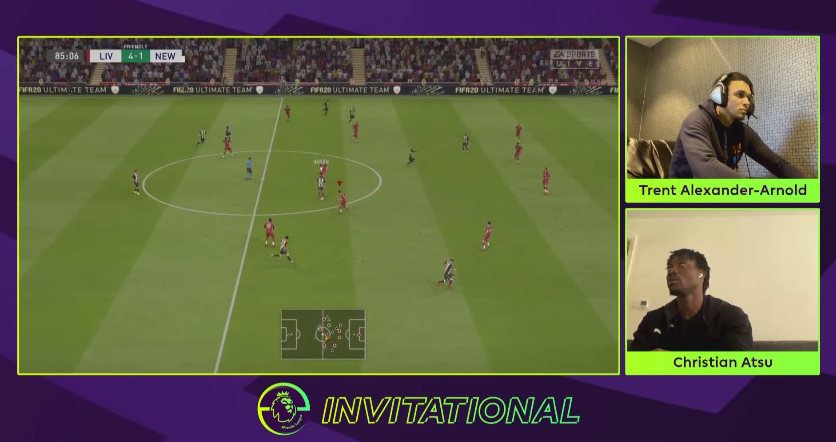 After the break, the Liverpool defender added two more with Mo Salah getting on the scoresheet and Firmino grabbing his brace.
It was a humbling loss for Atsu who had come through a gruelling encounter against Moussa Sissoko in the previous round.
Alexander-Arnold will now face either Andre Gomes of Everton or Man City's Raheen Sterling in the semis.
Below are some scenes from the match:
This one is hard to call 😬@NUFC took an early lead through Allan Saint-Maximin, but @LFC turned the match on its head to go into half-time 2-1 in front

Will @trentaa98 hold on for the W? 👀#ePremierLeague pic.twitter.com/khFOnW264e

— Premier League (@premierleague) April 24, 2020
That's it! @LFC are our first semi-finalists! They've beaten @NUFC 4-1 at Anfield 🔴

It was an inspired turnaround from @trentaa98, after @ChristianAtsu20 took an early lead

That finesse from Roberto Firmino 💯👇#ePremierLeague pic.twitter.com/OZeZYDsSJu

— Premier League (@premierleague) April 24, 2020
What a counter-attack 😍

Sadio Mane and Mohamed Salah combined to devastating effect to see @LFC through to the #ePremierLeague Invitational semi-finals

Now's lets find out who they will face 👀 pic.twitter.com/2HzA4QTRpC

— Premier League (@premierleague) April 24, 2020
Here are some reactions from fans:
Trent de ahooki Atsu 4-1 😂 Atsu destroy everything 😭 pic.twitter.com/QehgEEKJck

— meister anane 🇬🇭 (@Mr_Anane_) April 24, 2020
Atsu dey use Newcastle sef this. Imagine if he's allowed to pick Barcelona or any 5star team, like Trent go drink 5.

— Stifler (@Boyy_Stif) April 24, 2020
Atsu do normal normal drink up session😂😂. So sad. 😔.

— Sterling⚡️ (@_____Sterling) April 24, 2020
Someone said Atsu was using Kwesi Appiah tactics 🤣🤣🤣🤣 pic.twitter.com/vKHtQKslAg

— AWOTWI VANDERPUYE 👑 (@WEBBZJAY) April 24, 2020
Atsu destroy everything 😂😂😂

— 🕴🏽Mempeasem President 💉🐦🤥💙 (@AsieduMends) April 24, 2020
Fair play to Atsu. He's using Newcastle and Trent is using Liverpool, the best team in Europe, what do you expect? Lol

— Fentuo Tahiru Fentuo (@Fentuo_) April 24, 2020
Come on lad 🔴🔴

— Nca Inc. (@Ibnunca) April 24, 2020
Get it there @trentaa98 lad!!! YNWA

— Pete LFC ⭐️⭐️⭐️⭐️⭐️⭐️ (@pkhamm1892) April 24, 2020
Unlucky Atsu, wish Trent would stay off his phone whilst their trying talk to him 🤦🏼‍♂️

— Jordy Graham (@jordy_graham) April 24, 2020