Africa has produced some of the biggest superstars in football, from Samuel Eto'o to Didier Drogba and these legendary figures have often spoiled themselves with luxury vehicles – here are seven of the most expensive.
With Eto'o recently pocketing a reported R17-million on a rare Porche GT Mirage at a classic car auction in Paris, one of his other vehicles that form part of his remarkable fleet features amongst the list.
The Cameroon all-time record goalscorer's Bugatti Veyron is said to be worth an estimated £1.25m in 2020, which ousts some of the most established brands in the automotive industry.
Magnificent Mercedes 
Among these include the Mercedes Mclaren SLR, which has proven a popular choice for African footballers as former Senegal forward El Hadji Diouf and Nigeria veteran Obafemi Martins both sporting similar models.
Joining them in the crew is Drogba, with an elegant SL65 worth £164,000 (R3.5-million) in the current market, which puts him fifth on the list.
Bold Bentley and Aston Martins
Togo legend Emmanuel Adebayor, who's also not been one to shy away from flaunting his wealth, displaying his cars all over social media, also features with a stunning V12 Aston Martin DBS.
The DBS form the British auto manufacturers is often considered a 'gentleman's vehicle' due to its appearances in James Bond movies over the years.
Only 3,400 of this specific range were ever made, making it one of the rarest cars on the list, with the exception of the Veyron EB 16.4 which Eto'o has within his possession.
But not to be denied, another notable Italian brand, the Lamborghini, if the final vehicle that features, with Sulley Muntari, the former Ghana midfielder, owning a 2014 Gallardo, which was the final year in which it was produced.
Full list
Samuel Eto'o – Bugatti Veyron (£1.25m)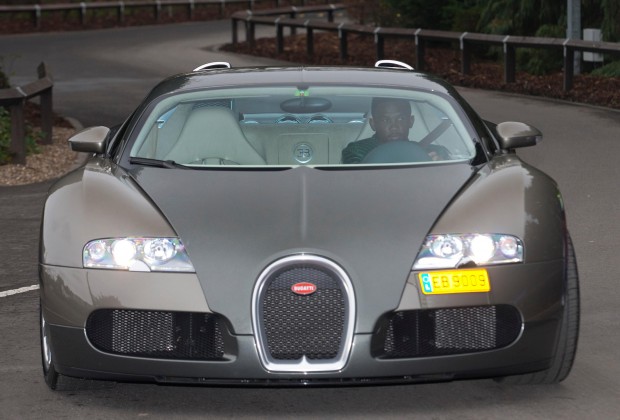 El Hadji Diouf – Mercedes Mclaren SLR (£400 000)
Obafemi Martins – Mercedes SLR McLaren convertible (£335 000)
Emmanuel Adebayor – Aston Martin DBS (£168 000)
Didier Drogba – Mercedes SL65 (£164 000)
John Obi Mikel – Bentley Continental GT (£145 000)
Sulley Muntari – Lamborghini Gallardo (£135 000)