The narrative going into Manchester United's match against Southampton, particularly after both Chelsea and Leicester had lost, centered on how the Red Devils would leapfrog both teams into third with a win.
Most United fans were certain this would happen, given their team's impressive recent form and great performances from some of their key players.
The hours between the two losses and Man Utd's Monday night game were spent on social media by fans mocking the two clubs and looking ahead to what could have been a deserved top four spot, even if temporary.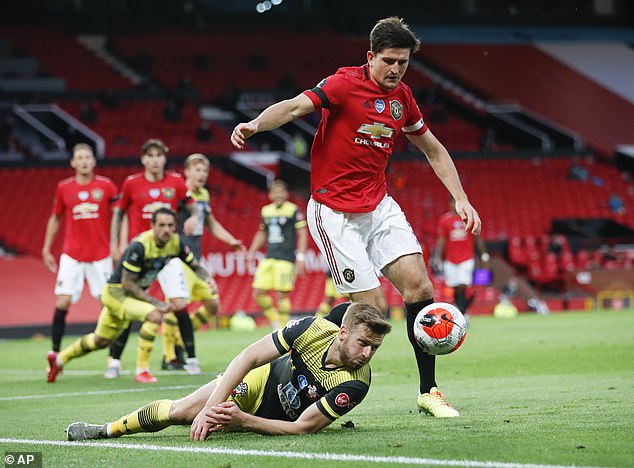 However, Southampton spoiled the party, snatching a very late draw at Old Trafford through Michael Obafemi's 96th-minute goal.
The point helped Man United move to 59 points, level with Leicester City.
Crucially, however, United stayed 5th behind Leicester who have a better goal difference and a further point behind Chelsea in third.
What should have been a celebratory night for United fans, suddenly turned into a nightmare as fans from their rivals for the top four spot, as well as Liverpool and Man City fans for good measure, took to social media to mock the Red Devils.
While Man United fans tried to pick apart this lost opportunity, opposition supporters trolled them mercilessly with many, expectedly, focusing on United's "rise" from fifth to fifth.
Take a look at some of the best reactions below:
95th minute: 96th minute: pic.twitter.com/Cz17jB2ZBd

— ESPN FC (@ESPNFC) July 13, 2020
I searched 5th and the results were this.. try it. 😂 pic.twitter.com/5oiNKYMMgy

— CHAMP19NS (@gawdeshrutii) July 13, 2020
Manchester United going back to the 5th position pic.twitter.com/MBalEUrGco

— Kasoa~Obiba~JK ⚽ 🕴 (@brokojo) July 13, 2020
Best player in the EPL rn ✊🏽….. Good morning to the 5th devils 😈👀 pic.twitter.com/dSpxbbWBF9

— Kevin (@wofa_kay9) July 14, 2020
Respect to Manchester United for going on an 18 match unbeaten run which helped them jump from a massive 5th to 5th in the table.

— TLV (@TheLampardView) July 14, 2020
Sack mourinho – 5th
Employ ole -5th
Get Maguire-5th
Sign bruno – 5th
Partner pogba and bruno -5th
Beat chelsea -5th
Beat mancity-5th
Martial Hatrick -5th
Beat bournemouth 5-2 -5th
Back in form we definitely going 3rd -5th
DRAW with Southampton -5th
Make noise on Twitter – 5th
😂

— Motormouth (@P_Myte) July 14, 2020
Or Because Our captain Maguire dey wear no. 5 jersey that's why we can't move from 5th??😔🤔

— Lατιf🇬🇭🦅 (@iLatif_) July 13, 2020
Man UTD trying to jump from 5th to 3rd position 😂😂😂😂😂😂🙈😄😄😄😄😄 pic.twitter.com/kdnpccXkIB

— 🌼 BASHEL💙 (@yawbashel) July 13, 2020
When you tell Man U to leave 5th position #MUNSOU pic.twitter.com/edMYQrsNsU

— Four-eyed Edo boy™ (@Alex_Houseof308) July 13, 2020
So man utd enjoyed the 3rd position for 90minutes And now they are back to their 5th position 🤡🤡🤡

— Queen Preshiii (@Queenpreshiii) July 13, 2020
— George 🔴 (@SeventySixRole) July 13, 2020
The floor is finishing inside the top 4

MUFC:

— MB (@ENlGMARK) July 13, 2020
Man Utd fans about to sleep.
Few mins later: God punish that Obafemi guy. https://t.co/0yCqTrRKcg

— débọ́lá the 2nd✌️ (@ogbeni_ceejay) July 14, 2020
Obafemi, i hope you win ballon d'or with that goal you scored yesterday

— Samuel Mbah (@Mbahdeyforyou) July 14, 2020
All the teams in the race for the top four – Chelsea, Leicester, Man Utd and Wolves – still have three matches to play and a separated by just five points.
Take a look at the highlights from Monday night's match here: 
🎥 The key moments from our #PL encounter against Southampton.#MUFC #MUNSOU pic.twitter.com/cd1Lf03T6w

— Manchester United (@ManUtd) July 13, 2020