Swedish based Ghanaian footballer Reuben Ayarna has revealed that long before former Black Stars midfielder Yusif Chibsah became a registered FIFA agent he was handling welfare issues for his Ghanaian colleagues in the Scandinavian country.
The two played together briefly at GAIS in 2015 but have since built a friendship beyond the football pitch.
The Club Consult Africa Chief Executive Officer spent a decade playing in Sweden for the likes of GAIS, Djurgardens IF and Gefle IF.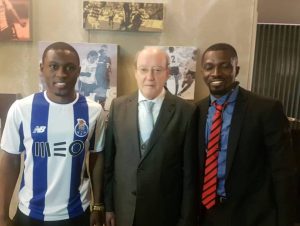 In that time span he helped Ghanaian footballers who signed to Swedish clubs in a variety of ways which included filing of taxes and paper work for families to visit, helping them settle into the country generally as well as providing advice on best practice when negotiating deals.
He even helped to form a whatsapp support group for Ghanaian footballers in Sweden that still exists.
Ayarna revealed that through the good work he put in,the players he helped out including himself urged him to take up a job as an agent which he eventually accepted after a lot of convincing.
"When I came to Sweden Chibsah really held me down and helped me settle.

"When Waris came to Sweden I connected the two of them and I just asked them to talk and through that they built a relationship.

"All these guys that he used to help out they had a lot of respect for him.

"He didn't even start as an agent he just started out as an adviser to them.

"He didn't even do it for the money and never pressured you but always presented you with the true picture.

"One agent got to know of him and found out that to sign a Ghanaian player he needed to talk to Chibsah.

"In 2016 he sent me a message saying he was retiring and that he was going to give it a go with the pool of three players in his camp," he recounted on The Tracker on Citi Tv.
Chibsah now represents more than 30 Ghanaian footballers including Majeed Waris,Daniel Amartey and Enoch Adu Kofi.