Manchester United midfielder, Paul Pogba is very prolific on social media, constantly capturing interesting moments on his phone.
However, even he wouldn't have, in his wildest dreams, expected to capture this golden moment of his French national teammate, Kurt Zouma.
Pogba and Zouma were sitting next to each other on a plane, with the Chelsea defender snoozing.
The mischievous midfielder captured his mate on camera but hit the funny jackpot when Zouma appeared to pucker his mouth in a kiss.
The defender then opened his eyes and saw himself being filmed and gave Pobga, who had turned away with the guiltiest of expressions, a death stare.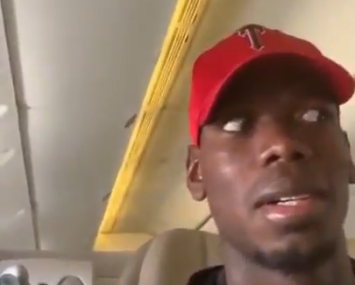 Following  Zouma's embarrassment at the hands of striker, Pierre-Emerick Aubameyang in Saturday's FA Cup final loss, one Arsenal fan decided to add salt the wounds by reposting the video.
Of course, it soon generated a huge response with many people thinking the video was even more hilarious, especially after the events of the final.
A number of people had never even seen the video before so it came as a very hilarious surprise for them.
Throwback to Paul Pogba catching Kurt Zouma kissing in his sleep. Still one of the funniest videos I've ever seen 😂😂 pic.twitter.com/k7XfmCJsKI

— #14 (@AFCTempo) August 2, 2020