Lionel Messi has reportedly agreed a record £623million deal to join Manchester City.
The 33-year-old is on a mission to force his way out of Barcelona after he handed in a transfer request.
According to Record Sport, Messi has agreed financial terms on a five-year contract worth a total of €700m (£623m).
The incredible deal would make the Argentine the highest-paid individual in the history of the sport.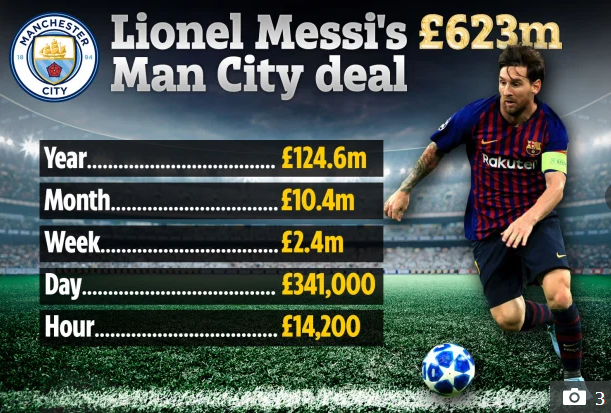 It equates to £14,200 an hour, £341,000 per day, £2.4m every week and a whopping £10.4m per month.
Messi is set to spend three seasons at the Etihad before joining City Football Group's (CFG) Major League Soccer side New York City FC for two years.
It is also reported that Messi could be offered an equity stake in CFG as part of his package.
The six-time Ballon d'Or winner has been at loggerheads with Barcelona since he handed in his transfer request to leave on a free.
New Barcelona boss Ronald Koeman has decided that if Messi does not want to stay at the Spanish giants it would be better to get him out as soon as possible.
"That's why it's extremely important for the history of the club that we do what it takes."
Barcelona claim Messi, 33, is on strike after failing to report for a Covid test and pre-season training.
But the superstar no longer considers himself a part of  Koeman's squad following a bitter row over his contract.