Just how bad is Chelsea's goalkeeping situation?
Terrible, judging by Cech's decision to don his gloves and oversee a training session for the club's goalkeepers.
The Chelsea legend, regarded as one of the Premier League's best ever keepers, hung up his gloves after his time at Arsenal and took up a management position in West London.
Prior to joining the Gunners, Cech had been part of Jose Mourinho's Chelsea multiple Premier League-winning teams that were famous for stopping teams from scoring.
With their recent atrocious defensive record, some Chelsea fans have argued that they would rather have the Czech giant in goal than any of the two options available (before the signing of Edouard Mendy) – Kepa Arrizabalaga and Willy Caballero.
And it appears Cech thinks he'd do a better job too.
He was a seen in a video that's gone viral sporting his gloves and his distinctive headgear, apparently joining the Chelsea keepers for their training session and imparting some knowledge to them.
The criticism of Chelsea's defence in recent times is definitely warranted with the Blues conceding 54 goals in the league alone last season.
The club's first two games of the season showed that despite signing Ben Chilwell and Thiago Silva, who made their first appearances last night, that their biggest problem area had still not been solved.
Goalkeeper, Kepa Arrizabalaga, bore the brunt of the criticism of Chelsea's defensive frailties last season, mostly deservedly.
Failing to keep out shots that any average goalie, let alone the most expensive in the history of football, should save easily became a feature of Kepa's season in the last campaign.
The groans of Chelsea fans any time a shot was fired at their goalkeeper, and almost inevitably ended up in the back of the net, became as frequent as the cheers for the goals scored by their squad.
This returned in their first game of the season where Brighton's solitary goal in the 3-1 loss to Chelsea came from a shot that squirmed under the dive of Kepa.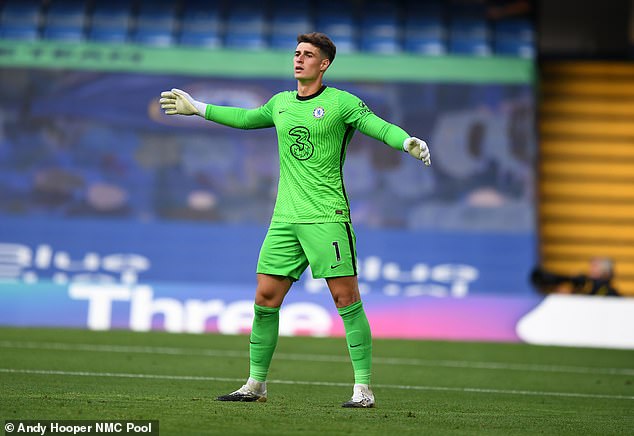 His offence was even more grievous against Liverpool a week later, gifting the ball to Sadio Mane who scored Liverpool's second goal.
Caballero was more solid in the win over Barnsley but he's not usually the safest pair of hands either.
Take a look at the video below:
Petr Cech getting fully involved in Chelsea's goalkeeper training session today 🧤🔵 pic.twitter.com/nzwRxhyKjl

— Football Daily (@footballdaily) September 24, 2020
Chelsea fans are certainly happy that Cech is employing a more hands-on approach to solving Chelsea's goalkeeping problems.
Love that the club is full of ex-players behind the scenes now, going to instil that winning mentality for years to come.

— Roman Wegotziyech (@ManoDelamonte) September 24, 2020
The legend wants the best for his club. Allow it 😂😂😂😂

— Tino_Demola (@hadheyhemor) September 24, 2020
If they don't believe in Keppa's revival they won't have 2 goalkeeper coaches and a club legend drilling the shit out of him. He is the most expensive goalkeeper for a reason.

— Christopher (@StanleyMikeCB) September 24, 2020
Kepa Dey stress my don😂

— Seb (@sebastiiiann01) September 24, 2020
They punished Kepa.. He's kneeling down😂

— Miqdad Of Laycon 50.11%💡💡Depo (@26_Meeky) September 24, 2020
For a retired legend who is now the club's director of football still coming back to take part in a GK training session shows how bad our present Goalkeeping set up are

— Praiz✌ (@FunomPraiz) September 24, 2020
It's obvious he wants to help Kepa improve. It's now left him to brace up and improve. The GK department in Chelsea too will soon be very competitive.

— Jeanmakoun (@johndotmak) September 24, 2020
Chelsea are attempting to provide some competition for Kepa with the signing of Mendy earlier today.