Citi Sports Editor, Fentuo Tahiru caught up with goalkeeper Adam Larsen Kwarasey, who gave some insight into his time with Ghana's Black Stars.
Kwarasey spoke exclusively to us on a wide range of issues, including claims that he regrets choosing Ghana over Norway, allegations of 'juju' use in the Black Stars camp, the Brazil World Cup controversies and possibly coaching the Stars in the future.
Fentuo Tahiru (FT): There were reports that you regret choosing Ghana over Norway? Is there any truth in that and how do you feel playing for Ghana?
Adam Larsen Kwarasey (ALK): That is not true at all. I'm really happy and grateful that I have been allowed to represent Ghana. I love wearing that jersey and for me, that was the only thing that I have ever wanted in terms of national team football.
FT: Do you regret that you didn't make such a huge impact with the Black Stars during your playing career, and what do you think is the reason that is?
ALK: I wish we could have accomplished more, of course, and that I could have been part of that. I think there are different reasons to why I have not played my best football for Ghana. For me personally, as a goalkeeper, I think it comes down to preperations. If you are responsible for working with a goalkeeper that is supposed to play, you have to prepare that goalkeeper the way he is used to, to get the best out of him and maybe add some of your own ideas. That position is an individual position so you have to adjust to every goalkeeper that you work with to get the best out of them. I feel at times that this wasn't the case. If Adam plays', we prepare him the best way, if Dauda plays, we prepare him or if Ofori plays, we prepare him.
FT: You have not officially retired from the Black Stars, does that mean you will still honour a call up if it's extended to you?
ALK: If I'm fit I will always do that. if I play or not doesn't matter for me as long you make a decision that you think is best for the team. And of course, if I'm the one chosen to play, prepare me for the game so I can have the best possible preparations to have a good performance for our team.
FT: There's been lots of talk about the use of black magic in the Black Stars camp over the last few months – is that something you've experienced?
ALK: I have no idea, and I don't believe or want to accuse anybody of such things. I don't wish or think about bad things for other people, especially not if we are trying to reach the same goal. It's selfish. if you play the same position as the best player in your team, do you harm him because you want to play? You harm your team and you give your team less chance of winning. I really hope that I wasn't part of a team where these things were going on because then you can't call it a team. I might be naive but for me, it is not an option to harm my teammate for me to shine. Bring together a team that has a common goal and get the best out of each other. Not a group that has individual objects that they are chasing and thinking about the national team as a way to pave way for their own careers. That will come as a result of being part of a team with success anyway. If Ghana has success, players from Ghana will automatically be more attractive anyways.
FT: Do you have any regrets about what happened at the 2014 World Cup because it appears the fans lost their love for the team after that
ALK: To be honest I don't think that that was the team's fault. I think that people other than the players should think about the decisions they took in the preparations months ahead, right before and during the tournament. They didn't even put on boots to play and managed to affect the whole tournament for us. Of course, what happens on the pitch is on us the players at the end of the day but I think some people know that they didn't put things in order, the way they should have, to get the best out of the team. I am NOT talking about money; believe that a lot of the players would have played their hearts out for Ghana without getting paid. This was more about the principle of what we went through that ended in all the chaos.
FT: You mentioned the quality of goalkeeper training. In 2014, there was a reported rift between you and Ghana's goalkeepers' trainer, Nassam Yakubu, after you said in an interview that he was never good enough. 6 years on, do you stand by these comments and if so, how much do you think his "poor training skills" contributed to your lack of massive impact with the national team?
ALK: I don't really want to blame anybody for anything. It's just my way of doing things. I am humble and I didn't want to come in and change the way things were working. I got to work with Eddy Ansah for a period of time and I felt that we had a good connection and he recognized what I needed and mixed it with his ideas. So at the beginning of my national team career, things were okay and going in a good direction. When we changed coaches that also changed for me. I didn't get the same connection with [Nassam Yakubu] but that's football sometimes. He got more out of the other goalkeepers, maybe with his way of working, and that's just how it is.
FT: Quite a lot was said about you being dropped for the game against Germany in the World Cup after the first game against the USA – do you remember the circumstances under which you were dropped? How disappointed were you to play no part at the World Cup game despite being the number 1 choice heading into the competition?
ALK: If someone decides not to play me and it's for the best thing for the team, I'm fine with that. But do it as a man and with some respect. Tell me and look me in the eyes when you do and I will respect your decision. But I have to honestly say that I was in better form 3 weeks before the WC than I was during the WC because of the simple reason that I wasn't responding to the training. I tried to do something about it during the build-up to the tournament but the response felt like "dont tell me how to do my job", which I wasn't trying to do. I basically tried to say let's do more of this or that because then I would respond better and we all look better. That was the only thing that I wanted.
FT: People say you had problems integrating into the squad with language problems, etc. Did you have any such issues connecting with the boys in terms of culture, etc? Did you ever feel like you were "alone" sometimes and could the national team managers have done better in helping you integrate?
ALK: No, not really. The only thing I wish I understood more of was maybe the practical jokes and funny stories. But everybody spoke English and communication was possible so, no not really. It's strange but I really feel strong ties to Ghana, and I would say almost more than I feel to Norway where I grew up and was born. I am so proud of being part-Ghanaian that I just loved being in an environment with people that many will call "real Ghanaians." In a way, I kind of felt jealous of them. It might sound strange but I just wanted to be considered a "real Ghanaian." It's difficult to explain but when are you considered a real Ghanaian? When you are born in Ghana? When you have two Ghanaian parents? When you speak the language? And also I had some players that I clicked with really well with and some that took really good care of me and made me feel at home. Jordan [Ayew], has a clean heart and was just genuine and friendly. And I really appreciate him. I will also say that Sulley [Muntari] took good care of me when I was introduced to the team. He never made me feel different or anything. TOP GUY! There were a lot of good guys when I first came in but if I have to mention names it'll be the two of them.
FT: What do you make of the current leadership of the Black Stars with Ayew as captain? I'm sure you heard about the captaincy controversy heading into AFCON 2019 – do you think that was poorly handled?
ALK: Andre will probably do well, he is a natural leader. Always 100 percent on the pitch and a good player as well, so no doubt about that. I have no idea How it went down so I don't even want to comment on it. I just read about it and never asked anybody about it so I didn't pay too much attention to it because I've realised that a lot of what you read in the media in Ghana is false. Just like people have written lately that I regret playing for Ghana; that's false.
FT: What would you consider the highlight of your Black Stars career and what will you say was the lowest?
ALK: When we qualified for the Nations Cup in Gabon and Equatorial Guinea; that was a special feeling. Qualifying for a big tournament and being able to contribute in the qualifiers was nice. And when we qualified for the World Cup in Brazil, I didn't play the game against Egypt in Egypt as I was on the bench but that doesn't matter for me because it's not about me it's about us doing it as a team for the country.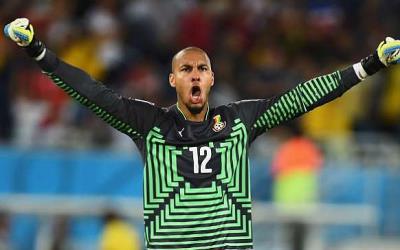 FT: Will you ever want to coach the Black Stars in the future?
ALK: Yes, I will consider going into coaching, I have already taken a license and I am working on a higher one already. There are probably lots of good coaches in Ghana and so many good former players that have so much to offer, so I don't know if I will ever be the best option for that. I don't even know if I will become a good coach if I go in the coaching direction. I'm taking the courses and all that but I haven't decided if I will go in that direction 100 percent. It is also important to be honest with yourself if you take a job like that, especially if you have strong ties to the country or are from the country. You wish your country the best. I'm sure a lot of people want that job but if you love Ghana and want the Black Stars to succeed, and know that there is another good coach that can lead the side to success and bring so much joy and happiness to the people, would you take the job or leave it for the person that will get the job done? I feel like you can't use a job like that as an opportunity or experiment. For one of the youth national teams, it's maybe more natural to say that I would love to work with them.