Social media was sent into overdrive on Wednesday when Ghana Premier League club, Legon Cities posted photos of their players taking ice baths in bins.
The club tweeted that the players had "an interesting experience" at the midweek training session, accompanied with a few pictures.
A couple of the shots showed some of the players chilling out (pun intended) in the bins, which had been filled with ice-cold water.
Of course, Twitter exploded, with the pictures going viral in minutes.
Another intense session at the Training camp…The players had an interesting experience with the ice Bath.#TheRoyals #WeDeliver https://t.co/53YRT0A8uL pic.twitter.com/En1P8UUmnU

— Legon Cities FC (@LegonCitiesFC) October 14, 2020
Some persons were bemused by the club's use of the bins for the exercise while others countered that this wasn't unusual.
Ah @LegonCitiesFC paaa, hahahahahahha.zoom lion bath

— Nana Kofi Adjei (@lexiscouture1) October 14, 2020
I hope they don't play rubbish after this.

— Qwejo Adjei (@kaba_gh) October 14, 2020
Ahhhhh is that not the rubbish bin. Lol.

— jibrielabubakar3 (@jibrielabubaka1) October 14, 2020
Nobody is saying they should be put in a swimming pool, no, its not safe, we know!
But instead of a bin, you could have found a big basin for each player or something equally accommodating, than a bin for crying out loud.
This is terrible, pull it down abeg! Ah! 🙄😏

— The Richard Yeboah™ (@brarich19) October 14, 2020
The club itself explained in a subsequent tweet that it decided to go with the bins because of COVID-19 considerations.
"In these times of COVID, it's not too healthy to put soo many players in one pool for starters. It's more of a safety measure."
Ice baths have gained greater prominence in recent years for athletes who constantly immerse themselves in freezing water for a number of minutes.
Research has shown that ice baths are quite useful, helping with muscle relaxation and circulation in particular.
Clubs around the world have adopted ice baths to get their players in top shape for matches.
While many opt for orthodox tubs or pools, others have been known to use the wheelie bins as Legon Cities have done, including Premier League clubs Arsenal and Chelsea.
When taking an ice bath, the legs and hips usually have to be completely submerged, thus the need for large containers in some cases.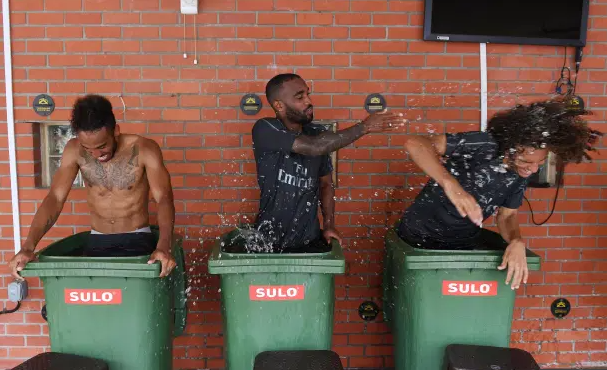 Research shows that the ''wheelie bin ice bath is best as the pressure caused by water above your legs increases the impact of the cold water.''