Despite a shocking draw with West Brom and a loss to Liverpool, Chelsea's rapidly improving form this season has given credence to suggestions that they might actually win it all.
Back in September, and on the back of some heavy expenditure by Chelsea, my initial article which suggested that Chelsea would win the Premier League this season sparked some controversy. Despite sticking to my guns some iffy early results, particularly against West Brom and Liverpool convinced some naysayers that I would eat my words, perhaps even earlier than they thought.
Since the start of the century, Chelsea have lifted the Premier League title five times. In that time, only Manchester United have won more league titles in England.
While the Blues have been crowned English champions three times in last decade, they have also failed to finish higher than third in seven of the last ten seasons. The last three seasons have been particularly challenging, with Chelsea finishing outside the Top 4 in in the 2017/18 season, crawling to a 3rd place finish the following season and then edging Leicester City out of fourth place in the just-ended campaign.
While the declining results might be blamed primarily on other sides in the league – Liverpool, Man City and Man Utd, in particular – building much stronger teams, the Blues' own free-fall in terms of team quality is a major factor as well.
Ahead of the start of the new season, however, the level of expectation from Stamford Bridge is perhaps the highest it's been in a few years, even higher than Antonio Conte's title-winning season.
Last season, Chelsea's 4th place finish, with a relatively inexperienced team and manager, was hailed as a success. This season, the word from several quarters is that anything less than the title for the West London club would be considered a failure.
Here are my five (updated) initial reasons – as well as an extra sixth – why a first Premier League title in four years for Chelsea might not be just a probability, but maybe an absolute certainty.
A first-choice Champions-League proven goal machine
Goalscoring has always proven to be a major issue for Chelsea. While the club has consistently paid big money for some of the biggest names in the goalscoring profession, the rewards have not necessarily been reciprocal enough – think Andriy Shevchenko, Alvaro Morata and Fernando Torres. It's no coincidence that the club's last, widely-acclaimed forward, Diego Costa, led them to their last Premier League title.
Last season, Tammy Abraham and Oliver Giroud (in the second half of the season) bore a large chunk of Chelsea's goalscoring duties but neither managed to crack the 20-goal mark. Actually, only Abraham managed to score above 10 goals.  In contrast, Raheem Sterling scored over 20 goals for  Man City last season while Aguero bagged 16 goals before his season-ending injury. Liverpool's Sadio Mane and Mohammed Salah scored 18 and 19 goals respectively last season. For Man Utd, Marcus Rashford and Anthony Martial both scored 17.
Chelsea are solving this problem with the signing of Timo Werner, who scored 34 goals for RB Leipzig last season. Aside from being a top-class finisher, Werner is usually first choice for his club and country, unlike Morata who barely got gametime at Real Madrid before moving to Chelsea. Werner could be the striker who could help Chelsea break through that 20-goal barrier again en route to the Premier League title.
Werner has already scored four goals in eight matches in the Premier League and struck the woodwork three times, and that's despite being played out wide for most of the games.
A new threat from set-pieces
Being a threat from set-pieces is something Chelsea teams over the years have been characterised with; quality delivery from set-pieces as well as viable targets in the box to make the most of them.
Last season Chelsea scored 11 goals from set-pieces according to Whoscored, six fewer than Man City and Liverpool's tally of 17. One major complaint levelled at Chelsea last season by fans was their constant inability to take advantage of their numerous set-pieces, either because of poor crosses, bad positioning and/or poor finishing.
The addition of serial assister, Hakim Ziyech to Chelsea's lineup for this season, is definitely a boost to the club's set-piece woes, serving as a replacement, maybe even an upgrade to Brazilian, Willian who bore the brunt of the fans' ire.
Another set-piece threat that perhaps no one considered was Ben Chilwell, whose crosses into the box have been as good as anyone's. With better delivery into the box this season, the Blues have already scored a league-high six goals from set-pieces (excluding penalties), with Kurt Zouma the biggest beneficiary.
Thiago Silva
Chelsea spent a great deal of money on a number of signings this summer. One signing that excited me as a journalist who has covered the club for years is that of Brazil defender, Thiago Silva. Chelsea's defensive issues were well-documented last season; they conceded 54 goals in the league alone.
While goalkeeper, Kepa, rightly came up for criticism, Chelsea's defenders weren't blameless either. I have said before and maintain that Chelsea's greatest loss in the last decade wasn't Eden Hazard, Petr Cech or Frank Lampard; it was John Terry. It's not just the defensive solidity that Chelsea lack, it's the leadership that Terry enforced effortlessly over the rest of the squad, particularly his defensive partners. That's the kind of impact I envisioned Thiago Silva having at Stamford Bridge as it's the kind of impact he largely had at AC Milan, PSG and for the Brazil national team.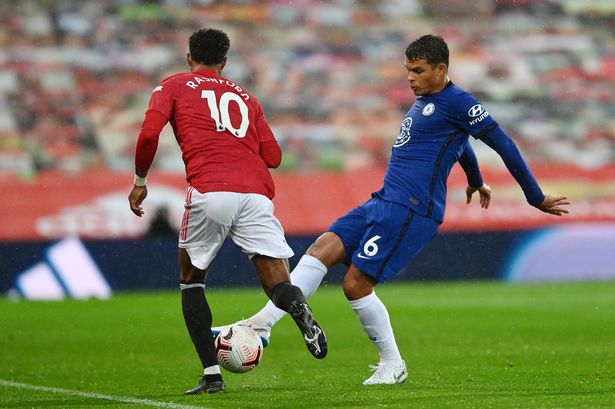 A very shocking mistake on his debut against West Brom had many wondering whether Chelsea had just bought an older, slower version of the defenders they were trying to upgrade. However, since then, he has been an absolute beast in defence for the Blues and a major factor in their three Premier League cleansheets. More than the defensive solidity he provides, it's the leadership role he has seamlessly assumed that's been key.
Chelsea will concede goals more goals but it's doubtful we'll see a repeat of the sheer silliness and volumes of goals they let in last season.
A mix of youth, experience and, most importantly, quality
Chelsea were once the team with no youngsters, then last season, they became the team with mostly youngsters. This season, Chelsea appear to have figured out a balance between the inexperienced players and battle-worn stars. Mason Mount, Tammy Abraham, Callum Hudson-Odoi, Christian Pulisic and new recruit, Kai Havertz, are all under 25, while players like N'golo Kante, Jorginho, Mateo Kovacic, Ziyech and Olivier Giroud have some miles on their metres.
While experience is always key for any Premier League team, quality is arguably even more important. One major question raised about the Blues last season was whether they have enough quality across the pitch. More often then not, they didn't, leading to dropped points in matches they should have won easily. A raft of transfers (quality signings, mind you) into the club and some widely expected transfers out of West London have created some much-needed balance and depth in quality, in the team. The manager has also been able to manage the gametime for a number of his key older stars with Kante, Thiago Silva and captain Caesar Azpilicueta handed constant rests to keep them fresh for the most important games.
A more experienced manager
Lampard's sophomore year as manager was hailed as a roaring success. Fourth place and a cup final were seen as a brilliant first season in the 'big leagues' for a manager who had only ever managed in the Championship.
It wasn't all plain sailing for 'Super Frankie' however, as he had to come to terms with the pressure that comes with managing a club like Chelsea, young manager or not.
He was criticised for his selections, in-game management, and various other decisions by fans and some pundits throughout the season.
All those were important lessons for a manager who was a roaring success as a player and has the potential to become a top manager.
The matches against Man Utd last season are a perfect case study . Chelsea lost their first three encounters against Ole Gunnar Solskjaer's Man Utd (including a humiliating 4-0 loss) before beating the Red Devils in the FA Cup semi-final. Lampard refused to compromise on his attacking style in the first few matches and was beaten by Man Utd's counter-attacking strategy. Realising his errors in the final match, Lampard's tweaks made a huge difference.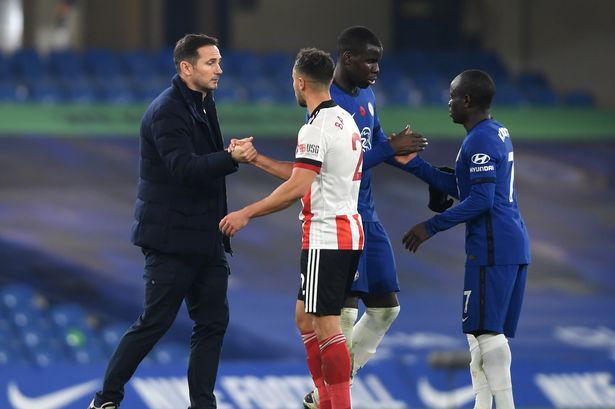 This he might not have four chances to correct his mistakes but he might not need it. Chelsea have a much better squad than they did last season and expectant fans; all the ingredients needed to bring the best out of their manager. After a less than impressive first few games, he's starting to show that he's not the same coach he was last season. Against Krasnodar in the Champions League with Chelsea only 1-0 up and struggling to create, his changes in the second half completely transformed the game, with the Blues running away with a 4-0 win.
…and here's the sixth reason…
Edouard Mendy
What a breath of fresh air Edouard Mendy has been at Chelsea. With the Blues struggling to keep balls out of their net prior to his signing, they've conceded only twice since he was handed his first start. Three cleansheets in the Premier League and three more in the Champions League. But, of course, cleansheets are a collective defensive effort. So why does Mendy still stand out as a major cog in the current Chelsea side? To be able to make that assessment it's important to consider the stae of Chelsea's dedence before he came in. Aside from being really poor offensively from set-pieces last season, Chelsea were no better when it came to defending them. They conceded 14 goals (excluding penalties) from set-pieces in the last campaign. While not all the blame can be pinned on the goalkeeper, Kepa, he didn't inspire much confidence either. He failed to make a single catch from a corner last season, relying on defenders to make clearances while he sometimes flapped about, sometimes causing more confusion than the attacking team.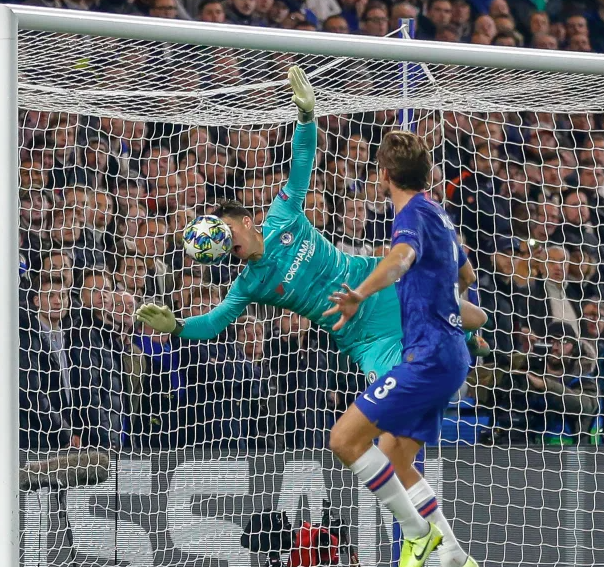 Mendy's greater control over the penalty box in set-piece situations is apparent due to his bigger frame but aside that he just seems to know when to come out and when to stay on his line. His calm nature at the back spreads to the defenders who can expect that any loose air balls will be mopped up.
One other issue with Kepa was an apparent failure to save anything that was sent in his general direction. Chelsea fans would panick anytime opponents crossed the halfway line, partly because of their porous defence but mostly because any shot on target would probably go in. It's quite sad really, considering Kepa's relatively good start to his Chelsea career and the bags of potential he clearly has, that his confidence so low.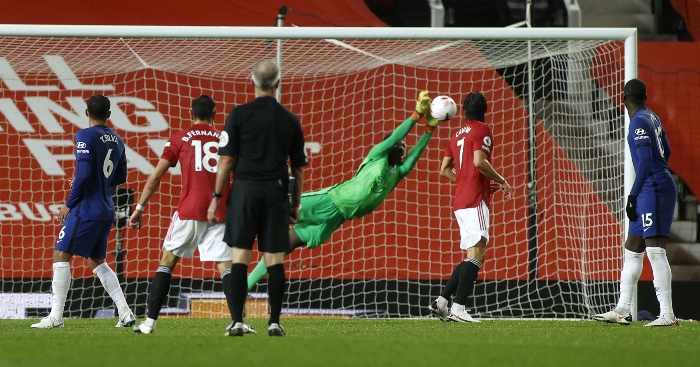 Mendy, on the other hand, has sometimes kept Chelsea in games singlehandedly; his performance against Man Utd standing out in particular.  In time, he could have the same impact Alisson's signing had on Liverpool.
While mistakes always seem inevitable, Mendy's assuring presence behind the Blues back four could be the ultimate difference between another silverware-free season for Chelsea Premier League glory.
The 2020/21 Premier League season returns after the international break. You can listen to live commentary on all the games on Citi FM.
Citi FM's coverage of the Premier League is sponsored by Betway Ghana and Absa Bank.