­Before signing for Ghana Premier League giants, Accra Hearts of Oak in February 2016, there had been whispers about a new sensation that had blown everyone away in the Division One League while playing for King Solomon FC but none was ready for the epic show Ibrahim Samudeen put on against New Edubiase on his debut.
The dust of the Nungua Town park were the first to caress his feet, birthing him into the star he has longed for.
Now and then, he would dazzle fans with his trickery with the ball wrapped and glued to his feet, giving defenders terrible times. Only the bravest dared go at him, hoping to dispose of him on the ball.
He carried all his passion on his back, got his big move to Accra Hearts of Oak, a career path which now leaves a bitter-sweet taste in his mouth and that of many who have really followed the player.
His style of play is indeed imbued in fine oud and it is only sad he, Ibrahim Samudeen has not achieved mighty things yet.
He is currently unattached with a club, but he thinks his life is okay and will soon bounce back.
"Everything is under control, life has been okay, I am training hard and all. Also, due to COVID-19, I have been home too, working on myself. I think life so far is okay. I hope to bounce back soon."
When his stint with Accra Hearts of Oak ended, he trained with Division League club, Vision, a club he says treated him with respect despite the short nature of his stay.
"I will describe my stint at Vision FC as okay because they treated me with respect, care and everything was okay. I really appreciate what they did for me."
Ten goals and 15 assists in a season for King Solomon would earn him the biggest move in his footballing career, signing for his dream club, Accra Hearts of Oak.
However, on his debut, after producing a cataclysmic performance, he left the stadium with his right foot enveloped with a bandage.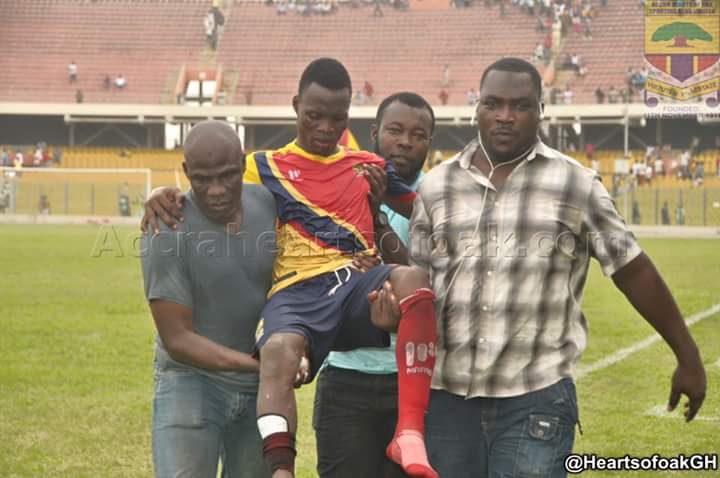 He could only manage a wry smile, looking back at his dream move and the injury he sustained on his debut.
"Breaking through at Hearts of Oak was a dream come true and sadly I got injured on my debut. I would not say that derailed my progress because injuries are part of the game. How you treat the injury also counts as well.

I took my injury as one of those things that happen in football.
Samudeen does not believe he was under any pressure to deliver but rather, the club was soaked in a lot of problems, so deep it became a reason for his exit.
"I don't think I was under any pressure to deliver, players thrive on it and I am not different. I knew joining Accra Hearts of Oak was big, I knew what was at stake. The club is huge with a large fan base, so I was expecting a lot of criticism and I really relished the challenge.

A lot of things happened during my stay, club issues, changing coaches, my injury issues as well. So I would not say it is because of pressure but things happened."
Recounting how he joined the club, the 24-year-old said after his impressive season in the Division One League, he only considered joining Accra Hearts of Oak.
"At that time, I was with King Solomon FC in the Division One League and at the end of the season, I was named the best player of the season. So at the end of the season, I got a lot of calls from clubs, poaching me to join them.

I got offers from several clubs but when I got to hear from Accra Hearts of Oak, I actually pushed for the move to happen because it was my dream club and all I wanted was to play for them.

No one can turn down Accra Hearts of Oak, the club is rich in history, the trophies, the name, culture, everything made me want to join the club."
Ibrahim Samudeen describes playing in the Ghana Premier League as not an easy task but with the right mentality, one can excel and get a bigger move outside the country.
"Well, I think it is good to play in the Ghana Premier League, and if you are dedicated to the game, work very hard and focused on developing, you will definitely get the big move outside the country.

It is not easy to get the breakthrough from the division but with hard work, even in your sleep, you will be receiving calls from people to join their clubs."
After a torrid period at Accra Hearts of Oak, he was linked with moves to King Faisal and Great Olympics, deals that never materialized.
"For King Faisal, I went to Kumasi with my agent, Yussif Chibsah and everything looked set but I don't know what happened, the move just collapsed because of some misunderstanding between both parties.

I was not too worried because I trust my agent and I have left everything to him, and he knows the right thing to do for me.

And for Accra Great Olympics, I read so many stories that I had signed for them, but I was not even close to joining them.

I am not saying I cannot sign for Olympics, because once they meet my demands and agree on things with my agent I will certainly give my best for them, just like any other club in Ghana or abroad.

Every club deserves the best of players and that is how I see myself."
There were several media reports that the former Accra Hearts of Oak stalwart had some issues with his ex-colleague, Thomas Abbey, a claim he has denied.
"I never had a problem with Thomas Abbey while at Hearts of Oak. The whole issue was based on his social media post that the players deliberately lost the FA Cup in Wa because we had not been paid which was a lie.

So I came out to deny it, and I was not the only player who denied his claims openly because it was not true. So I don't think I had a problem with him, and I was shocked when some journalists started spewing lies and blowing the whole situation out of proportion.

We have had several engagements after the whole episode, so I think we are cool, but I never had a problem with Thomas Abbey."
Many players have individuals they look up to and for Ibrahim Samudeen, it was Phobia's legend, Bernard Don Bortey.
He admired him so much that a simple call from him gave him enough reason to push for a move to the 20-time GPL winners.
"I grew up in the same neighbourhood with Don Bortey at Nungua and that was when I had the chance to play with him at Monday Special. That was how it started, and he grew fond of me and started grooming me.

I joined Accra Hearts of Oak basically because of how I idolized him and respected him. A call from him was enough to put pen to paper and join the club.

I remember he called after I won the best player award at King Solomon and at that time, the team owner of the club wanted me to also join Kotoko because that is the club he supports. So that call from Don Bortey helped me make up my mind to join the Phobians, and I am glad I pushed for the move to happen.

I don't know which club I would play for if he did not call me, and I am not too focused on that because I have lived my dream and played for Phobia."
In 2017, there were media reports that Samudeen had gone AWOL and was pushing for a move away from the club, with several reports that he was linked to clubs in Saudi Arabia, Sudan, Germany and some Eastern European country.
However, he denies claims that he was being rebellious to the club he had always dreamt of playing.
"I don't understand why some people thought I went missing.

What really happened was that I went to a funeral in Kumasi during one international break, so on my way, I took a picture and I sent it to a colleague and told him that we will keep in touch.

He then sent the picture to our team WhatsApp group, and he told them I was off to Kumasi.

Within 10 minutes, I got a call from Alhaji Akambi asking where I was and was saying a lot of things then I explained to him the situation, and I was wondering why all this controversy because it is a break and I have the right to go out and travel anywhere without restrictions.

It was not a plot to leave the club, besides, it was just my second season and I had not even considered joining any other club."
According to Samudeen, the Japanese tactician, Kenichi Yatsuhashi is the one coach that has played a key role in developing his craft.
"I think Kenichi Yatsuhashi is the one coach who had the greatest influence in my career. He believed in natural talent and always was available to help players build themselves in the game. He would never complain and all."

The transfer rumour mill is grinding again and there are speculations that a move to Egypt is on the cards, but the attacking midfielder is tight-lipped in stating which club his agent is working for him to join.

"I think that should be kept confidential for now but if any deal comes up, the world will get to know. What I can say is that something is on the cards but I cannot tell you where or how soon it will be done, it is football, anything can happen.

But I am ready to get back to the field of play and wherever I go, I will give my best."
According to Samudeen, he has been nursing the dreams of playing for the Black Stars of Ghana, but he is not so fixed on that dream.
"Every Ghanaian footballer would love to play for his country, and I am no different. However, it is not the right time to think about that now. I am focused on getting back to the pitch and giving my best and if I get a call-up I will see if I would honour it or not but for now I am not thinking about the Black Stars.
Life for a young footballer in Ghana can be tough and is riddled with unforeseen obstacles and that has been the case of Samudeen.
For the eyes that saw him dazzle in front of, perhaps the largest crowd he has ever seen, and years down the line, training in isolation in gyms to keep fit, one can sense he not done yet, there is more for the 24-year-old.
"In football, everything is possible, it depends on the level of work I put into this, and I am eager to work hard to get at my very best again. The future still looks bright for me and very soon, I hope to see some major changes."
He has had a very difficult career, with injuries a major setback in his progress coupled with some decisions that one may say has been a stumbling block in his career development.
"I don't think a certain decision I made affected me negatively in my career. I believe in life, if you fail once, you have to try again and again until you succeed.

I never intended to leave Accra Hearts of Oak, but there were problems and I know the club will tell you a different version of the story to suit their narrative. I never intended to leave, and they knew it, I was playing for my dream club but in life, things happen and you have to move on.

If the club wants to be honest, and they really want to blame someone with regard to how left, they know they have to point fingers at one man called Mac Nuna. The club knows he was the reason why most of the players left the club.

However, I think it is all part of football. Sometimes you take a step forward and two steps back and sometimes you take two steps forward and one step back."
With a move on the horizon, one can only hope if Ibrahim Samudeen will have a career resurgence in another country.
Time will certainly provide us with that answer.