Some eagle-eyed football fans spotted that an advertising sign for Mauritius displayed during last night's match between Liverpool and Tottenham misspelled the country's name.
It said 'MAURITUSNOW.COM' instead of MAURITIUSNOW.COM.
If the government of Mauritius wants to advertise their website during a Liverpool game, I think the first thing they should do is spell the name of the country correctly 🇲🇺 #LFC #YNWA pic.twitter.com/29LOPAkY55

— Sean Kelly (@virtualstatman) December 16, 2020
The Mauritius Tourism Promotion Authority (MTPA) had signed a commercial partnership agreement at a cost of 381 m Mauritian rupees ($9.7m; £7.1m) with the Premier League champions.
Some fans in Mauritius have been left wondering whether this was money well spent:
@LFC promoting #Mauritius at the cost of Rs400,000,000, all paid by the #Mauritian taxpayer.

They could not even get the name correctly! 🤦‍♂️

It is: https://t.co/G022PQfWQt!@seemauritius#TheLogicalMauritian #Moris #Tourism #AyoMoris #Liverpool #PremierLeague#LFC #LIVTOT pic.twitter.com/P1oex7LFv0

— The Logical Mauritian (@mauritianlogic) December 16, 2020
Source of inspiration: https://t.co/bNKY7gnXNT from @virtualstatman 🙏

— The Logical Mauritian (@mauritianlogic) December 17, 2020
It's not clear where the mistake originated from.
But one helpful fan bought the mauritusnow.com domain and pointed people to the correct one.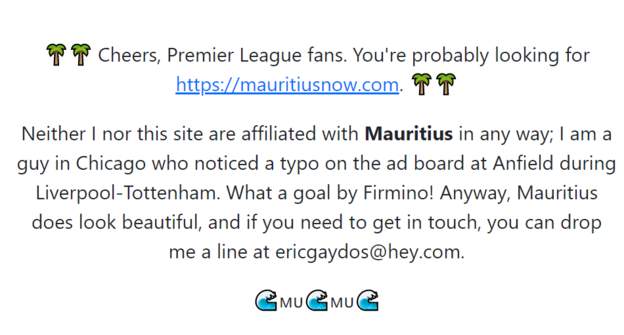 Copyright: mauritusnow.com
The MTPA told a private radio station it was a "regrettable mistake" and added it was in contact with Liverpool to "rectify the situation".