Liverpool's Alisson Becker joined an elite group of Premier League goalkeepers to ever score a goal for their clubs since 1992 when he grabbed the Red's late winner against West Bromwich Albion.
However, it is rare to find the name of a goalkeeper on the scoresheet in any game across the world as it is literally the opposite of what they are paid to do; keep the ball out of the goal.
On six unforgettable occasions, a goalie has found the net in the Premier League era. However, the previous five had seen only Paul Robinson's Tottenham Hotspur side record a win, with Asmir Begovic securing a crucial draw for Bournemouth.
All five, perhaps, are not as significant as that goal by the Brazilian shot-stopper, Alisson, to help Liverpool keep their top 4 hopes alive.
Below is the list of the other five goalkeepers to achieve that feat:
Peter Schmeichel (Everton 2-3 ASTON VILLA, October 2001)
It wasn't until the 10th season of Premier League football that a goalkeeper finally found the net in the Premier League, and it was Peter Schmeichel who did it during his time at Aston Villa.
The Manchester United legend unleashed a stunning volley at the back post from Steve Staunton's late corner in the 90th minute, but it was a mere consolation as they trailed 3-1 at the time and couldn't then find an equalizer.
Brad Friedel (Charlton 3-2 BLACKBURN, February 2004)
Brad Friedel became the second goalkeeper to score a goal in the Premier League when came up for a corner in stoppage-time and fired home with a superb striker's finish to seemingly rescue a dramatic 2-2 draw in Blackburn's away match at Charlton.
However, his equalizer wasn't late enough because he was soon picking the ball out of his own net after Claus Jensen scored a last-minute winner.
Paul Robinson (TOTTENHAM 3-1 Watford, March 2007)
The third was Spurs' Paul Robinson. Tottenham were leading Watford 1-0 when Paul Robinson's free-kick from 75 yards out took a wicked bounce over the head of Hornets goalkeeper Ben Foster and into the net.
Tottenham went on to win the game 3-1.
Tim Howard (EVERTON 1-2 Bolton, January 2012)
Tim Howard's 101-yard clearance is perhaps the best among them all.
From his end of the goal, he hit a long ball which found the back of the net of Adam Bogdan through the help of some heavy wind and an awkward bounce.
The Everton goalkeeper refused to celebrate out of respect for Bogdan, but his sportsmanship earned him no karma points as the Toffees ended up losing 2-1 thanks to goals from David Ngog and Gary Cahill.
Asmir Begovic (STOKE 1-1 Southampton, November 2013)
The quickest goal by a stopper came after just 13 seconds, but it was in no small part down to Dejan Lovren's decision to let Asmir Begovic's goal kick take a ridiculous ballooning bounce and leave Southampton's Artur Boruc helpless.
It wasn't enough to earn Stoke all three points as Jay Rodriguez struck a first-half equalizer.
Alisson Becker (West Brom 1-2 Liverpool, May 2021)
Goalkeeper Alisson scored an incredible injury-time winner as Liverpool claimed a significant victory in their quest to achieve a Premier League top-four finish by coming from behind to beat West Brom.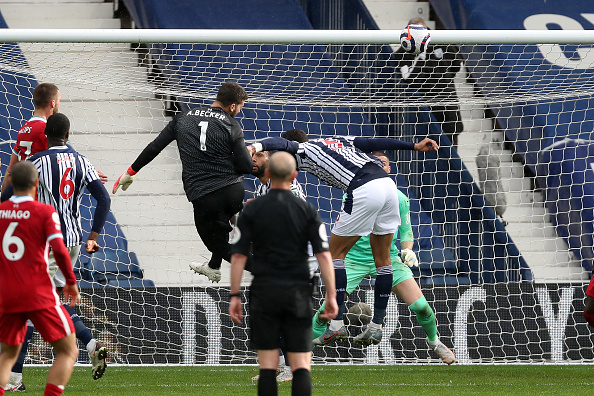 With three points a must and just seconds left of a game in which the visitors had been frustrated by an obstinate and disciplined Baggies, the Brazilian keeper came up for a corner.