Black Stars goalkeeper, Razak Abalora, will want to stay off social media for a few days at least after his howler helped Morocco beat Ghana 1-0 on Tuesday night in a friendly.
Ghanaians, who are obviously not pleased with the mistake which led to the only goal of the game for Morocco, have taken to social media platforms to berate the Asante Kotoko goalie.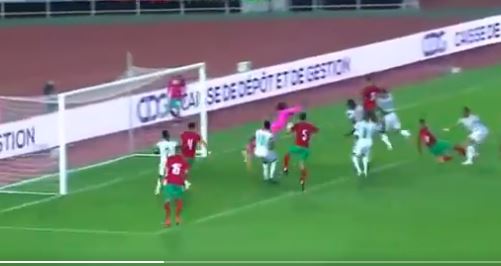 A number of people have called for Abalora to be dropped from the side while others were baffled as to why he made it into the side in the first place.
However, a few others have suggested that tonight's error was just a blip in what has been a decent season for the goalkeeper in the Ghana Premier League.
Below are some of the reactions on social media.
Razak abalora is a good goal keeper regardless. This mistake can happen to any keeper

— Takyi Welbeck (@welbecktakyi_25) June 8, 2021
I need some explanation though, how is this goalie Abalora guy good to the extent that he is in post for the Black Stars. Like I just don't understand.

— Russel Wiafe (@RusselWiafe1) June 8, 2021
Don't axe Abalora from the team. He'll come good.

— #iWontGoBack ³⁴ 🏆🇬🇭🇨🇦 (@kobby_raey) June 8, 2021
That Abalora keeper kraa why😭them play ball …he dey catch am like he is playing "stay there" 💔💔🤣

— You Retweeted (@TaataRaymond) June 8, 2021
Keep Abalora as far away from the team as possible.
Your back up goalkeeper can't be someone who makes consecutive errors in games of no pressure whatsoever.

— Victor Atsu Tamakloe 🇬🇭 (@AtsuTamakloe) June 8, 2021
Ghana #BlackStars problems of goalkeeping has been there since tete. This Abalora has developed too much complacency!!!!

Time to drop him!!!!

— Kwame KYEI (@themakosam) June 8, 2021
If Abalora is Ghana's finest goalkeeper then I am better than him

— Kob!na 🇬🇭 (@kobinaocran) June 8, 2021
In two games for the Black STARS..Razak Abalora made himself a talking point negatively

— Frank Darkwah (@Blaqqkoffi) June 8, 2021
0-0 game but naaa Razak Abalora just had to do his thing 😆….

— Seyram Suarez (@SeyramSuarez) June 8, 2021
i think it is understandable if this game is the last abalora has for the national team

— myles (@akw_asi) June 8, 2021