He watched like a proud dad from the sidelines after the blast of the final whistle signaling triumph for Ghana's Black Satellites in the finals of the U – 20 Afcon.
The hugs and tears he shared with his players depicted a relationship that had been carefully tended until it yielded the desired fruit.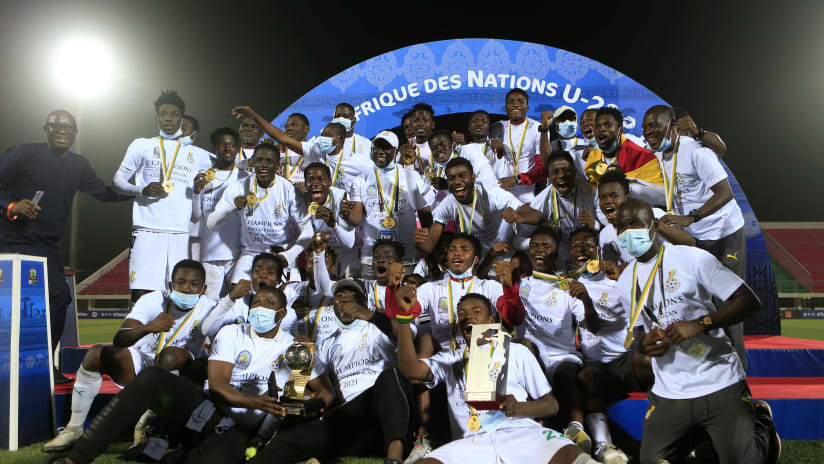 It is a bond that holds value beyond sports and the green football pitch.
In highlighting the success story of Ghana's U – 20 team, it is impossible to not notice the increased time and involvement of Abdul Karim Zito with the Ghana team after he left Dreams FC as head coach.
It is concrete evidence that in the development phase, young players require more attention to aid their technical, tactical and mental attributes than at any point.
It is the reason most countries that have thrived at the junior level including Germany and the Netherlands prioritize hiring individuals invested in player and character development.
However, Kurt Okraku, the man who took the Zito decision that produced success is contradicting himself by creating a system where coaches of club sides have now taken on the extra responsibility of managing national teams.
Coaching a national team, especially the junior sides, as we all know is a very tedious task that demands a lot of attention as well as commitment.
It is also a dream and privilege that very few coaches experience, both globally and in Ghana.
It is therefore no surprise that many of these coaches, especially in Ghana take great pride in handling the national team when handed the opportunity.
In Ghana and many other footballing countries, the national teams are broken down into various age groups to afford young and upcoming talents the opportunity to grow and develop their potential and eventually with time, graduate to the senior level.
Recently, the Ghana Football association has made several changes to the technical teams of the various age restricted national teams.
Notable among those appointments were Coach Annor Walker of Accra Great Olympics taking up the head Coaching role of the Black Stars B team, and Maxwell Konadu, the former Asante Kotoko head coach, joining the Black Starlets.
It is curious to note that in all of these appointments , about 5 of these coaches, be it head coach or assistant for these national teams, also work for club sides on full time basis.
How are these coaches expected to balance their roles and responsibilities with their various clubs who are their full time employers and that of the national teams?
At the U-17 level, Konadu will be assisted by two Ghana Premier League coaches in Winfried Dormon (Dreams FC) and Ignatius Osei Fosu (echiman Eleven Wonders).
Coach Annor Walker has also been made the head coach of Ghana's Black Stars B team and he will be assisted by WAFA head coach, Prosper Nartey Ogun.
Last but not the least, Black Satellites (U-20), is headed by Karim Zito and he will be assisted by Accra Hearts of Oak head coach, Samuel Boadu.
It remains unclear if the clubs in Ghana have clauses in their contracts that allow their coaches to handle national team roles and vice versa.
However, it can be daunting to be in charge of a national team and a club at the same time, considering the numerous demands of the modern game.
Let's take Karela United head coach Evans Adotey for instance, who was appointed first assistant coach to Karim Zito back in 2020.
He spent the larger part of February 2021 with the national U-20 side in Mauritania, abandoning Karela at a crucial time period in the Ghana Premier League.
On his return, and at the start of the second round, the team that was actively involved in the title chase, only managed two wins in a poor run that has culminated in his sack.
While others can argue that other factors contributed to Karela's poor performance, it is difficult to ignore the fact that the elephant in the room was his absence.
Coaching an U-17 or U-20 is a job that requires a lot of attention because it is at this stage that younger players are developed for the senior national teams. It also becomes difficult to monitor and track their progress at other places and clubs.
Therefore with such jobs, a coach cannot handle a national team as well as being a full time coach for a club, because you will need to channel all your energy and attention to the young players in the junior teams.
So it is usually not the ideal situation for coaches to have dual roles especially when handling junior teams.
In fact, there are 7 managers in World football history who handled both national teams and clubs at the same time.
Most popular among them being Sir Alex Ferguson who handled Aberdeen and Scotland before the 1986 World Cup and Guus Hiddink who took charge of the Russian national team in 2006 and was appointed Chelsea manager in 2009.
In my opinion, appointing club coaches as National team coaches, robs the clubs of full service from the coach.
Most age restricted competitions on the FIFA calendar take place while most leagues are in progress and thus these managers must abandon their main jobs to help out the national team.
Based on the makeup of the club side, the manager might struggle getting to properly know his players since he might mostly delegate responsibility.
It might not seem like a situation with major implications but the little nuances that help build trust and a bond between coaches and players will be lost.
Secondly, it has a potential of creating a situation of conflict of interest.
Conflict of interest may not always be illegal but it certainly is unethical and can cause misunderstanding and damage to the individuals involved.
Sometimes coaches and interested parties tend to push some of their players at club level into the age restricted national teams to play ahead of others who are more talented and deserve to play on merit.
It is not a bad thing for a coach to handle a national team and a club at the same time, however, if taking up that responsibility will deny the clubs of the coaches' full attention and commitment, then something must change!