Juventus' Women's team have been forced to apologise for a post on Twitter featuring one of their players making a racist gesture.
The player, Cecilia Salvai, pulled her eyes back into slits while wearing a training cone on her head.
The pose, which was replicated in the tweet's caption, was clearly an offensive stereotypical Asian look.
Juventus Women deleted the tweet, which was up for about 25 minutes after public outrage.
The club issued an apology, stating that the tweet was "not meant to cause controversy or have any racial undertones, may have offended anyone."
"Juventus has always been against racism and discrimination."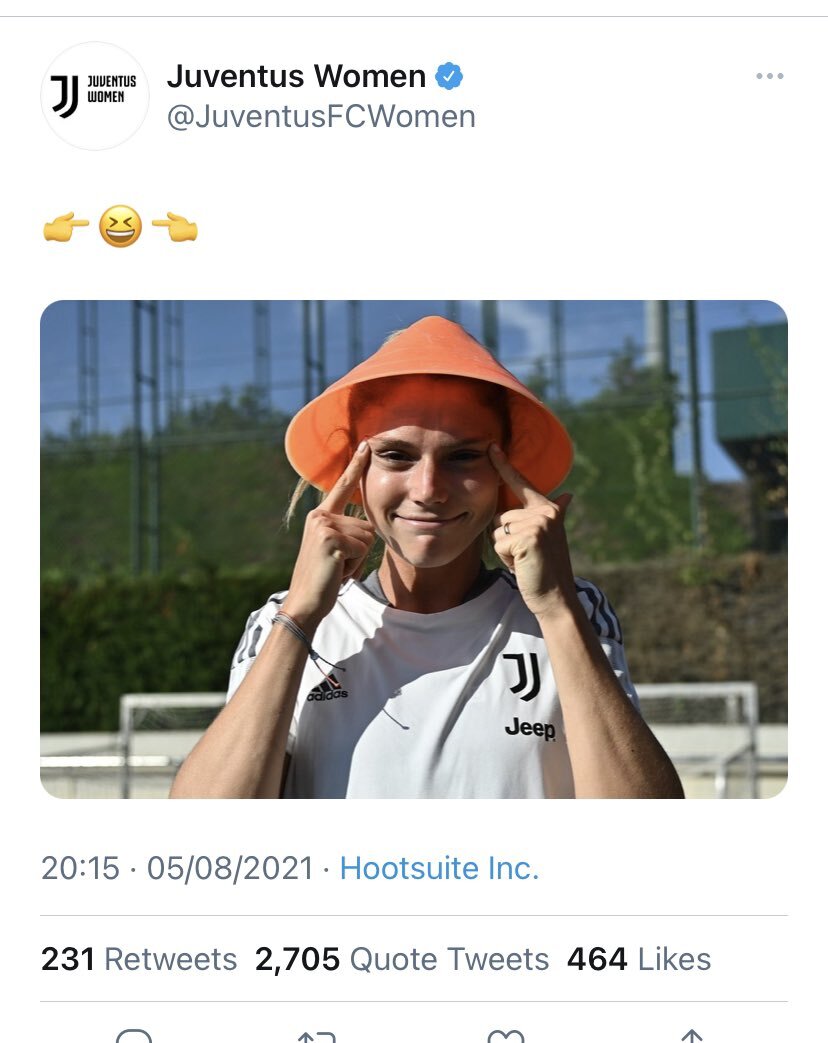 Most people on Twitter weren't pleased with the original post and with the apology as well, which they described as insincere.
Why don't you apologize for posting an actually racist image/gesture because otherwise your apology is absolutely meaningless. Unless you've been living under a rock for the last 20 years you would already have known this gesture is problematic & racist. Your nonapology 👎🏼💩

— Cindy PikaChu ✨朱良蒨 (she/her) 🌸✨ (@iamcindychu) August 5, 2021
It took a player, a photographer, and a social media person together for the post. It's shocking not one person realized the nature of this picture. If a few individuals couldn't be self-aware about this post, then clearly you are not against racism & discrimination as you say.

— M⭐️⭐️ Shapnik | No Room For Racism (@maxshapnik) August 5, 2021
this is not an apology, and the second sentence isn't true

— toni vaxton (@not_carlisle) August 5, 2021
As a Juventus fan, I'm disgusted by both your original, unambiguously racist post and this half-assed attempt to dodge responsibility for it. "Not meant," "May have." Was meant. Did. My daughter is half-Asian and I regret buying her any of your gear, which is now tainted.

— Ethan Sacks (@ethanjsacks) August 5, 2021
The question you need to ask yourselves is how the person in the picture didn't know this was racist? How did the photographer not know this was racist? How did your social media handler not know this was racist?

— Sean (@FantasticMrDaze) August 5, 2021
How on earth was that tweet not meant to be racist or cause controversy????

— Anthony Rapp 4 SAG-AFTRA Secretary-Treasurer #BLM (@albinokid) August 5, 2021