An inquest has already begun into Ghana's underwhelming start to their World Cup qualifying campaign.
Following the win over Ethiopia, which, despite the Black Stars claiming all three points at the Cape Coast stadium, was heavily critiqued for their disappointing performance, C.K Akonnor's side then lost to South Africa in Johannesburg.
A rush of requests for the head coach to be sacked and for some players to be excommunicated from the squad immediately followed after the final whistle on Monday.
Discussions over the two games have been vitriolic, with emotions running high. However, with a couple of days to mull things over, we've scrounged up five reasons for the Stars' lacklustre performances over the last week.
COVID-19 enforced absences
While many people would immediately scoff at this point, and Akonnor himself has not been eager to capitalise on it as an excuse, losing six players who started your previous competitive game, for your next match three days later cannot be overlooked. The Black Stars had to contend with the absence of Premier League stars, Jordan Ayew, and Daniel Amartey along with Championship duo, Baba Rahman and Andy Yiadom who had been barred from travelling to countries in the UK's red list.
Along with those four, Kamaldeen Sulemana and Daniel Kyereh were also recalled by their clubs. Not many managers would be comfortable with replacing half of their squad after a win when they have to play a much stronger team three days later. While those same players were average against Ethiopia, they certainly would have made an impact in the loss to South Africa. The runs of Kamaldeen Sulemana, arguably Ghana's best player against Ethiopia and, while he may have come under some criticism on Friday, Jordan Ayew's unmatched ability to retain the ball upfront and drive through defences were sorely missed against South Africa.
Injuries to key players
Arsenal's Thomas Partey and Ajax's Kudus Mohammed are without a doubt, the Black Stars' two best players right now when fit. Unfortunately, the two were unavailable for both games in Group G, culminating, perhaps not coincidentally, with two of the Black Stars' worst pair of performances in recent years. Midfield was one of the most criticised aspects of the Stars' match against Ethiopia and the calming touch of Partey might have been crucial in that game and also against South Africa.
Ghana also lacked a cutting edge in both matches and seemed short of ideas, particularly in the final third, a problem Kudus has been able to somewhat alleviate since he came into the squad. And it certainly doesn't hurt that he has scoring experience in the FNB stadium.
Against Ethiopia, Ghana lost Crystal Palace winger, Jeff Schlupp, who had started the game promisingly on the left, to injury. The penetrative runs in the early minutes against Ethiopia were non-existent or few and far between in the second half of that match and against the Bafana Bafana. It's perhaps a bit unlucky that Akonnor could not call on his two best players for the matches, two players who could have been the X-Factor the team desperately needed.
Inept game management
Not having two players available should not excuse C.K Akonnor and his technical team from criticism, however. He has been quite rightly (although some of it has crossed the line) lambasted for his approach to both games, his reaction to the opponents' tactics and how his side have finished their two games.
Unlike many others, I feel he got his starting lineup for the Ethiopia match spot-on. Where he failed was not adapting to the tactics of the Ethiopians who were clearly ready to give up possession, sit back, and counter whenever they got the chance to. He was given the perfect opportunity to restructure his side with Schlupp's injury. Bringing on a third centre-back and pushing the full-backs into wing-back positions seemed like the most ideal option at the time. The Ethiopians seemed weaker and more porous down the wings and did not have enough quality (or desire) to take advantage of a more advanced defensive setup. The introduction of Daniel Kyereh stalled those plans. As the game wore on the Black Stars seemed to sit back, allowing the Ethiopians more and more possession. With the quality they had on the pitch, the Stars should, at no point in time be outplayed by Ethiopia (no offence).
Against South Africa, Akonnor made the most of the cards he had been dealt. The understrength Black Stars did creditably to hold the South Africans at bay in the first half. However, the longer the game went on, the more it became clear that the Black Stars had no plan going forward. And threatening your substitutes to "score or else" might not be the best way to motivate them.
Poor substitutions
"In the second half, we somehow lost the midfield in terms of how we want to play because we believed that we could win the game. We did one or two substitutions, which really went the other way round and we kept dropping and dropping." Those were Akonnor's words after his side conceded late against South Africa. Here's a head coach admitting that his substitutions were practically useless in that game.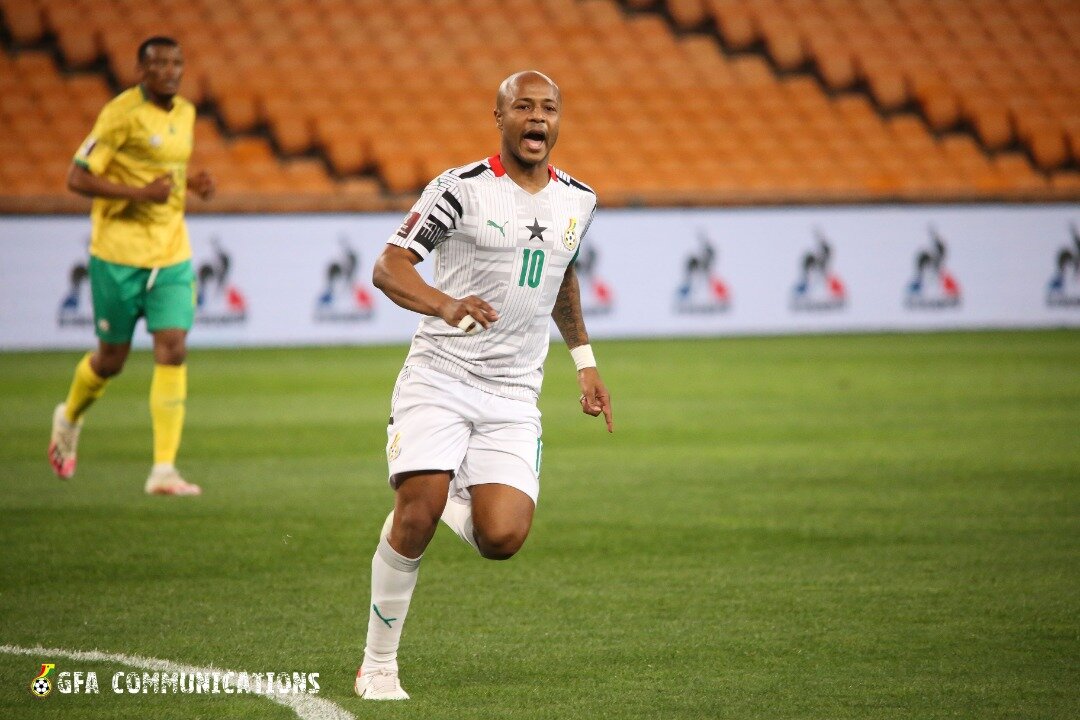 Let's take a look at his subs in that game: Kwame Opoku for Joel Fameyeh in the 60th minute, Samuel Owusu for Andre Ayew in the 71st minute, Lawrence Ati Zigi for Richard Ofori in the 78th minute and Iddrisu Baba for Majeed Ashimeru right after. The changes were basically like-for-like and did nothing to adjust the shape of the team that was dropping deeper and deeper as the clock ticked. And there was really no reason to keep Andre Ayew on until after the 70th minute.  How do you expect your team to automatically play better you brought in players; players who were arguably worse than those who had been taken out.
The players
While the Black Stars have certainly had better sets of players than they do now, the current squad is not as devoid of quality as the results and performances suggest.
However, regardless of how good they play for their club sides, most of them seem to be stuck in first gear whenever they pull on the national team jersey. Complacency might well have been a factor against Ethiopia but against South Africa it was pure incompetence.
Did Ghana have all their best-possible players available for the two matches? Absolutely not but these are the players Akonnor and his team decided to put their trust in and it backfired.
They were either gifting possession away, unclear of what their role was, seemingly uninterested, dwelling on possession for too long, not making the right passes, crosses or runs, not pressing effectively enough and missing opportunities.
A larger conversation on which players should be selected for national team assignments and which players need to be let go must be had but many of the ones who were selected did not do enough to prove that they deserved the call-ups.