Patrick Vieira has taken over from Roy Hodson who admirably ensured Palace maintained their topflight status for the past 5 Premier League (PL) seasons.
Whilst this feat has looked easy on paper, there seemed to be some school of thought that Roy Hodson's ability to keep up with modern trends in football were questionable. Eight games into the season, Crystal Palace already look a different side from the one that lost 2-0 at Anfield on the last day of the season. We attempt to understand why this is so through some figures and charts.
Patrick Vieira was a household name in the 2000s in the PL. His decision to make a return to England as a manager had a positive effect on Crystal Palace's squad at the end of last season and their prospective signings. Vieira's philosophy as detailed below encompasses something like the system he thrived in as an Arsenal player.
His aura as a player remains a legacy as the current Palace Squad seems to have a very clear idea of the kind of player their new manager was.
In terms of how Patrick Vieira has changed Palace, it stems from Vieira trusting youth, dynamically attacking opponents, focusing on pressing whilst reducing the goalscoring burden on Wilfred Zaha.
The feel of having an Invincible as a coach was echoed when Eze first saw him. Kouyate also reinforced this as he felt he had the chance to finish his career having played for a manager he idolized as a player; he has been forced to give it his best.
Vieira has made wholesale changes to the squad composition as the teams' average age has dropped to 28.1 years from 29.1 years. The signing of Joachim Andersen, Marc Guehi has formed a new central defensive partnership with a different skill set.
Palace can now move into attacking phases from defensive phases using the vision and passing range of Joachim Andersen to get their team higher up the pitch after defensive phases.
The signing of Conor Gallagher and Will Hughes has complemented the aging legs of Cheikh Kouyate, Luka Milivojevic as well as James McArthur.
Previously, Hodson would have focused on a two-man deep-lying midfield to frustrate opponents whilst not providing enough legs to go up and down the pitch. By so doing, Vieira has been able to improve the teams' ability to recover the ball from opponents and move the ball a lot more progressively.
Palace's average possession has improved from 36% in the 20/21 Season to 52% as at same Gameweek (8) in 21/22. The shift from a flat 4-4-2 or 4-2-3-1 to a more progressive 4-3-3 or a more dynamic 4-2-3-1 setup has made Palace a more difficult side to break down.
Vieira's decision to use two ball-winning midfielders in his 3-man middle set up allows Palace to apply more pressure (1267 times this season) and afforded them more touches (3412 this season) in middle and attacking areas. The effectiveness of these presses has yielded in opposition surrendering possession in the mid areas and have led to excellent counter attack opportunities.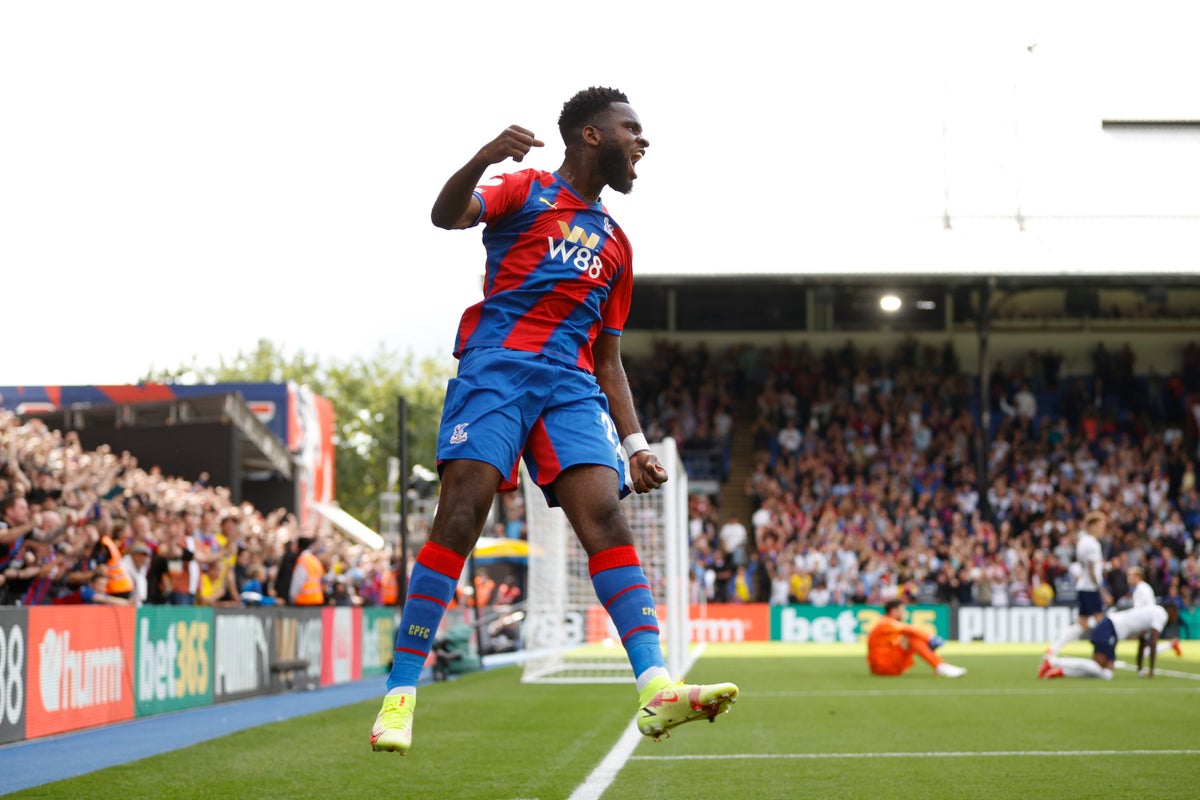 The pace of Zaha, Schlupp, Edouard, Ayew, Olise, Mateta and Gallagher, coupled with pressing mentality, Palace have been able to move the ball a lot quicker and further up the pitch.
The involvement of Tyrick Mitchell on the left-hand side also means Palace's opponents are forced to find a way to neutralise the potential of 2 on 1 opportunities down the left side.
Vieira's Palace seem to have some dynamism about their attacking approach with Gallagher able to play one-twos with his forward line as well as eye of the needle passes to find forward players.
The general game play thrives on using the forwards to create space for Palace's creative man, Gallagher, to get into danger areas to pick the right passes. Joel Ward has focused more on defensive duties this season and has given Palace some solidity in the back as now they always have at least 4 players (3 defenders and a defensive midfielder) when attacking.
The blend of youth and experience affords Patrick Vieira the opportunity to count on the experienced heads to see games through (albeit achieving it only once) and the younger ones for their unpredictability. Vieira has also allowed Zaha to focus on what he does best; being a nuisance on the right side of their opposition's defences.
Vieira has opted to using natural strikers in the role of the striker. That has meant Palace have more creativity than ever on both wings and a commanding striker to occupy opposition defenders. The introduction of Odsonne Edouard is a different striker from what Hodgson had and he can be a differential throughout the season owing to his excellent conversion rate. With an xG of 1.3, Palace would be looking to call on him regularly to offer the goal threat they have lacked in recent years. As ffar as auditions go, Patrick Vieira seems to be performing decently so far. The revolution of South London is taking shape. In little or no time, Patrick Vieira may return to the dug out at a familiar club.