Citi Sports' Nathan Quao believes that Black Stars head coach, Otto Addo's World Cup will be judged on the choices he makes over a lot of other things.
"Life's about decisions. You choose it, you gotta live it. You did it. Heaven or hell or prison. Who knows when your clock'll stop ticking…"- Nas "Life We Chose"
On November 14, as I watched Black Stars head coach, Otto Addo, prepare to read out the names of players who would represent the nation at the World Cup, the lyrics of the above-stated song came to mind and they rang out even louder when I started to digest all the chatter around the team going into the announcement.
Loads of fans had been talking about whether or not Jeff Schlupp and Joseph Painstil would make the cut and why those calls were right or wrong depending on where you stood.
In addition, people were asking themselves if Addo had the requisite strength, skill and bravery needed to steer this very young iteration of the national team on football's biggest platform.
All these conversations had sent my mind into a frenzy and I came to a conclusion that said that Addo would be rated on the choices and decisions he would make at the tournament.
Yes, not tactics and even team performance. Well, that may matter to some but to me, those items will have to fall behind decisions. Why? It's because the 2022 World Cup has come too early for a team that is at the initial stage of a rebuild and a new chapter.
Logically, such big tournaments will appear later in the life cycle of a squad. The players will go to a regional or continental competition, fail at first, succeed at subsequent editions and then, the lessons of wins and losses build muscle and strength for football's only heavyweight showdown; the World Cup.
Having to play in such a huge tournament as a team's first assignment is not what a lot of coaches will like and I am sure Otto Addo will not feel too differently about this but a trip to Qatar is the hand he has been served and he has to make it work.
For that to happen, he has to score highly when answering some tough questions the World Cup will throw at him.
What to do with Andre Ayew?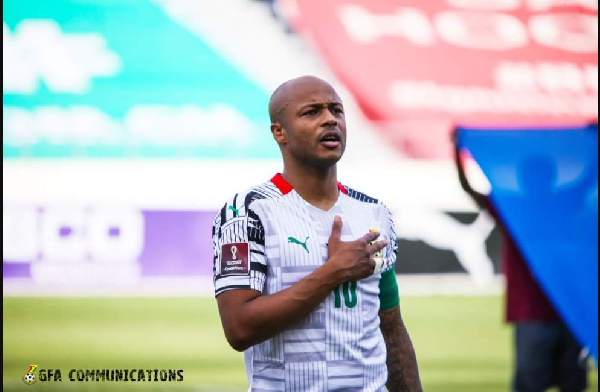 A few years ago, this was never going to be a headache but times have changed and a riddle has developed over the period.
How do you find space for your captain and the most capped player in Ghana's football history who does not have a lot of the legs and engine to run himself into the ground anymore even though he is willing to do so but has the ability to score when the lights are at their brightest?
What does that mean for Mohammed Kudus and his ability to score as witnessed in the UEFA Champions League?
What about Inaki Williams? Will he get deployed as a lone striker or will he have to work the channels and wings to help Andre Ayew score more often?
The questions become even more profound when you look at this team's ability to generate and score goals.
Between January 5 and November 17 this year, the Black Stars scored 12 times in 13 matches and they had scored more than a goal in a match on only three occasions (against Comoros, Madagascar, and Switzerland).
On another plane, what are Addo's plans for Andre Ayew when it comes to specific roles and functions?
Against Switzerland, in the team's final preparatory game before the start of the World Cup, the captain did a very good number on Granit Xhaka that helped the Black Stars on the defensive end but left the team a little short on the attacking end.
Will that ploy be repeated in the tournament and at what cost will that happen when there are matches against Portugal, Uruguay and South Korea to think about?
Otto Addo has some serious work to do on that front.
What midfield mix greatly elevates this team?
It may sound cliche and overused but a team's mid-section has to be strong if it will perform to expectations in a major tournament.
There is no running away from that and Ghana is not above that maxim but maybe Otto Addo is thinking about that if the match against Switzerland is anything to go by.
In that encounter, he went with a fresh-out-of-the-box combo of Abdul Salis and Elisha Owusu in the first half and they did not disappoint.
However, one starts to wonder how the midfield will look when players like Thomas Partey and Daniel Kofi Kyereh have to feature.
The two players give the team rhythm, ball retention and the creativity that can open the door to goals but how does Addo find a balance that keeps the Black Stars disciplined enough to fight and yet, sharp enough to cut and hurt?
Can we afford to be porous in the middle of the park in search of a win and go after teams when we are playing at the World Cup and there is no forgiveness at such a high level?
Will Otto Addo even consider the counter as a tool in his kit looking at Kamaldeen Sulemana's pace and Antoine Semenyo's physicality and willingness to run towards goal?
Tough times await Otto Addo and the rest of the technical team.
Major decisions are required during the tournament and these calls will put Otto Addo on the shoulders of fans either towards the crown or the guillotine.
The World Cup is a wonderful experience for this crop of Black Stars players and they will need to enjoy themselves in Qatar. Coming back to this tournament is not a given at all even for the elite.
Ask Italy and they will let you know how it feels to miss a World Cup when you are defending European champions.
But for Addo, his time at the tournament, no matter how long or short it is, will be judged on what he thinks about and how he executes.
Ghana is very likely not to win the World Cup but Otto Addo has his own trophy to win and that is the one of decisions.
Fans and observers want to remember him as the one who chose to make all the right picks, calls and choices.