To a Ghanaian the name Luis Suarez represents agony, heartbreak and a cheat.
To the Uruguayan it represents national pride, sacrifice and an insatiable appetite to succeed.
It was the 2nd of July, 2010 in the quarter final of the World Cup, and It all happened in a flash.
One moment Dominic Adiyiah believed he was about to become a national hero but Luis Suarez had other plans.
Fernando Muslera was beaten, the point blank header was goal bound and it seemed Ghana was on the brink of history and then out of nowhere Uruguay's number 9 stuck out his hands to make a save that would shock the world and the entire African continent.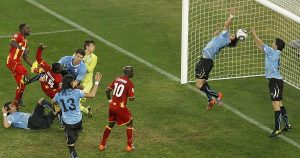 Time appeared to stop and then he saw red.
What seemed like a moment of stupidity would soon become a stroke of genius and one that defines the football Mentality of Uruguay.
Tears run down his face, a broken man apparently. but his agony didn't last long.
He run out in glee as Gyan's penalty from the resulting handball cannoned off the crossbar.
It was a day and night moment for him.
The sacrifice had paid off for the South Americans but for Africa it was agony that time had not managed to heal.
Uruguay were trying to qualify for their first World Cup semi final since 1970 while Ghana were aiming to make history as the first African side to make it into the final four of the World's biggest football tournament.
After twelve long years these emotions will come alive again at the Al Janoub stadium in Qatar when the Black Stars duel with La Celeste for the final Group H ticket to the Round of 16 in the World Cup.
Before what is perceived as a revenge duel takes place context is important so allow me to take you back a few paces.
Jetlagged and restless from flying long hours I could barely keep my eyes open but their chant in Spanish and reckless laughter pierced through the air.
A group of about ten men all clad in La Celeste jerseys and colours made their way down my row and then suddenly they stopped.
Leading the pack was one who could have been 70 from the looks of him and he was the only one not draped in La Celeste colours.
He wore a Polo vest over a shirt with folded sleeves and a pair of jeans.
Even behind his glasses his beady black eyes were keen as he scanned the plane in silence for a couple of seconds.
When he spoke it was impeccable English and be complained that someone had taken his seat.
The woman who appeared to be in his seat didn't want to yield and before the flight attendants could intervene I gestured at the empty seat beside me which he quickly occupied.
The flight from Addis Ababa to Doha took off and so did our chatter.
It was about to be two hours of intermittent conversation between Eduardo Mosqeira, a Uruguayan attorney with an insatiable appetite for football and Benjamin Nketsia, a Ghanaian Sports journalist heading to his first ever World Cup.
After he introduced himself and where he was from I became a sponge for the rest of the trip, just soaking up information and firing one question after the other.
I couldn't help myself because I had met few people with that level of willingness to engage.
Soon I'd find out that he had been planning his trip to the World Cup for an entire year and together with a few other countrymen had rented out an apartment for a month just to enjoy the Mundial.
We spoke about history, education, politics, career and of course the Ghana vs Uruguay game from 12 years back.
"We have more cattle than we have people in Uruguay and so when someone makes the national team they are considered very special.

"They have escaped a hard life on the ranches to make it that far.

"We don't have a lot of football academies here but plenty Street football tournaments.

"The opportunities are few and so it takes more than talent to standout.

"You must want it more than everyone else," he stated casually.
It all begun to make sense to me.
The aura of players like Luis Suarez, Godin, Cavani, Federico Valverde Sebastian Abreu who scored the cheeky panenka to seal Ghana's fate and more recently Darwin Nunez.
To these people a football match was not just a game for kicking a round object but a battle for supremacy and pride.
They would stop at nothing to get a win even if it meant playing dirty and bending the rules to their will.
"We didn't see the actions of Luis as bad at all because he wanted to win for his people and for that we cannot apologize.

"We only care about winning and not the method.

"We were very proud of him.

"Ghana would be happy if the roles had been reversed," he stated.
I couldn't help but agree.
With a population of about 3.4million and a land size of about 181,000 Square kilometres Uruguay are stuck between Brazil and Argentina not just geographically but also ideologically.
They have had to play the little brother role to the two bigger nations in all domains and so football is one of the areas where they have been determined to box above their weight.
They naturally perceive themselves as the underdogs with a point to prove because they have spent their entire history living in the shadows of their two neighbours.
This mindset will again be on full display when Ghana meet Uruguay in the final Group H encounter of the ongoing Qatar 2022 World Cup.
There isn't a semi final berth to look forward to but the stakes are equally high.
For a young Ghanaian team that is still in the rebuilding phase this is as tough as the test gets but they must be ready for an extremely physical battle laden with mind games and a twist of the dark arts.
For Ghanaians back home and around the world another roller coaster of emotions await.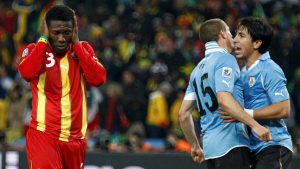 For the Black Stars a draw might suffice based on the result between Portugal and South Korea but for Uruguay only a win will grant them a ticket to the round of 16.
La Celeste are yet to register a single goal in the tournament and have infuriated their fanbase with their lack of invention in offense.
However, they believe that when it matters most they can pull a win out of the flames after all it is the Uruguayan way.