Los Angeles Lakers and National Basketball Association (NBA) superstar LeBron James has showed off his latest addition to his pricey hardware collection after breaking the NBA's all-time scoring record.
James broke Kareem Abdul-Jabbar's record 38, 387 points in a regular season loss to the Oklahoma City Thunder to move to the top of the list with 38,388 points.
James has since added to his tally and now sits at 38,450 points as he nurses a foot injury that is expected to keep him out of action for three weeks.
For his record breaking feat, the 38 year old was gifted a big gold chain designed by Elliante and has a lion's head with the inscriptions, "The Kid from Akron" and his jersey numbers throughout his playing career, "23" and "6".
Space was also made to include LeBron's new designation as the league's all-time scoring leader. James was gifted a gold and marble themed sneaker from Nike to mark the special achievement.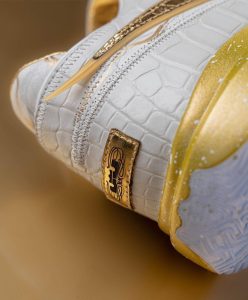 James' Lakers team is in a tough battle to make it to the playoffs with the Purple and Gold ranked 11th in the Western Conference standings. LeBron has won four NBA titles in career and is arguably regarded as the greatest of all time.
LeBron James new chain after breaking the NBA all time scoring record 🔥 pic.twitter.com/sHCKAKqs2K

— Daily Loud (@DailyLoud) March 7, 2023