The Citi Sports VAR Corner is back after a short hiatus. There are still two matches to consider but if anything stands out, they will be included in the Gameweek 35 edition. The main talking points came from the Liverpool – Tottenham Hotspur thriller and there was an interesting offside to talk about in the Brentford – Nottingham Forest game.
The incident: Diogo Jota accidentally kicks Oliver Skipp's head, and he is given a yellow card
This incident is probably all the more controversial because Jota was the eventual game-winner but should he have been sent off? I believe this was an incident we would classify as an orange card. Simply put, either punishment would have been acceptable. Jota misses the ball, and his foot is quite high but I think the lack of force and malicious intent on his part is what helps him avoid a caution. Spurs will have grounds to be aggrieved but there is no right decision in cases like this.
The incident: Oliver Skipp's follow-through catches Luis Diaz on the ankle, and no foul is awarded.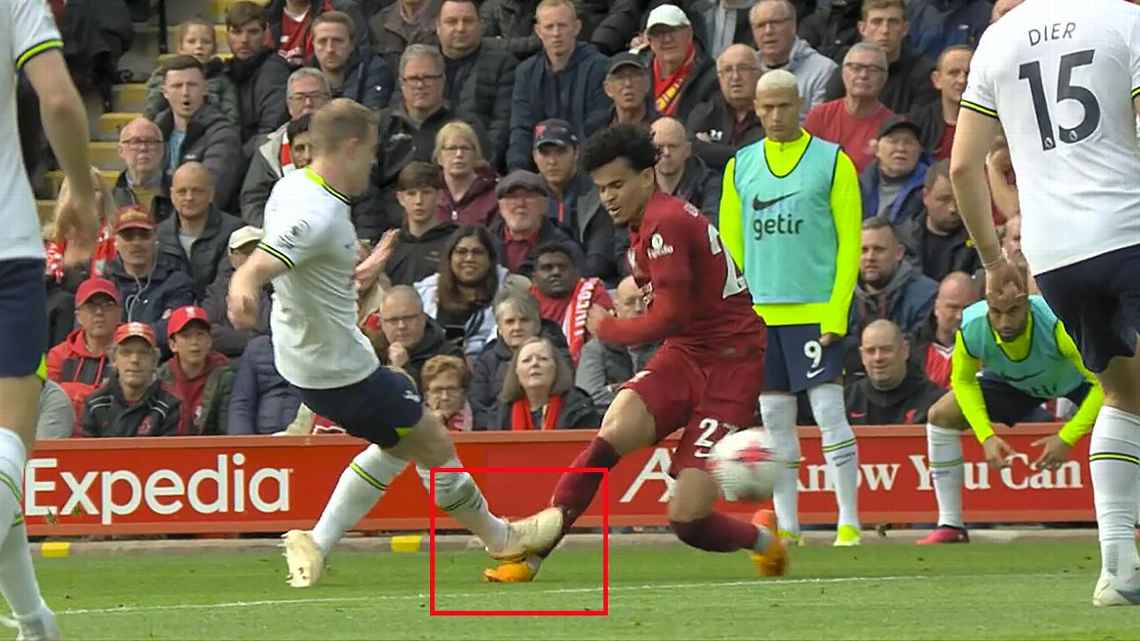 This was a very strange decision from the referee. It has been years since winning the ball was enough to avoid a foul. Once the tackle creates contact the severity of the force has to be assessed and considered and punishment potentially. The tackle was checked and it was probably deemed to be in the orange category as well meaning that the VAR could not advise the referee to award the red card as it was not a clear and obvious error.
The incident: Yoane Wissa is in Keylor Navas' line of sight for Josh Da Silva's goal. VAR shows him onside.
The controversy over this decision was not about whether he was offside or not but mostly because of the presence of 1 line in the TV images. In fact, Forest manager Steve Cooper pointed this out and wrongly claimed that this showed they had been treated unfairly, this means that the offside was so close the lines touched. Usually, there are two lines clearly showing where each player is, but this is not always the case. Forest do have a right to feel aggrieved as every point matters in their relegation fight but there was no conspiracy here just razor-thin margins.