Ghanaian center, Nathan Mensah, is scheduled to work out with multiple NBA teams ahead of the 2023 NBA Draft on June 22.
The 23-year-old has also worked out with Portland Trailblazers and is set to do the same in front of representatives from Detroit Pistons, Cleveland Cavaliers, and Milwaukee Bucks with visits to Charlotte Hornets and Memphis Grizzlies planned for this week.
Mensah is coming off a very successful final season at San Diego State University that had the Aztecs compete in the US National Men's College Basketball Tournament final.
San Diego lost the final to the University of Connecticut and Mensah's defensive plays were instrumental in the Aztecs' surprising run. In an interview with East Village Times, Mensah gave details of his sessions with the NBA teams.
"I had a workout with the Portland TrailBlazers and I have more workouts coming up (this month) because I'm doing my Master's, and some of those classes don't allow me to go on these trips. Right now, I'm just working out and trying to get in the best shape that I can.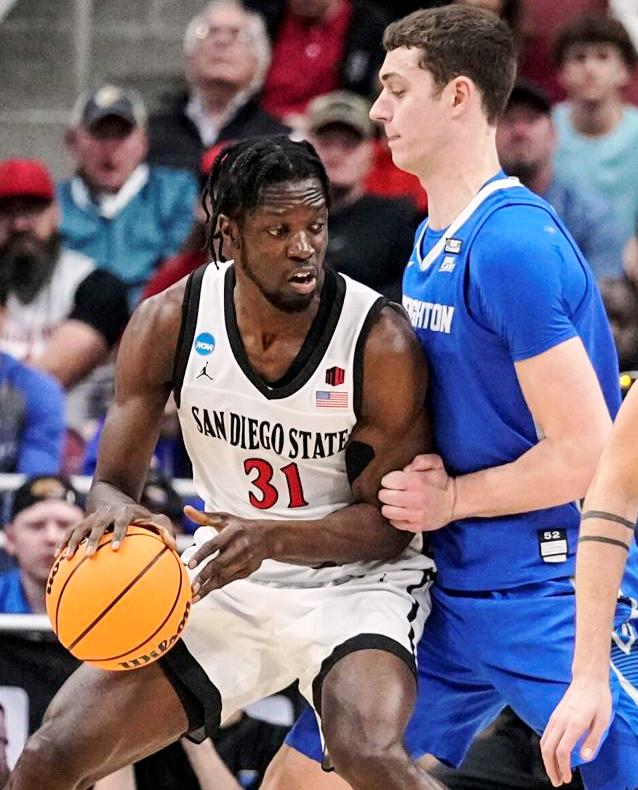 I have some workouts coming up with the Charlotte Hornets and also with the Memphis Grizzlies, which is coming up this week."
Mensah is aiming to be drafted into the NBA like fellow Ghanaian Ben Bentil who was the 51st overall pick by Boston Celtics in the 2016 Draft.
Great having Nathan Mensah @Aztec_MBB @Edge_Sports @robert_yanders #nba Pre draft pic.twitter.com/2IQ4Vay4uN

— The Basketball Movement (@BBall_Movement) May 23, 2023