There was another huge twist in the race for Champions League places on Sunday as Arsenal were thumped at Leicester and Manchester United were held to a 1-1 draw by Chelsea at Old Trafford.
Tottenham's defeat at home to West Ham on Saturday has kept the race for the two remaining UCL spots relatively open with only two games to go.
Both United and Chelsea (particularly the home side) were desperate for a win to strengthen their hand in the four-horse race for the two places.
Today's draw has, however, thrown a spanner in the works for both sides and potentially Tottenham and Arsenal as well.
Injuries force managers' hands
An intriguing game at Old Trafford threatened to run out of steam as both sides lost key players to injury. Chelsea had to withdraw Antonio Rudiger, who was key to Chelsea's equaliser, and Willian in the second half while Man United's Eric Bailly also had to come off after a nasty-looking knee injury.
These enforced substitutions came at crucial points in the game, when both managers were plotting substitutions to change the game. United were forced to make a defensive change with Marcos Rojo coming in to fill the gap, while Chelsea brought in Andreas Christensen and perhaps more critically Pedro for Rudiger and Willian.
For Man United, it meant that there was no sub-space for an attack-minded player like Martial when they really needed it.
For the Blues, Gonzalo Higuain was having a stinker and looked odds on to be replaced by Giroud but Willian's injury scarpered any such plans for Maurizio Sarri as Pedro came in instead. Both managers were forced to make unwanted adjustments to their sides, perhaps ultimately costing them all three points.
'Offside magnets', Higuain and Lukaku fail their teammates
Alvaro Morata was a name that became synonymous with offsides during his time at Chelsea but he might have found a successor to his crown. Gonzalo Higuain was flagged offside five times against Man United only two more than Romelu Lukaku at the other end of the pitch. This was disappointing for both sides because both players were constantly in potentially dangerous positions, but weren't disciplined enough to hold their runs.
When they managed to stay level with the defenders, their finishing was poor. It might be too late for this season but both sides will need to augment their forward line if they want to make a significant impact on next season.
Outcasts make their mark
Juan Mata has hardly been a regular starter for Manchester United, particularly this season, with suggestions that his future might lie away from the club. He certainly made a case for a more consistent role in the side on Sunday, scoring United's only goal and being a constant thorn in his old club's side.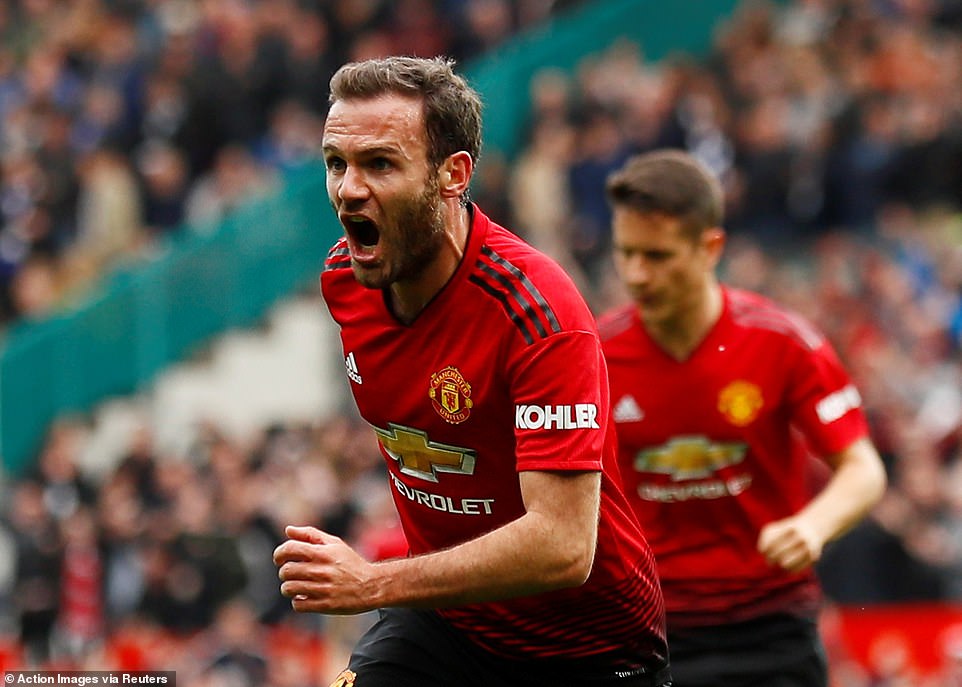 After a very shaky start, Marcos Alonso, who has not been a favourite for many Chelsea fans this season, eased himself into the game with his somewhat fortunate goal. He's always been criticised for prioritising attack over his primary role in defence but Chelsea fans wouldn't have minded much today as he was the only Blue in the box to capitalise on De Gea's error to score. He went on to have a decent game as Chelsea saw off United's attacks. Emerson Palmieri might be Chelsea's first-choice left back (and rightly so) when fit but Alonso isn't the worst back-up to have for such an important run-in.
De Gea's struggles continue
Should David De Gea be dropped? That is a question that Man United fans would have ever expected to hear but is also one that Ole Gunnar Solskjaer has had to fend off in recent weeks. Those calls will certainly increase in quantity and ferocity following his latest clanger which cost his side all three points against Chelsea. De Gea was regarded as the safest pair of hands, certainly in the Premier League, arguably the world at one point but recent high profile errors, including against Barcelona and Manchester City.
Sunday's error against Chelsea was probably more crucial as United need the points and were largely in control of the game up until that point. It's now up to Ole to make a huge decision, drop De Gea – one of the best keepers in the world – or stick with a goalkeeper whose confidence appears shot.
Chelsea will be happier with the point, Spurs ecstatic
The draw at Old Trafford, coupled with Arsenal's defeat has left Tottenham in a great position to clinch a top four spot despite their defeat as they are 4 points clear of fifth placed Arsenal with only two games to play. With a +9 goal advantage as well, Spurs will all but secure a spot in next season's Champions League with a point from their next two games at Bournemouth and at home to Everton.
Chelsea would have been relieved to avoid defeat as the point now takes them two clear of Arsenal and keeps them three clear of Manchester United. The Blues now have their fate in their own hands as wins in their final games at home against Watford and away at Leicester would gurantee them top-level European football in the next campaign. But when have Chelsea ever made things easy?