Ghana finally got a place on the medal standings after Winnifred Ntumi got a bronze medal in the women's 45kg weightlifting event.
She recorded a total of 126 points to finish behind Nigeria's Stella Pete who had 138 points and Madagascar's Randafiarison Rosina who recorded 155 points to take gold.
BOXING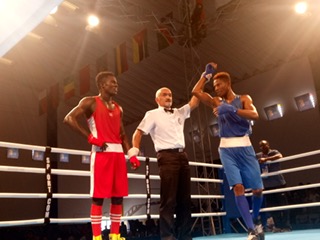 Abdul Wahid Umar lost 4-1 to Jonas Jonas Junias of Namibia in the quarter finals of the men's lightweight 63kg competition.
KARATE-DO
Edmund Asante Amoako finished 8th in the men's men's kata elimination round with 21.66 points.
TENNIS
In the men's singles, Isaac Nortey lost to Skander Mansouri of Tunisia in straight sets. The same fate befell Johnson Acquah when he faced Ouahab Lamine of Morocco and Benjamin Palm when he took on Anas Fattar also of Morocco. While Acquah lost in straight sets, Palm lost in three.
In the men's doubles, Kuuku Abban and Isaac Nortey were beaten in 2-1 by Changawa Mzai and Kibey Yego of Kenya.
In the women's doubles, Elizabeth Bagerbaseh and Mariam Ibrahim lost 2-1 to their opponents from Kenya.
TABLE TENNIS
In the mixed doubles event, Derek Abrefa and Cynthia Kwabi lost 3-1 to Tunisia's Abderazzek Souabni and Manel Baklouti.
Felix Lartey and Lynda Annor lost 3-0 to Bode Abiodun and Offiong Edem of Nigeria in the mixed doubles last 8.