Ofori Academy beat Cheetah FC 3-2 to win the 2019 Baby Jet U-16 tournament.
In an eventful finale filled with goals among the cheers and roar of a vibrant crowd, these young talents displayed their skills.
After days of competition, Ofori Academy, the Kumasi based club emerged as winners of the 2019 Baby Jet U-16 tournament.
Both teams scored in the first half in a very exciting first half as the score was 1-1.
Ofori Academy capitalized on some defensive errors by the Cheetah FC defenders and took a goal lead to set the game beyond the sight of their opponents.
Cheetah FC pulled one back in the dying embers of the game but was not enough to force the game to a penalty shootout as Ofori Academy held on to a 3-2 victory.
Asamoah Gyan after the event expressed his satisfaction despite the many challenges they faced in putting up such a tournament.
"When we started the first time, we faced so many challenges but the second time has been so successful and you can all attest to that fact.

I would like to thank everyone, the media, the fans, AshFoam, the sponsors and everyone present.

This year has been a success. There were people I was not even expecting but they came through for us.

I think the episode three will be amazing.

We have been trying to improve every year and even people have suggested that we do this tournament twice a year."
The general captain of the Black Stars acknowledged where he started his footballing career and remarked he is determined to revive the juvenile leagues to help harness more talents.
"Grassroot football is good for Ghana. That is where we all started from and me being an icon right now, I want to give back to my community.

Being here today has reminded me of when I started playing football and the feeling is amazing.

People want to watch football but it is not going on well. This is why I am appealing to companies to come and support this course.

A lot of the players started playing from colts level and it has not been in existence for a long time now so we should all together and build this."
The former Sunderland also spoke about the dream team (Baby Jet U-16) and also outlined what the future holds for them as a team.
"We have got the dream team and we will start preparations for tournaments in Europe. So they will soon be playing abroad.
I am very sure when they go there they get a foreign-based club to play for and later play for the Black Stars.
So if you look at this tournament last year, the MVP is now playing for the Black Satellites and even participated in the just ended All African Games in Rabat."
Speaking after the event, Brand Manager of AshFoam, Joe Darko said:
"I am happy Asamoah Gyan is giving life to football.

This is somebody who has gone through the mill, who has gone through right from the juvenile side so why will we not support this event.

He has come to reignite with football in the grassroots.

We (AshFoam) are so grateful to Asamoah Gyan, the participating teams and the media for your enthusiasm from day one to now.

This is even I believe has come to stay and we as AshFoam, we will always be a part of developing colts football in Ghana.

As an international brand, we will be there to help resurrect juvenile football in Ghana"
At the end of the tournament, William Owusu of Ofori Academy emerged as the Player of the Tournament.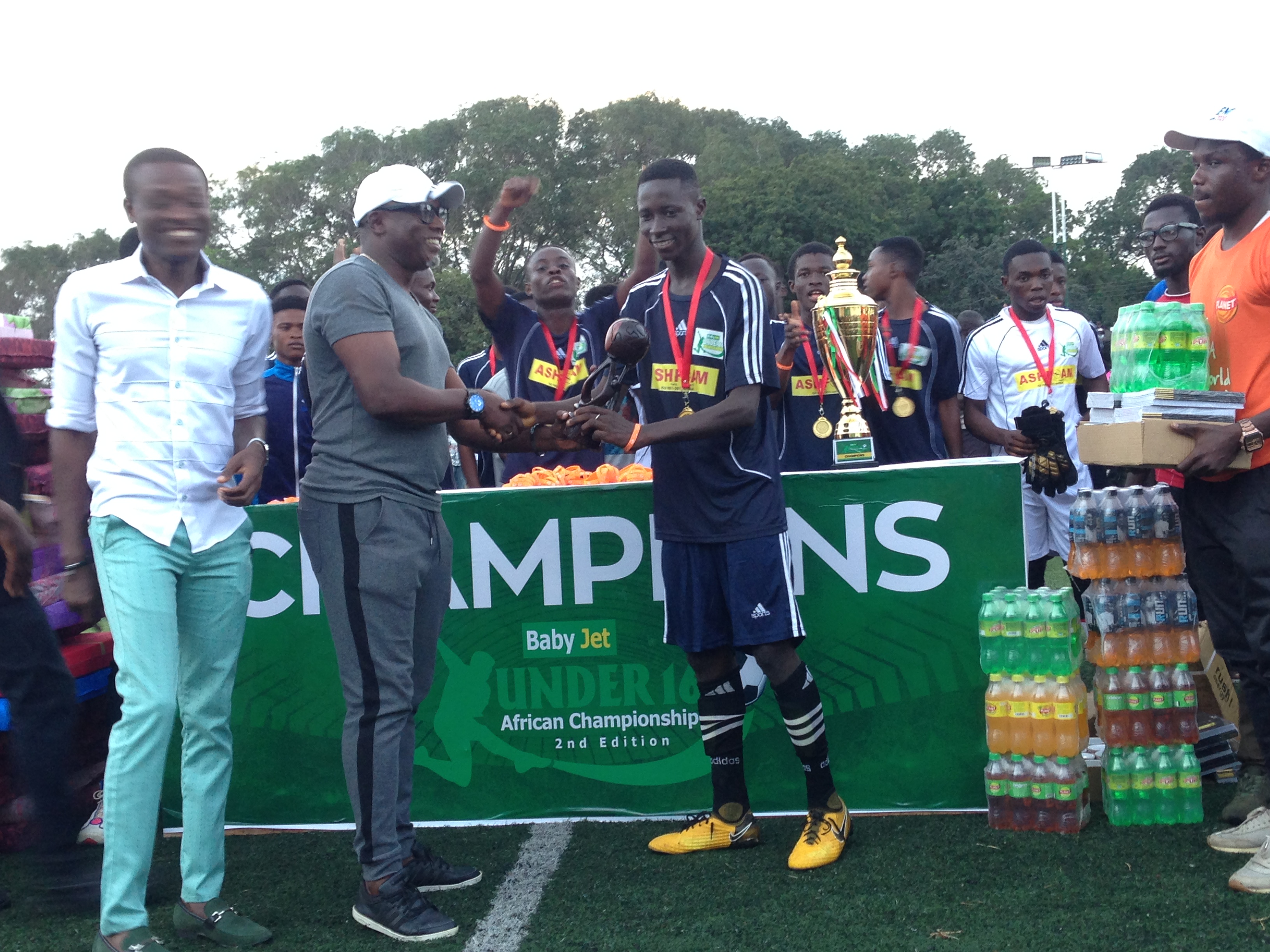 John Batigi of Cheetah FC emerged as the goal king of the tournament.
The best goalkeeper of the tournament went to Bisty Academy number one shot-stopper Danso Elisha.