Tottenham Hotspur's season has got off to a dreadful start, with only three wins from 10 games across all competitions.
And following their humbling 7-2 loss at home to Bayern Munich, suggestions were made that off the pitch as well, the team might not be in the best place.
Claims were made that relations in the Spurs dressing room had soured after an affair between defender Jan Vertonghen and the "wife" of star midfielder, Christian Eriksen.
According to the report, the situation had resulted in a fight in the dressing room with captain Harry Kane involved as well.
Pictures of Vertonghen with a black eye were posted as well, with suggestions that he had sustained it during the brawl.
The report also claimed half of the Spurs players are not talking to each other with manager, Mauricio Pochettino set to leave next season and take Kane and Eriksen with him.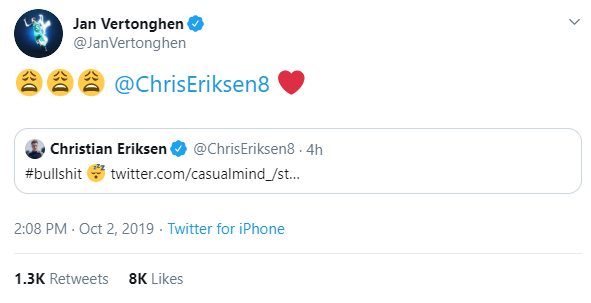 Eriksen responded to the claim on Twitter, replying a tweet by @casualmind_ with an expletive.
Vertonghen also quoted Eriksen's tweet, replying with a heart emoji.
The tweet by Casual Mind has since been deleted.
Although Sabrina Kvist and Eriksen have been together since 2012 and have a son together, they are yet to tie the knot.
Spurs' season looked to be on the rocks even after eight games, following a shocking loss to Rochdale in the Carabao Cup.
A hard-fought win over Southampton gave fans hope that their season was turning around but the massive loss at home to Bayern has put their side on the verge of a crisis.
A number of players, including Eriksen, look to be heading out of the club while concerns have been raised over the future of manager, Pochettino.
Spurs are currently 6th in the Premier League and third in their Champions League group.