From 'Ayew' puns to hilarious memes, Crystal Palace fans and admirers of Black Stars striker, Jordan Ayew, have been celebrating his crucial late winner against West Ham on Saturday.
Jordan's goal, aside from giving the Eagles all three points in a feisty away encounter, held much more significance as it took Palace into fourth place in the Premier League.
It was not without incident though as Palace had to come back from a goal down to win the game.
The winner might have been disallowed as well had VAR not just been introduced in the Premier League, but Jordan has his goal and the internet just can't get enough of him.
Here are a few of the best reactions to Jordan's late strike at the London Stadium.
The real GOAT?
We've had to endure years of arguments between fans of Lionel Messi and Cristiano Ronaldo over who the Greatest Of All Time is. But might this Ghanaian star have been wrongly overlooked?
Actual footage of Ayew going into the dressing room after the game pic.twitter.com/KyummiXVN6

— Back Of The Nest 🦅 (@BackOfTheNest) October 5, 2019

Jordan for Ballon d'Or?
While the usual suspects are in the running for this year's Ballon d'Or, a few new names like Virgil van Dijk and Sadio Mane have made a good case for themselves. Time to add a new name to the list?
Announce Ayew Ballon d'Or

— CP[FC]Dallas (austin) (@DalTillIDie) October 5, 2019
Deadly duo
VAR has had its detractors this season and rightly so in certain cases. However, in this particular instance, you can't blame Palace fans for thinking Jordan and VAR are a match made in heaven.
AYEW AND VAR IS BEST PARTNERSHIP SINCE WRIGHT AND BRIGHT

— jayden 🗿 (@zahaayewschlupp) October 5, 2019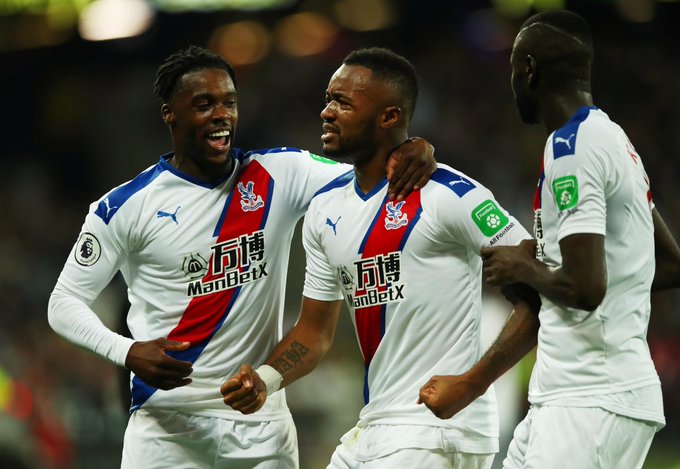 Hard work pays…eventually
One common refrain about Jordan Ayew is how hard he works and how tirelessly he runs despite not being a prolific scorer. This season he's proving he can be both, well kind of.
So well deserved! Such a work horse that man!!! COYP ❤️💙❤️💙

— Debbie (@DebbieCPFC) October 5, 2019
King already?
Royalty is taken pretty seriously in Ghana and while it may not happen nearly enough, it's good to have others appreciate our grandness once in a while.
My Ghanaian Prince💦

— Liam (@fuckwanbissaka) October 5, 2019
Ultimate FPL troll
Jordan might not be the flashiest Fantasy Premier League asset but it certainly helps to keep him around just in case your favourites blank.
I removed jordan Ayew from my #fpl team just last night and now he decides to score. Can you just imagine pic.twitter.com/BLSOU7oIAY

— basically NOT basic (@SamTheCapone) October 5, 2019
Party Pooper
While Jordan's goal might have been cheered ecstatically by Eagle's fans, Hammers supporters couldn't believe that they had let the game slip. Even a huge cake couldn't get this birthday boy's spirits back up
Ayew ruining a birthday party of a West Ham fan😂pic.twitter.com/2K0XFzbAVb

— @ (@TAKTIKT0E) October 5, 2019
Ayew's World
Sometimes the simplest compliments are the best, and Ayew has social media eating out of his hands.
MASTERCLASS AYEW

— Michael (@AlbeeMichael) October 5, 2019
It's a Jordan Pierre Ayew World and were all living in it 🌎 pic.twitter.com/xE0rrg7w3n

— Zac🇬🇧 (@zsCPFC) October 5, 2019
Jordan's babies?
Definitely not how Jordan would've imagined the Ayew line carrying on…
I will happily have Jordan Ayew's children.

The lack of a womb can be sorted out later.

— HLTCO (@HLTCO) October 5, 2019