The Normalisation Committee of the Ghana Football Association has rejected the appeal filed by Wilfred Osei over his disqualification from the upcoming GFA Elections.
Osei filed his appeal on Monday, October 7 after the NC announced on October 4 that he had been disqualified from the elections.
The NC said that Osei had breached regulations on ethics and mandatory payments to the GFA in relation to player transfers.
According to the NC on Tuesday, Osei's appeal was filed after the 4pm deadline and thus, was not received by the Committee but these claims have been rejected by Osei's camp saying that all documentation had been submitted as required and they were done so at the right time.
The NC's stance was captured in a letter dated October and was addressed to Osei.
The letter stated that at 3:40pm on October 8, a notice of appeal from Osei was received by the GFA's Elections Committee and at 5:05pm on the same day, a notice of application for an interim injunction on the decision of the Elections Committee was received. In addition, a statement in support of the application for the injunction was also received at 5:05pm.
The letter, signed by Naa Odofoley Quarter, for and on behalf of the committee, determined that Osei's appeal was unsuccessful.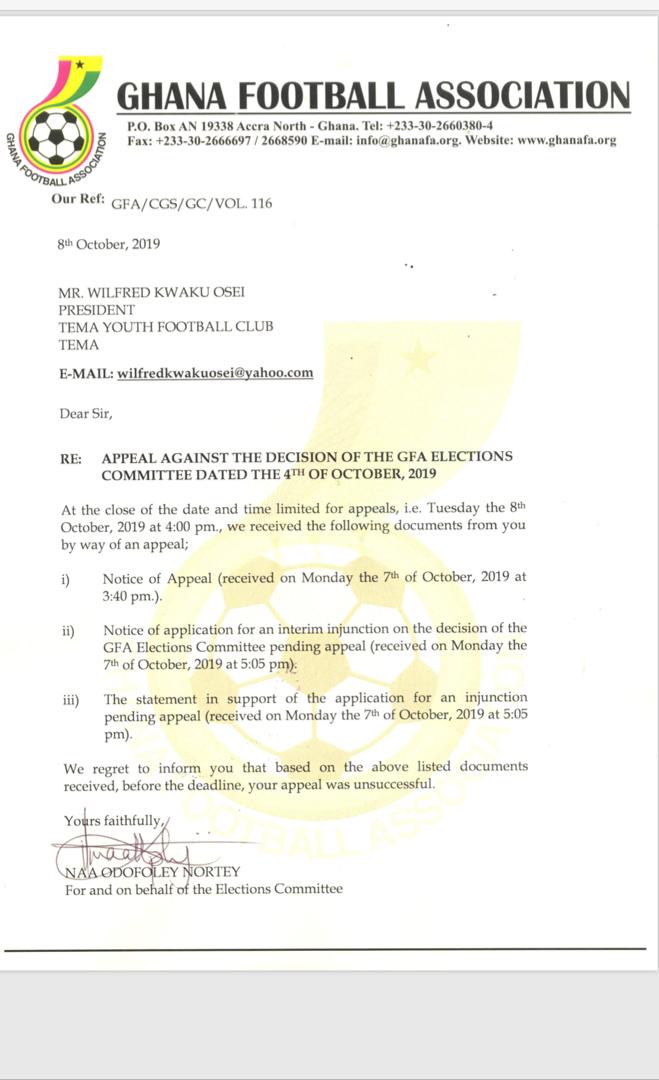 On Monday, Osei, put out a tweet saying that the appeal had been sent to the GFA Office.
We have successfully filed an appeal against the Elections committee's decision to disqualify Osei Palmer from the GFA presidential election race. We once again urge our supporters to remain calm as we await the decision of the appeals committee.

— Wilfred Kwaku Osei Palmer (@oseipalmerP4P) October 7, 2019
It is unclear what how the story will evolve especially as both the NC and the Osei camp may decide to dig their heels in and hold their respective positions on this matter.