An outfield player having to play in goal is not a new thing, it's actually happened a few times.
However, Kyle Walker's turn in goal for Man City in last night's UEFA Champions League match against Atalanta might be the most any player has embraced the challenge of filling their keeper's…gloves…on the big stage.
With Man City already struggling in the goalkeeping department after Ederson had to come off with injury at halftime, substitute shot-stopper, Claudio Bravo was sent off with nine minutes to play.
With no other options on the bench, manager Pep Guardiola turned to defender, Kyle Walker.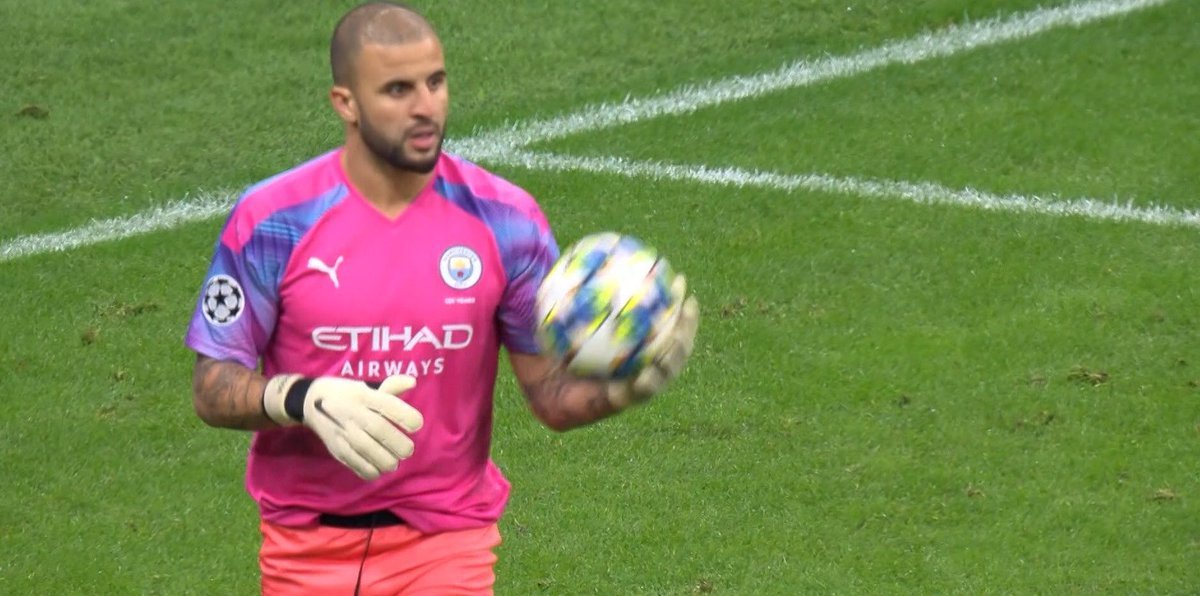 The player certainly looked up to it while he waited for about six minutes to come on, as VAR checked Bravo's sending off.
Replacing Riyad Mahrez, Walker was straight in the firing line as he had to face an Atalanta freekick.
He organised his wall and saved the effort from Ruslan Malinovskyi, grabbing it on the second try.
Scenes in Italy as Kyle Walker goes in goals for Man City 🧤

Substitute goalie Claudio Bravo has been sent off after fouling Josip Iličić. With Ederson having gone off injured, Kyle Walker puts on the gloves and comes on to save the Atalanta free-kick, barely 😳#UCL pic.twitter.com/dkzhm9YQsR

— SuperSport 🏉🏆 (@SuperSportTV) November 6, 2019
After that Walker grew into his role, even comically falling to the ground in a bid to waste time seconds after comfortably holding a ball into the box.
Benjamin Mendy instructing Kyle Walker to lie down on the ground after catching a ball was my fav moment at Atalanta – Man City. Especially cause he immediately and unnaturally did what was asked from him. pic.twitter.com/voAZ4wycQk

— Sjors van Veen (@SjorsvVeen) November 6, 2019
After the game, Kyle Walker tweeted: "Think I'll stick to playing outfield though."
Wasn't expecting the night to end like this. Think I'll stick to playing outfield though. Good point in the end and still unbeaten in the @ChampionsLeague pic.twitter.com/h5mqXbo1Kl

— Kyle Walker (@kylewalker2) November 6, 2019
The game eventually 1-1 with Man City taking the lead in the seventh minute through Raheem Sterling, before missing the chance to go two up as Gabriel Jesus missed a penalty.
Atalanta equalised four minutes after Bravo came on with neither side able to find a winner before the end of the match.
Of course, social media did not let this incident pass by quietly with hilarious memes and posts on Twitter and Facebook.
Kyle Walker has now made more saves (1) than Ederson and Claudio Bravo combined (0) vs. Atalanta.

Start him at Anfield. 😅 pic.twitter.com/t9eR6Qr2s2

— Squawka Football (@Squawka) November 6, 2019
Bravo sent off for @ManCity and Kyle Walker has gone in goal. Yes, Kyle Walker. Can't remember the last time an outfield player donned a pair of keeper's gloves.

— Gary Lineker (@GaryLineker) November 6, 2019
Manchester City wasting no time updating Kyle Walker's squad position 🤣🤣pic.twitter.com/o68ybzyaug

— Goal (@goal) November 7, 2019
Kyle Walker joins the club ✋ pic.twitter.com/WUJXIkkdBP

— ESPN FC (@ESPNFC) November 6, 2019
BREAKING NEWS: England manager Gareth Southgate has confirmed that, after careful consideration, Kyle Walker will replace Jordan Pickford as the national team's number 1.

— Paddy Power (@paddypower) November 6, 2019
Outfield player in goal 😮
Clean sheet for Kyle Walker 👏#UCL pic.twitter.com/wu2FTmolVq

— UEFA Champions League (@ChampionsLeague) November 6, 2019
🎵 Kyle Walker, he plays where he wants 🎵 #MCFC pic.twitter.com/sHqHIVLvau

— ManCityzens (@ManCityzenscom) November 6, 2019