25-year-old Awal Suleman earned his five minutes of fame on Thursday night when he led security officials on a hilarious chase on the pitch of the Cape Coast Stadium.
That incident, however, landed him in jail and left him facing a public disturbance charge.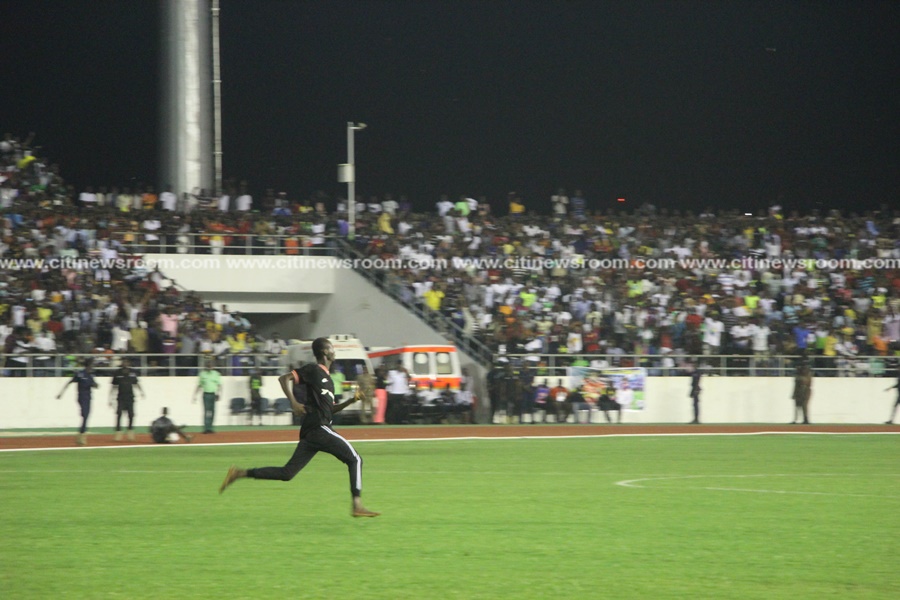 Awal had been fulfilling a dare as he had promised to complete the crazy celebration should Ghana win the match against South Africa by two goals to nil.
This pitch invader is such an idiot.. Guy just stressed our Ghana 🇬🇭 Police for nothing😆😆😆😆😆😆😆😆😆

Only God knows the slaps he will receive tonight 😂😂😂😂😂😂😂💔#BlackStars
pic.twitter.com/QCo7orItSf

— KB 🎭🇬🇭♂️ (@kwamebenaiah) November 14, 2019
Jumping over the railings from the stands, Awal sprinted onto the pitch and evaded a number of the security officers who were chasing him.
With one officer in hot pursuit, he showed a clean pair of heels, and left the officer literally on the floor.
It was later revealed that Mr. Suleman was a 400m runner at Apam Senior High School.
Luck eventually ran out for Awal who was wearing a Chelsea jersey as he ran out of steam, stumbled and was tackled to the ground.
He was hauled off the pitch by the police and spent the night at the University of Cape Coast police station.
While the players stood around bemused, the fans in the stadium had cheered as the pitch invader made his way around the pitch.
And following the news that Awal faces prosecution, some people have taken to social media to demand his release with the hashtag #FreeAwal.
A number of people believe that Awal showed the love he had for the national team with his sprint and should be released given the GFA's attempts to "bring back the love".
Others felt that a pitch invader did not deserve the attention the police were giving him, looking at the number of bigger cases that exist.
So they said black stars should #bringbackthelove, Awal brought that love yesterday and it's a problem for corrupt officers to chase him. Only God knows what they did to him and I Wonder the kind of judge who go sit to be disturb with an issue like this. #FreeAwal

— TwifoHighPriest (@BAqhwercy) November 15, 2019
Please tell @GhPoliceService to #FreeAwal. That guy showed there are still die hard fans for the Black Stars. #BringBackTheLove

— Canadian Borga 🇨🇦 (@apagya_mensah) November 15, 2019
Is so pathetic that this football fanatic is being treated this way 🤦🏻‍♂️
This thing ain't new in football… I wonder if these so called @GhPoliceService watch international football @GhPoliceService y'all tripping #FreeAwal

— fb or unfollow (@tbag_kelvin) November 15, 2019
#FreeAwal he made my night yesterday!🙏🤦‍♂️

— TheManDem🇬🇭🇬🇭 (@MandemSadam) November 15, 2019
The only interesting thing apart from the two goals Ghana scored was Awal invading the pitch. I can only guess he did it out of the love he has for the black stars. So if you say we should #BringBackTheLove then #FreeAwal

— MamaBa Mcswel (@OneQuojoMc) November 15, 2019
This same people laughed over the world cup invader thing in 2018 and the champions league final last season. Sakeof Awal was not in sexy clothes he should be disciplined ugh? #FreeAwal

— Kwame Twumasi 😎 (@FalaamaS) November 15, 2019
I heard @ghanafaofficial is campaigning for #BringBackTheLove Mr. President @kurtokraku this is a clear indication that there is a certain Awal who loves the Black stars regardless the fallout. #FreeAwal #FreeAwal#FreeAwal

— ​🇹 🇪 🇩 🇩 ​🇾 (@teddyhills_) November 15, 2019
So upon all the problems wey dey Ghana ebe only this Pitch invader ein own wey dey worry Ghana Police eii😂😂😂💔 #FreeAwal

— Qhris Tian (@_AccraBoy) November 15, 2019
He deserves accolades for being the first in Ghana #FreeAwal

— Imchoruz (@OChoruz) November 15, 2019
Aaahh dis guy hmmm . It's sounds funny tho , but I don't think he should be in the police custody . My problem is Awal what was your main motive you running like a horse 😄😄#FreeAwal

— Clems Obeng (@ClemsNicecess) November 15, 2019
The way Awal fit run ern as we dey Apam SHS you people no go use am but take am go court. Ghana Kai but these corrupt officials walk freely. #FreeAwal #Freetheinvader

— BRA REGGIE (@RegGyasi) November 15, 2019
Elsewhere Awal will be made Ambassador of the game #FreeAwal @kurtokraku @SaddickAdams @songo

— Chief Bagbin (@CBagbin) November 15, 2019
A few people also believe that the law should be allowed to run its course (pun unintended).
Y'all are here saying free Awal. Irrespective of how you felt during and after his run, it is wrong and unlawful. Let the law take it course #FreeAwal

— Isaac Kwasi Fosu (@LordaceF) November 15, 2019