Asamoah Gyan is one of the biggest names ever to play football on the continent.
His popularity stretches beyond his home nation, Ghana, with Gyan being one of the first names mentioned when Africa's most influential players are talked about.
With Gyan celebrating his 34th birthday today, a number of people have taken to social media to applaud the former Ghana captain for his achievements. Some are also debating where Gyan ranks among the country and continent's best forwards.
At Citi Sports, we've put together five stats which show that Gyan is definitely the greatest ever striker to pull on the Black Stars jersey.
51 and counting
Gyan made his international debut in 2003 as a 17-year-old. He scored his first goal against Somalia in November 2003 and has gone on to make over 100 appearances for the senior team.
Gyan has also scored 51 goals over the course of his career with the Black Stars, the most scored by a player in the country's history.
Number 3 hits number 9
Asamoah Gyan is renowned for turning up on the big stages.
So it came as no surprise when he became the first player in history to score at eight successive major international tournaments, after netting at the 2006 FIFA World Cup, 2008 AFCON, 2010 AFCON, 2010 FIFA World Cup, 2012 AFCON, 2013 AFCON, 2014 FIFA World Cup and the 2015 AFCON.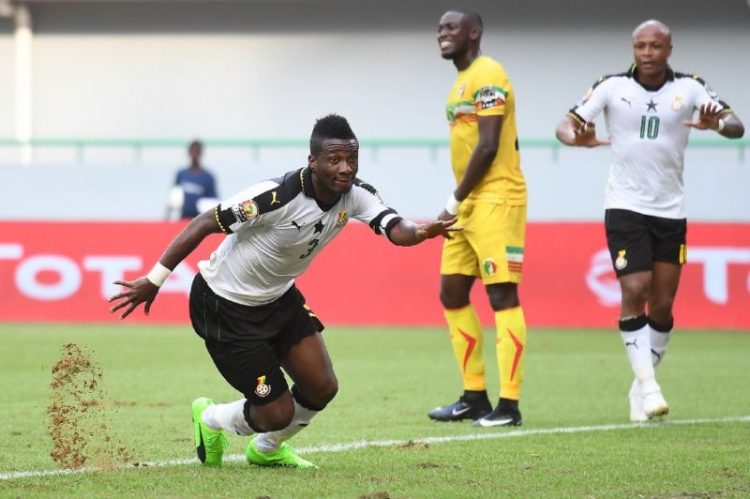 He eventually scored in nine straight competitions when he netted Ghana's winner against Mali to take the Black Stars into the quarter-finals of the 2017 AFCON.
Club 200
Gyan is a prolific scorer at club level as well, having netted consistently for all the clubs he has played for. He has scored 214 goals in 413 games across his club career. His highest tally for a single club came at Al Ain, where he netted 123 goals in 123 games in a space of four years.
He also scored 11 goals in 37 games at Sunderland and 14 in 53 matches while at Rennes.
Africa's finest
Gyan is Africa's highest goalscorer at the World Cup with six goals. He has, so far, played in three World Cup tournaments – 2006, 2010 and 2014 – and has scored in every one of them.
He surpassed Cameroon legend, Roger Milla's tally when he scored in Ghana's final group match against Portugal in 2014. He had earlier scored in Ghana's previous game against Germany.
In 2006, Ghana's first-ever World Cup campaign, he scored the crucial opener in Ghana's must-win group game against the Czech Republic. In 2010, he scored three goals, against Serbia, Australia and the winner against the USA in the Round of 16.
Tournament man
Asamoah Gyan is the ultimate tournament man.
For much of his career, he was one of the first names on Ghana's squad lists for tournaments.
He was a member of the Black Meteors squad that played in the 2004 Olympics, coincidentally the last U-23 side to qualify to the Games.
Since his senior debut for the Black Stars, he has gone on to play in eight African Cup of Nations tournaments, and three World Cups.