Ghanaian midfielder Emmanuel Agyemang Badu says he intends to keep supporting the efforts to fight COVID-19 in Ghana until the disease is eradicated.
Badu, who plays for Serie A club Hellas Verona, is in the midst of a strict lockdown in Italy which has been hit harder than most countries by the disease.
Italy currently has 178,972 confirmed cases of the disease with 23,660  deaths so far a rise by about 10,000 cases and 1,500 deaths since Friday.
Drawing from his experience in Italy, Badu says he knows how desperate the situation globally is and says he intends to do everything he can to support the efforts in his home country.
"I'm in the middle of this pandemic here in Italy, so I know how people are struggling and suffering. This is the time for me to help."
He stated that he has donated some PPE to hospitals in Kumasi and  Berekum and has also made some items available to the police as well.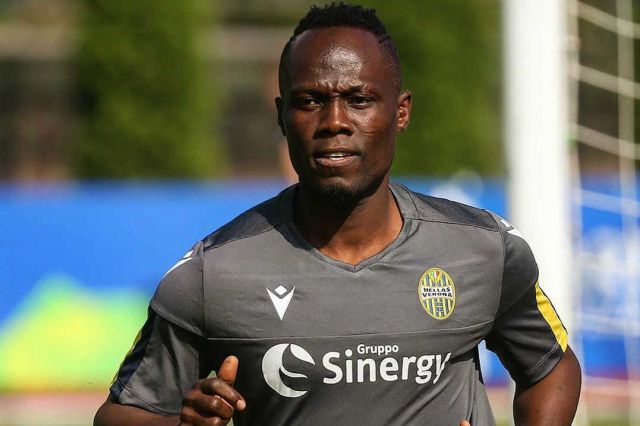 "I bought some masks, gloves and sanitizers for a hospital in Kumasi – the women and children's ward. And I played in Berekum for a long time, so I bought some for the hospitals there, and for the police and Muslim community."
"And in the village I was born, I donated a lot of stuff to the police and the hospitals. They're saying prevention is better than cure, so I wanted them to have these things to be safe and be very careful of this dangerous virus."
Ghana currently has 1,042 confirmed cases with nine deaths but a three-week lockdown which was imposed to curb the spread has since been lifted.
Badu insists that he will continue to send more items to the country in order to help contain the spread.
"The numbers are increasing, so next week I need to send some more stuff to hospitals. We will keep doing it until we see this virus is gone. I am in the middle of it here and I know how much I'm struggling here so we all need to help and take care of people in Africa."
A number of other Ghanaian players have donated to the efforts as well including Inter Milan player Kwadwo Asamoah.
The Ghana Football Association has also offered the Ghanaman facility for use as an isolation centre.