Music.
Quite simply one of the most explosive expressions of emotion and affection, music also immortalizes.
Throughout history, music has always had an intertwining relationship with sporting icons.
Whether it is Nas claiming kinship with heavyweight great Mike Tyson in "Nas is Like"; ("Nas is like Iron Mike, messiah type/Before the Christ, after the death, the last one left"); or LL Cool J comparing his lyrical dexterity to a Muhammad Ali punch; ("Just like Muhammad Ali, they called him Cassius/Watch me bash this beat like a skull"); music has always been analogous to the magical artistry of the greatest sporting heroes.
The legendary Asante Kotoko song, "Asante Kotoko yɛbɛ hyɛ" by Pat Thomas, is glaring specimen of how music makes nonsense of life's ephemerality by creating interminable beings.
In the song, some of the club's greatest heroes; Robert Mensah, Osei Kofi, Ibrahim Sunday among others, all received glowing lyrical tributes that have solidified their place in the Porcupine family, so much that if history ever forgets, the song would serve a telling reminder.
In Ghana, no other sporting icon has had as huge an influence in music as the great Abedi Ayew "Pele".
In my research for this article, I discovered that a vast majority of artistes who have featured the "maestro" in their works are rappers. While that may seem surprising at first, a deeper reflection would reveal an antithetical emotion.
No other genre of music is more akin to the quick-fire magical artistry of the 55 year old's footballing abilities than rap. Whether it's weaving words together or weaving through a tight space full of loathing defenders, MCs and football wizardry have common roots of inspiration.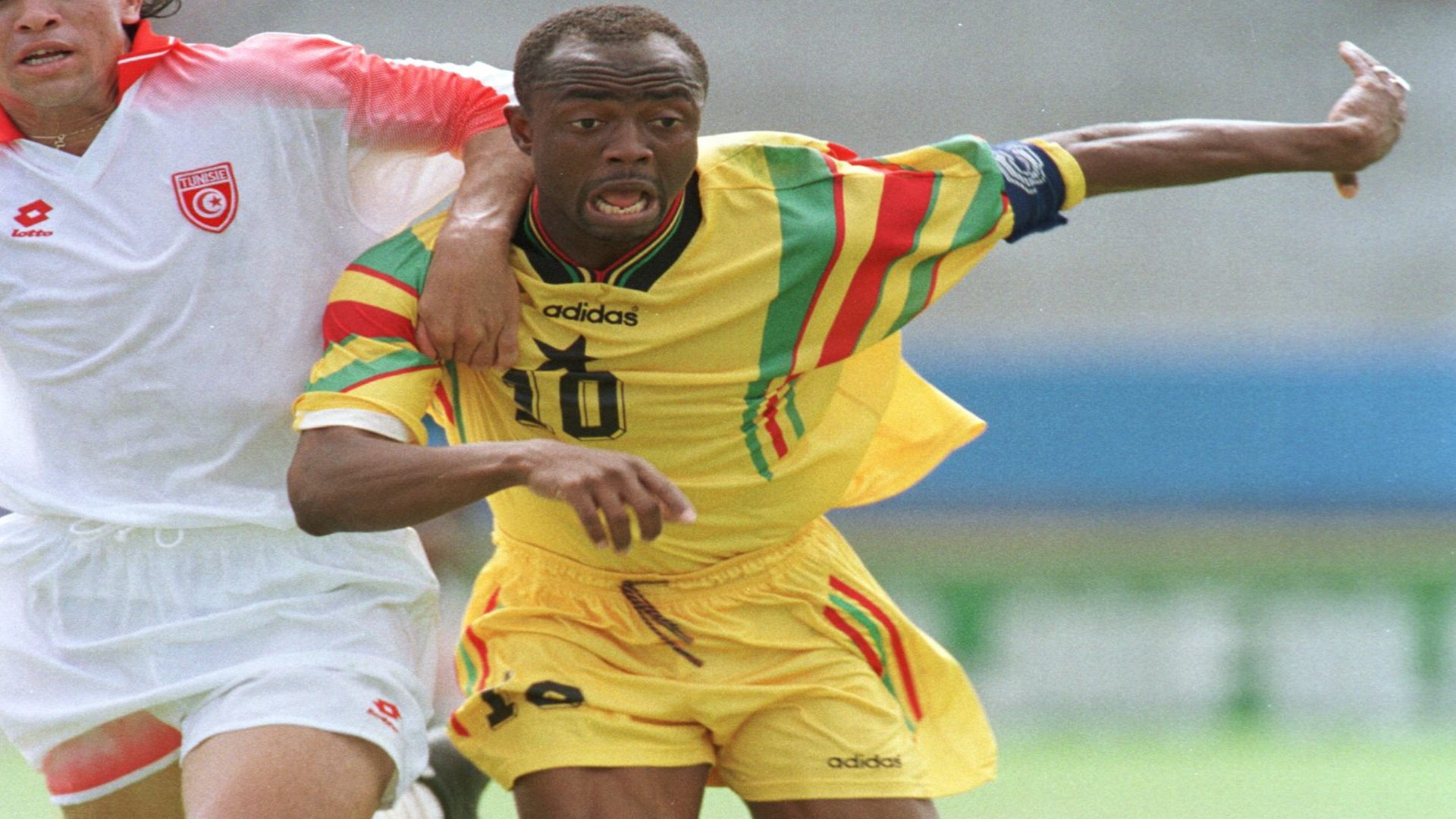 Kofi Mole's song titled "Abedi Pele" is a conspicuous demonstration of the connection between a rapper's librettos and a footballer's mystic.
The refrain serves up a delightful double entendre, where Mole's braggadocio aligns with Abedi Pele's undeniable status in the game.  ("Abedi Pele/I've been ballin so long I'm a legend/I've been making more shots I've been kickin/In Africa I be the champion no long talk get it.").
Mole's first verse depicts a traverse of Maestro's career and highlights the global impact of Abedi while mirroring the rapper's own knack in the process. ("From Ghana to France we scatter…/Got number 10 for my back/I never dey miss chance and I never dey slack/Put my country on the map/M'ama ɔmo kɛchɛ bɛhwɛ my opponent dey clap").
In Kojo Cue's "Wo Nsa bɛ ka", the rapper name dropped the Maestro as a relic of defiance ("Reserve players bɛ nya na yɛ agyae bɔ/But Abedi Pele, uh, we be shege, uh/On any day we go try ball").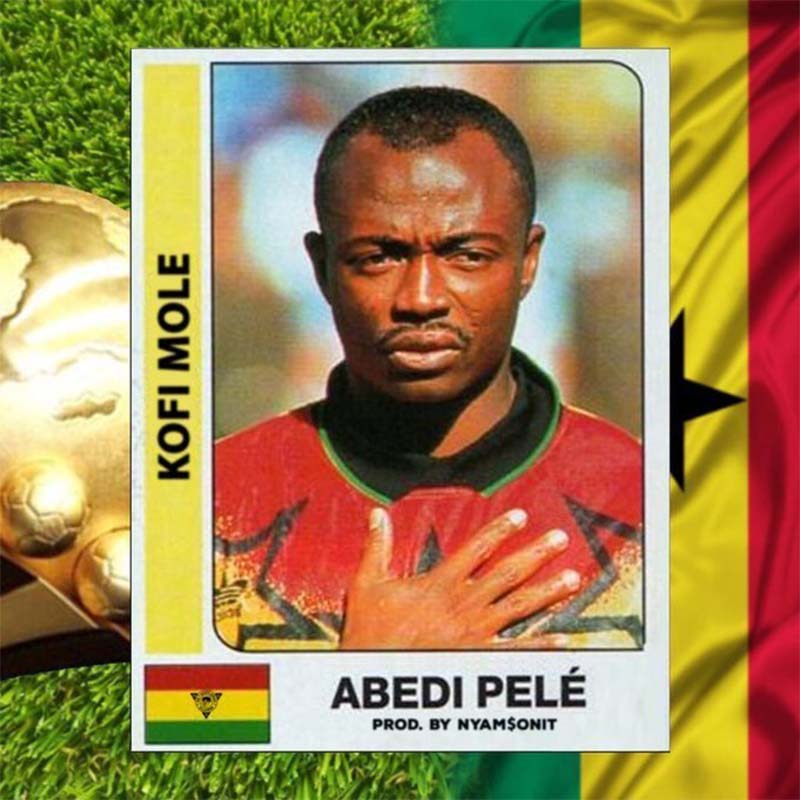 Of course, there are times when the former Ghana captain's name has popped up in lyrics that metaphorically transcend the subject of football and tickles our fancy in other realms.
When R2bees referenced Abedi in their song "Killing me softly", it was a stretch of our imagination to a similarly important sphere of life – sex. ("When I dey come I no dey chele/I kick it ina you Abedi Pele").
Stonebwoy brags about his libidinous clouts by comparing them to Abedi's strikes in the song "Mightylele". ("Thing set ready me afi strike it/Like Abedi Pele le in the 90s")
It is rather ironic that it took until Abedi's retirement for artistes to begin to immortalize the three-time African Footballer of the Year, but considering it is rap music that has largely done this, it is not exactly shocking.
Rap music was not a big deal in the early 90s, which contained the supreme period of Abedi's career. Ghana rap pioneer, Reggie Rockstone, did drop Abedi's name in the 1998 classic "Plan B3n". ("Mɛ hyɛ goal wɔ woakoma mu goalposts, Abedi Pele"). While that did not convey a much deeper semantic, it was still testament to Abedi's influence beyond the pitch.
In Shatta Wale's "Shame on You", he elevates Abedi's hegemony when he raps "I no be Abedi Pele, but I go fit play this ball", ultimately recognizing that to play ball is to be Abedi Pele.
The 1993 champions league winner's musical influence extends beyond the precincts of Ghana.
French rapper Ol Kainry, in his 2007 single aptly titled "En mode nostalgie", listed the Ghana legend among a list of illustrious sporting icons that gave him nostalgia when he said;
"J'te parle de Mike Powell, Carl Lewis, Baggio, Abedi Pele, George Weah
On a vécu les meilleurs moments du sport ché-la
J'pourrais jamais oublier le coups de pied sauté de Cantona
Toto Schillaci, la main de Maradona"
Abedi Pele is already recognized as the greatest Ghanaian footballer of all time and remnants of his legend remain everywhere we look – from catchy commercials (remember Parlays Biscuit?) to old video clips of him tearing defenses apart, but it is through music, that his immortality is cemented.
When American artist Jean Michel Basquait said, "Art is how we decorate space, music is how we decorate time", this is what he meant; Abedi's time on the football field, fully decked in lyrical allusions.
If there was ever any doubt about his otherworldliness, these artistes have ensured the Maestro will live forever.
As the saying goes, "if an artist falls in love with you, you can never die."
Full "Abedi Pele" Playlist:

Other songs include;
Reggie Rockstone – Plan ben
Kojo Cue – Wonsa beka