Sports and fashion have always influenced each other, for the better part of the last century at least.
Prominent Parisian tennis players, Jane Régny and Suzanne Lenglen, kicked off the buzz in the early 20th century, Bruce Lee introduced the tracksuit in the 70s and Michael Jordan popularized and commercialized the fashionable side of basketball sneakers in the 90s. 
All of these sportswear courtiers set out intentionally with the plan, but the story goes a little differently for German trainer Otto Martin Pfister.
Stop any man or woman on the streets of Ghana, ask them "who" Otto Pfister is; more likely than not, you will get an answer to "what" Otto Pfister is. The story of how a man's name became an improper noun, begins here.
When he arrived on the shores of Ghana in 1991, he was desperate for success on the pitch, without the faintest idea of the impact he would have off it.
He had already made a mark with his 5th job on the continent, leading Burkina Faso (then Upper Volta) to their first AFCON qualification in 1978.
But that accomplishment drops a bundle in comparison to the colossus that was the Black Stars job. 
Heading into AFCON 1992, Pfister had a tremendous pool of world class talents to pick from. There was Africa's best player, Abedi Pele on one side, and Bundesliga sharpshooter, Anthony Yeboah, on another.
Expectations were high and he was confident of delivering Ghana's fifth AFCON title. The team made it to the final in Senegal, but ultimately came up short.
Gutted and crestfallen, he left his post few months later, leaving a lasting legacy behind, which curiously had absolutely nothing to do with football, but instead, everything to do with how he wore his trousers. 
In the early 90s, a mode of dressing began in parallel worlds, for completely different reasons, but generated similar response from society.
Sagging was slowly becoming a fashion norm among young black men in the United States of America, as well as in Ghana.
The most familiar origin of sagging in the former, is linked to the prison system. Inmates, prohibited from wearing belts, had no choice than to resort to sagging their prison-issued uniforms. They carried that look with them once they were released back into society.
This, together with the growing influence of hip hop, which at the time was slowly taking over the American music scene, popularized this bizarre form of fashion draping.
In Ghana, sagging had an unlikely inspiration – Otto Pfister.
Before he took over the Black Stars job, he had already led the Black Starlets to their first FIFA U-17 World Cup title in 1991. His popularity then skyrocketed, ironically, when he failed to win AFCON 1992.
Eccentric and outspoken, Pfister's personality contributed to his charm. He was a media minefield, good or bad.
"My fifteen year olds are technically more advanced than any mid-level player in the Bundesliga," he provocatively said after the 1991 U-17 World Cup triumph.
For the Ghanaian youth however, Pfister's allure was in his trousers; or the way he wore them. 
According to reports, Pfister has a small waist, and getting trousers his size was always a challenge.
Also, and more importantly, due to his less endowed backside, Pfister appeared to wear his trousers on his hip, rather than his waist, giving off an illusion of sagging when he was viewed from behind.
This 'style' quickly grew in popularity in the country and became known as 'Otto Pfister'.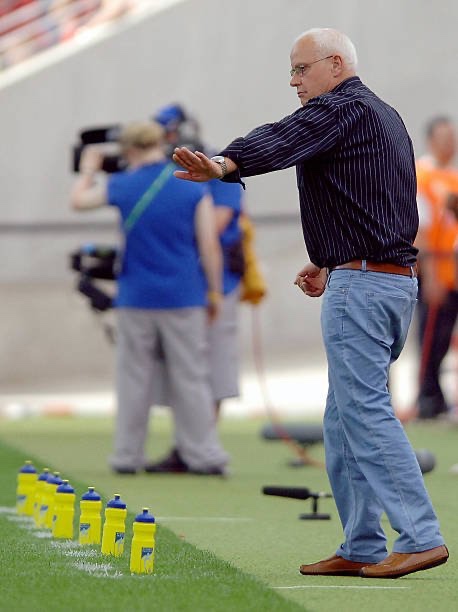 Young men would now wear their trousers below their waist, feeding off Pfister's misconstrued non conformist nature, in what quickly became the 'bad boy' look.
Individuals were now purposely sewing trousers, which were a couple of inches bigger than their natural waist size, in order to be able 'to do Otto Pfister'.
The trend, though extremely popular among the youth, was massively frowned upon by society. It was seen by many as improper and offensive. 
Educational and corporate institutions strongly disapproved of the style with some schools putting strict measures to curtail the trend.
It was very common, during the late 90s and 2000s, to hear the statement; "No Otto Pfister allowed", throughout most Junior and Senior High school assembly grounds, several years after the German tactician had left Ghana.

In 2015, the Presbyterian University College in Ghana, drafted new laws to ban 'Otto Pfister' – not the man, but the style of dressing. 
The then acting President of the University, Prof. Frank S. Arku, said in his address to students, "The way you dress speaks volumes about you and your future. We have a dress code in pages 46 and 47 of the Handbook and Students Guide that you are holding now. 'Otto Pfister' style of dressing is out!"
Poor Mr. Pfister! If he was not briefed on the new meaning of his name, he would have been worried as to why he was not allowed into almost all educational institutions in the country.
In 2008, Pfister returned to Ghana for the AFCON, this time in charge of the Indomitable Lions of Cameroon.
Despite painfully knocking out the Black Stars at the semi final stage with his Cameroon side, and in the process denying Ghana an AFCON victory on home soil, it did little to erase his already established legacy in the country as the "trousers sagger".

It is obvious this is not the impact Pfister would've wanted to leave behind when he left the Black Stars job 27 years ago.
But then again, it is safe to say Otto Pfister would not mind young Ghanaians copying his unconventional way of dressing, as long as they wear a clean pair of boxer shorts, or better still, hide it from the public eye.