Prosecutors in Greece have claimed that Manchester United captain, Harry Maguire tried to use his status at the club and wealth to bribe his way out of his arrest.
According to the state's lawyers, after Maguire was picked up by police in the aftermath of a brawl at a bar, he asked the officers if they knew who he was and offered to pay them to let him and his friends go.
Maguire, the prosecution claimed in court on Tuesday, said: "Do you know who I am? I am the captain of Manchester United, I am very rich, I can give you money, I can pay you, please let us go."
Sky Sports reporter, Martha Kelner, said prosecution also claimed that the officers had initially tried to calm down the situation but their attempts failed, with one of the "English men" yelling expletives at the officers and punching one of them.
An officer who was called to the stand claimed that Maguire pushed him when he was attempting to arrest the defender, resulting in him falling and hurting his back, while another said that Maguire tried to break away as he was being handcuffed.
Martha Kelner had earlier reported that Maguire's legal team had asked the court to reschedule the hearing, stating that they were not given time to prepare.
The judge, however, ordered the trial to go ahead.
Maguire's lawyers argued that two Albanian men injected Maguire's sister with something, causing her to faint, and sparking the fight.
They said the player and his friends called a van to take them to the hospital but they were taken to the police instead.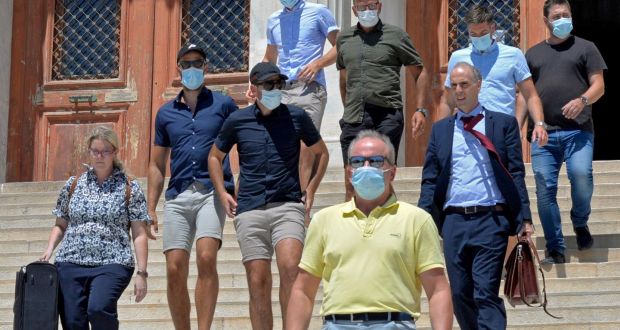 The lawyers also countered the prosecutions claims that Maguire resisted arrest by stating that the player wanted to make a call.
Prosecution allege that once at the police station Harry Maguire said: "Do you know who I am? I am the captain of Manchester United, I am very rich, I can give you money, I can pay you, please let us go"

— Martha Kelner (@marthakelner) August 25, 2020