Missing out on UEFA Champions League (UCL) football in the manner Brendan Rodgers' Leicester did was a harsh outcome after staying in the Top 4 from Game week 9 to Game week 36.
The disappointment of missing out on European football could have its own effect on a club and its players as Sheffield United have shown since football returned from the enforced COVID-19.
Brendan Rodgers has certainly learnt from the experience and has turned the results around since.
Leicester City is 5 points worse off than they were at this stage last season (32). However, this is the closest they have been to the top team as at Game week 14 since their epic title triumph of 2015/16.
The factors spurring Leicester on this season are psychological, physical, tactical and individual.
Psychological
Every team requires motivation at the start of any season. Leicester City is no different in that regard.
The nature of their campaign last season was one that was considered a title challenge until results started to go in favour of other clubs.
When the 19/20 season ended, Leicester City found themselves wallowing just outside the UCL spots. Brendan Rodgers has used this as the best way to psyche his players for this season.
They have already chalked successes against Man City, Arsenal and Spurs. Brendan Rodgers is ushering this team into a new era; where they are considered a focal part of the Top 6.
Physical
Brendan Rodgers identified the need for steel in the middle whilst having a solid defensive base hence introducing Daniel Amartey, Wilfred Ndidi, Hamza Choudhury, Youri Tielemans and Nampalys Mendy in the number 6 role.
Whilst Rodgers has flirted with different systems, he has prioritized pressing by whoever plays in the number 6 role within Leicester's defensive third.
Brendan Rodgers has also shored up the defence by ensuring his centre backs are all averagely heightened around 1.88 m.
The bigger the defence, the easier it will be for them to deal with aerial onslaughts. Activated shadow pressing from the front, normally initiated by Jamie Vardy has also forced opponents' midfield into errors which provides perfect opportunities for the Leicester Counter Attack.
Tactical
Whilst being a possession-based team can mean a team is guaranteed plenty of time with the ball, it is important to be effective when on the ball.
Brendan Rodgers has developed a system that is a breeding ground for effective forward passes. The use of a variety of formations and systems has given Rodgers' Leicester an added advantage.
Leicester set up to soak as much pressure as possible from opponents before hitting them on a counter-attack. The use of 3-4-2-1, 4-2-3-1, 4-1-4-1, 4-3-3 and 5-4-1 formations has yielded different results as indicated below.
Rodgers knows his team can defend in open play and sets up to ensure that. It is through this that the team can counter-attack effectively.
Rodgers has also found the right balance in terms of mixing the youth and experienced players in his squad. Deploying Fofana alongside Evans and Fuchs showed that Rodgers knows the athletic ability of the Frenchman would complement the two statesmen in the squad.
Rodgers has also tweaked the roles of his wing backs slightly this season. With no direct replacement for Ben Chilwell available and Ricardo Pereira unavailable, Rodgers has used James Justin and Timothy Castagne effectively. Previously, Chilwell offered another creative outlet from the left whilst Pereira was more of a marauding full back with an eye for the goal. Rodgers has rather converted the new wing backs into additional attacking bodies as they make extra runs into the box to pounce on any second balls should there be any. These changes have offered Leicester extra outlets as the two men have scored and assisted already this season.
Individual
The impact of having a guaranteed goal scorer leading the line for Leicester provides extra confidence. Rodgers knows the goal-scoring opportunity only needs to be scored and Vardy will do his bit as well.
Vardy's goal output over the past 6 seasons only shows his stature in the league. Having retired in 2018 as well means Vardy will remain fresh for Leicester's charge for UCL football or the title.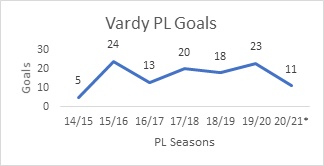 Leicester's Avenger James Maddison is also a key cog in Rodgers approach this season. Maddison's ability to play in between the lines and taking advantage of half-spaces makes him a real danger man for the Leicester.
The Foxes tend to be more dangerous when Maddison operates on the left-wing or as the main playmaker behind Vardy. Maddison contributes a decent number of goals and assists but will be required to do more than usual to make Brendan Rodgers' quest for UCL football successful.