Jose Mourinho's Tottenham started the season with a home loss to Everton. Mourinho rejigged his team and strategy and approached the games differently.
The combination of Son and Kane coupled with an emphatic away victory at St Mary's and Old Trafford, victories against Man City and Arsenal also propelled Spurs to the top of the league for a 4-week period.
Since winning on 6th December against Arsenal, Spurs are yet to record another victory having drawn against Crystal Palace and recorded consecutive losses against Liverpool and Leicester City.
A glance at Spurs' performances this season hints at superb performances by Son and Kane, a flurry of goals and tactical masterclasses by Mourinho. An already impressive away record also affirms potential title contender's tag.

But is this really the case upon further analysis of the numbers?
SON & KANE
Since the start of the season, Son and Kane have contributed 20 of Spurs 25 goals this season whilst contributing 14 assists off 21 posted as well. A good chunk of Spurs' play is done through these two.
Whilst others have contributed, it is the focus of the Spurs build-up play through the movement of these two that allows us to see their importance to the team.
Owing to Son's excellent acceleration and top speed once achieved, Mourinho has allowed Harry Kane to drop deep to pull defenders and create space for Son to run into.
This English-Korean partnership has been budding for seasons and this season has seen Mourinho get the most out of it.
Son and Kane have combined with each other a total of 12 times this season in the PL as Spurs applied early-season pressure to move to the top of the log as seen above. The combination has been excellent when it's worked but Mourinho needs a plan B for the times teams to mark the two marksmen out of the game.
The rest of the team's contributions being limited to 5 in terms of goals and 7 in terms of assists will be a great headache that Mourinho would need to be rid of soon if he wants to win Spurs their first PL title in 50 years.
TACTICS VS CREATIVITY
The base of any successful team is a solid defensive base and Mourinho has become tagged as a coach prioritizing defence over attack. This has seen Jose use variations of 3 formations; 4-3-3 attacking, 4-2-3-1 and 4-4-2(Double Pivot Base).
In use of these three tactics, Spurs have failed to win 7 times whilst winning the other 7 times. Ceding possession to opponents has allowed Spurs to attack excellently on the Counter Attack with the speed of Son, Berwijn and Lucas Moura.
A further analysis has shown that Harry Kane has been chief creator for them with 10 PL assists to his name.
Whilst this is a good return for him, it is worrying that Spurs' top goal scorer in the past 6 PL seasons has now turned into an assist machine rather than being at the end of the balls.
Hence, when supply is cut to Kane, Spurs find it difficult to get going. The unavailability of an out-and-out playmaker limits their ability to play between the opponents defence and midfield; limiting their creativity.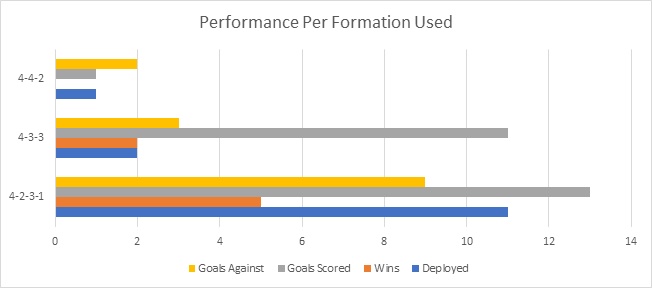 Spurs have recorded back-to-back losses in the PL after using their most relied on 4-2-3-1 and 4-4-2 formations. Jose may need to deploy Ndombele or Lo Celso or Dele Alli as the man behind Harry Kane to enable Kane to focus on the scoring whilst have a somewhat more designated creative spark behind the club's 3rd most prolific striker.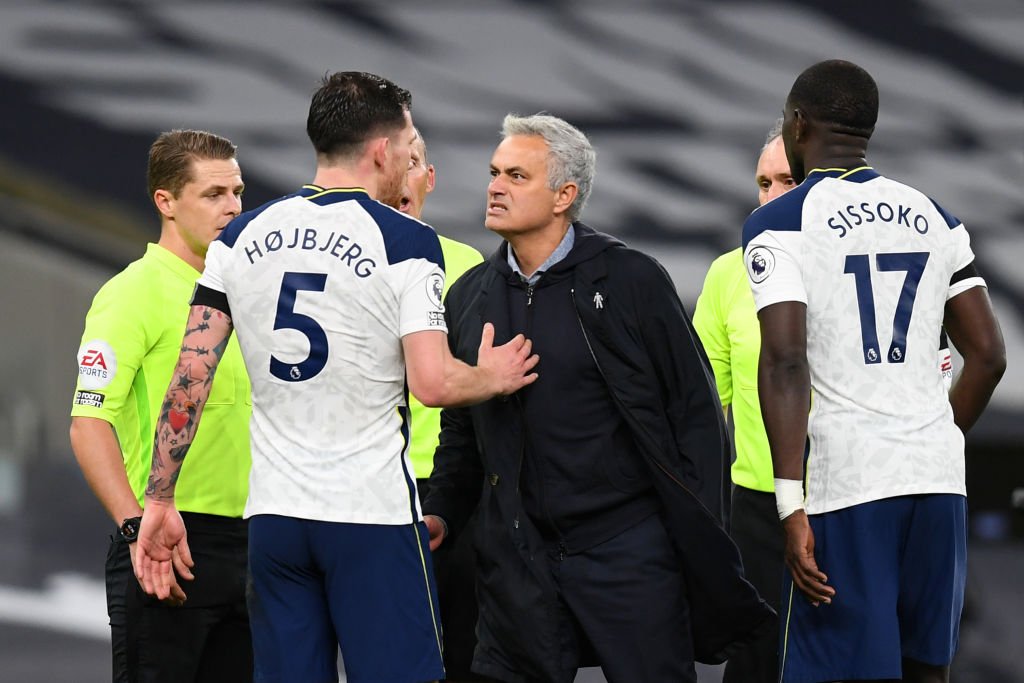 The goal output from the use of the 4-3-3 formation should inform Jose what he needs to do to return to winning ways and fine fashion as well.
The use of Hojbjerg as the man protecting the back 4 will offer the defensive platform the team needs to attack freely as they did against Southampton and Man Utd.
LACK OF SQUAD DEPTH
Squad Composition by Position
Positions
Spurs
Chelsea
Leicester City
Man City
Man United
Liverpool
GK
4
4
3
3
4
3
CB
5
5
4
6
6
6
LB
2
3
2
2
3
2
RB
2
2
3
2
2
2
CM
6
5
5
4
5
7
AM
1
3
2
1
2
0
LW
2
2
2
1
2
3
RW
4
1
2
3
3
2
ST
2
3
4
2
3
2
Total
28
28
27
24
30
27
A squad blessed with so much attacking talent is lacking in the defensive aspect.
Currently, Spurs has joint 4 lowest defensive cover at CB position amongst the traditional top 6 clubs. In terms of full-back talent, only 4 players are occupying those spots.
Similarly, Liverpool and Man City are experiencing the same phenomena. Spurs may have a bloated squad size of 28 owing to the team have an excess of centre midfielders and Right Wingers.
Spurs recruited in the off-season to shore up their defensive talent but failed to add to their attacking talent.
The additions of Bale and Vinicius offers alternatives to Harry Kane, but they have hardly made an impression so far. Spurs' inability to replace their creative playmaker in the form of Eriksen, has seen them rely too much on Son and Kane and their full-backs.
Investment in a creative playmaker would make sense for the club to ease the burden on their fantastic English-Korean duo.
Spurs can be proud of their early season form as it has been unanticipated. There is some tactical work to do regardless of the exciting performances.
Spurs need to re-introduce Dele Alli or deploy Ndombele and Giovani Lo Celso as attacking playmakers with little or no defensive responsibilities.
This will add another dimension to their attack or Mourinho will have a very sour ending to the year. An approach change is necessary and needed fast as Spurs face Leeds and Liverpool in January.