Accra Hearts of Oak, much like the COVID-19 case count in Ghana, have been on a steady rise since December 2020. Some attribute the Phobians' resurgence to the arrival of Kosta Papic.
Kosta Papic assembled the last Accra Hearts of Oak title-winning squad in 2008 and has already stamped his authority on this squad.
An assessment of the Phobians' tactical approach, Papic's Coaching and playing styles, as well as the morale within the Hearts of Oak camp, will be discussed to ascertain what really has brought this wind of change.
The key men for this resurgence will also be scrutinized whilst a prediction will be made on their fortunes in their next 4 fixtures.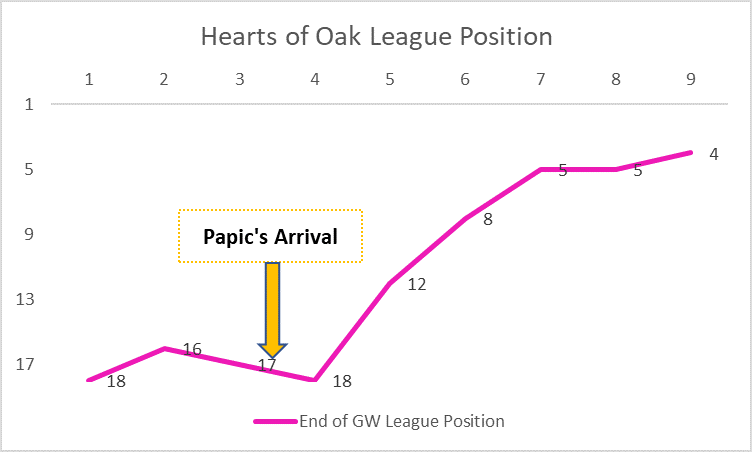 Tactical  approach
Diamond in the rough
The use of a progressive 4-4-2 diamond into a 4-3-1-2 and 4-3-3 shape has been a revelation for the Phobians revival. The 4-4-2 diamond has offered the defensive stability the Phobians required while allowing flexibility for the team to metamorphize into any shape in attacking transition.
The in-game flexibility has made the Phobians difficult to predict for many of their opponents.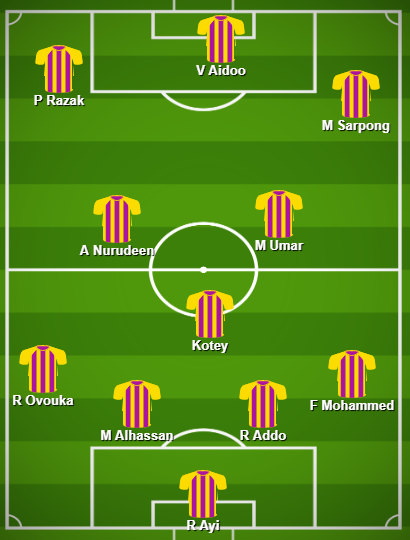 Style of Play
A key element of Hearts' style of play now has been the use of willing runners through the middle. The late runs from Michelle Sarpong and Manaf Umar have been excellent and dazzled many defences since Papic's arrival.
Hearts of Oak have been extremely fast with their build-up focusing on building from the back through Mohammed Alhassan who normally lofts a long back for the Phobian wingers to challenge.
As Hearts set up with a diamond, they can pick up loose balls and normally use that to bring their fullbacks into the attacking phase of play.
It is through that Fatawu and Ovouka have been most dangerous with intelligent runs and balls between opponents' fullbacks and centre backs which create goal-scoring opportunities for their marauding midfielders and target men.
Having goal-scoring midfielders will always offer an alternative avenue when Phobians are struggling to score and will be the difference-maker in their quest for their first league title since 2008/09 season.
The use of 4-4-2 also allows for the target man to either hold up the ball for midfielders to join in the attack or to flick on for wingers and the support striker to run onto or cushion the header back to an oncoming Manaf or Abdulaziz Nurudeen.
This has been quite a revelation in springing from defence quickly into attacks.
Coaching
Papic has shown a reluctance to change a winning side having featured the same 3 (Raddy Ovouka, Mohammed Alhassan and Robert Addo) of his back 5 throughout his reign.
The stability at the back has offered assurance to the man in the goal. Papic has shown a ruthless side by dropping Richard Attah after giving him a 2-game run in the starting lineup.
Papic's coaching has been somewhat heart-warming with many of the fringe players under Odoom now having a chance to play and make a claim for a permanent starting spot.
Papic has been confident whenever he has faced the media and made sure his words are not minced. He has shown he knows what it takes to manager\ Hearts of Oak and is doing his utmost best to show it.
Every good performance deserves a pat on the back and another opportunity to start. It is by that mantra that Papic has worked since taking over and continues to reward Michelle Sarpong, Manaf Umar and Victor Aidoo for their breathtaking performances since taking over.
Player Morale
As the results have improved, the pressure on the players has subsequently reduced. Consequently, the Phobian players can play their natural game free of any press or fan pressures.
It has made for a good watch for the neutrals whilst general morale in the camp has improved.
The players have refocused their efforts into better performances for the fear of the coach's' axe whilst also players understand what is at stake, the coveted Ghana Premier League trophy.
Key Men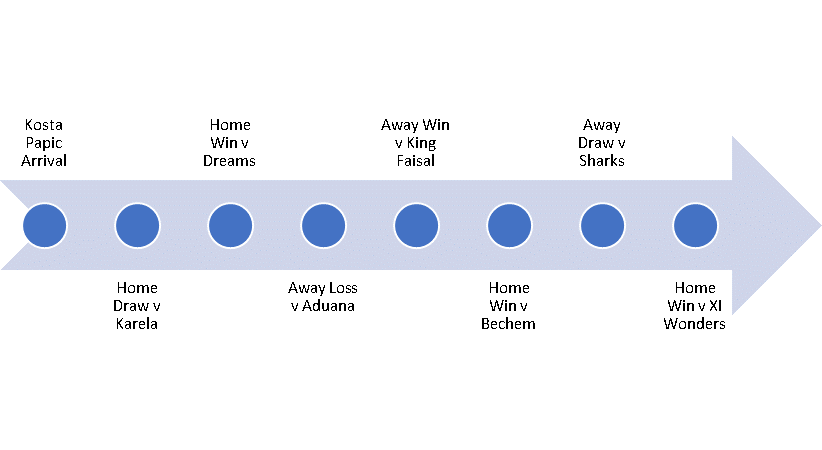 The key men for the revival of Phobian fortunes are obviously Kosta Papic, Victor Aidoo and Manaf Umar. Since arriving at Hearts, Papic's statistics speak for themselves.
He has the club playing attractive football whilst steadying the rate at which they concede.
Kosta Papic
His performance has been very impressive as Hearts are one of the top 3 goal scorers in the league and tied 2 in the least goals conceded.
At home as well, the Accra Sports Stadium has become a fortress with Hearts recording only 1 loss in 4 matches.

A good 79% of goals scored under Papic have been at home. A great home record can make the difference in a title race. Travels from Accra have to yield 4 points out of a possible 9.
This must improve if Hearts want to stand a chance in the title challenge at the end of the season.
Goalscoring midfielders are in vogue now. Hearts have an abundance of them and Papic has set his team up very well to make the most of it as 64% of Hearts goals under him in this second tenure have been from the midfield department.
Victor Aidoo
The man donning the famous 3 jersey for Hearts of Oak is proving his mettle as he has contributed a staggering 29% of Hearts of Oak's goals since Papic's arrival.
He has also scored in his last three games. His presence up top has also been useful as the Phobian full-backs have a target to aim for with their crosses.
Admittedly, only 1 of Aidoo's goals has really been crucial as it secured a point for the Phobians against Elmina Sharks. The other goals have only cemented Hearts' dominance over their opponents.
Manaf Umar
The little marauding midfielder has been excellent in the number 10 role since December 2, 2020.
He has been effective in hurrying their opponents into forced errors and has been a bundle of energy to disrupt any building play. Manaf's key contribution this season has been the goals.
He has scored 3 times with his most crucial goals coming against King Faisal and Techiman Eleven Wonders. All these goals secured maximum points for the Phobians.
Who's Next?
On the back of their impressive run in the league so far, Accra Hearts of Oak will be difficult customers for Berekum Chelsea.
The recent management change could hurt Berekum Chelsea and will see them record a loss against the resurgent Hearts of Oak.
The form would be out of the window for the Battle of Mansteland as Olympics will be visiting their co-tenants in a couple of weeks.
Olympics are one of the teams to beat this season however their youthful exuberance could cost them if a pragmatic approach is not taken for this game.
Kosta Papic knows the league can be full of surprises and would depend heavily on his men staying focused and approaching the games one game at a time.
That would make the difference as they face a trip to Medeama and host another Accra derby against Bashir Hayford's Legon Cities FC.
A total point outlay of 7/12 or 9/12 would be impressive for Hearts of Oak as they gently climb up the table.