After missing out on the English Premier League (PL) title the manner City did last season, Pep Guardiola knew he had it all to do this season.
His mettle as a coach would be tested. For a man full of innovation, Pep had to find a solution after Man City recorded there and Pep's highest (9) total number of defeats in a single season since he took charge of them and began his career respectively.
Question marks about Pep's ability to adapt to the PL have since been squashed as he secured back-to-back PL titles. 2019/20 offered a different question; Is Pep Guardiola as good as people make it seem, or it was all Vincent Kompany?
Pep Guardiola's start to 2020/21 season was not the brightest as he conceded 6 goals in 3 matches in all competition.
This prompted Pep to start thinking of a way to prioritize maximum protection for Ederson and his back four as well as ensuring Man City does not become blunt going forward.
In this presented a fine opportunity for Pep to go back to Benfica to enquire about their leading center back, Ruben Dias. Dias' arrival meant Pep next phase of his City project would be taking shape. Another ball-playing centre back to partner Aymeric Laporte would further strengthen Pep's philosophy of keeping the ball across the pitch in all departments.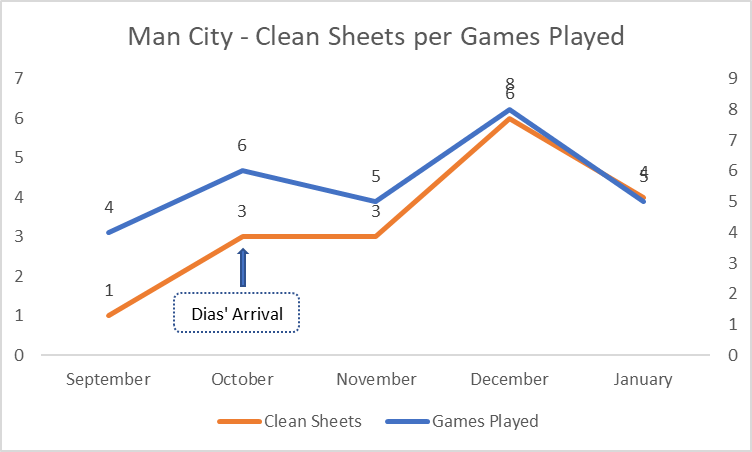 This acquisition meant Pep evolved his thinking process as a manager and decided to employ a pragmatic approach.
The free-flowing attacking football we have seen the past 4 seasons was adapted by Pep to allow for security at the back.
Pep Guardiola has since tried 10 different centre back partnerships since the start of the 2020/21 season to finally find a successor to Vincent Kompany as well as a well-drilled defensive pairing that would not be easily penetrated.
Evidently, the most preferred partnership has been that of Dias & Stones whilst injury problems have limited Laporte to making only a handful appearance with Ruben Dias.
Whilst Dias and Stones have been most selected, they have proved that the partnership is indeed working having kept 10 clean sheets in 12 appearances since Dias arrived.
This has coincided with Man City's imperious run since September where they have won 21 of 28 matches.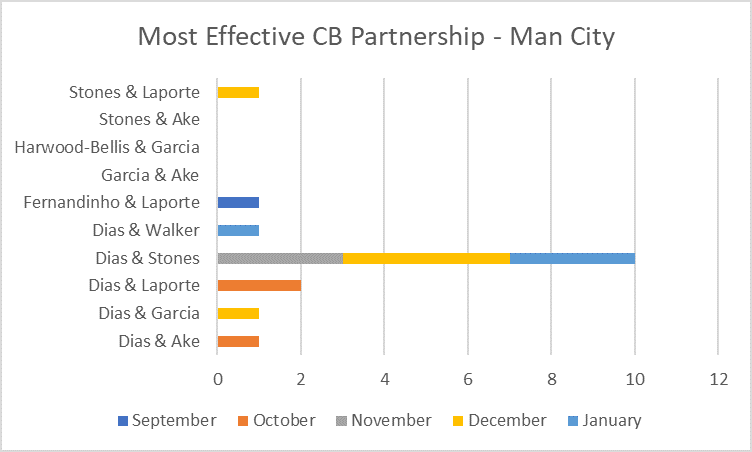 This is the making of champions; Man Utd, Leicester and Liverpool would need a miracle once City gets to the top of the league log. Dias has been vocal in the organization of the City backline whilst holding his position most often than not.
In the 2019/20 season, Man City's attacking, and defensive phases were riddled with individual errors that inevitably cost them in their pursuit for Champions League and PL glory.
A typical example was City against Lyon in the Champions League, an individual error by Ederson. Again, in the Manchester Derby, Ederson played another starring role, this time for Man Utd, as he gifted them the only two goals on the night.
Those mistakes needed to be stamped out. So far, this 2020/21 season, there have been less individual errors leading to goals with players keeping it simple.
The introduction of a vocal defender in Dias has meant any errors are better dealt with and stopped higher up the pitch to prevent a goal-scoring opportunity for opponents.
Tactical Innovation has been something Pep has been known for. A memory jogs back into 2020 will show Pep outsmarted Zidane and shown his tactical brilliance in their UCL face off.
Pep has done same with the introduction of inverted fullbacks joining in the midfield when City have the ball.
As seen per images, when the ball is focused on the left side, whoever has deployed the left-back role, sits inverted with the two attacking playmakers behind the forward line to ensure an overload in that side of the pitch.
The same is done on the right side. The player deployed as the defensive shield for the back 4 drops into the back 4 to offer an extra body.
Whilst there's that overload, it creates space on the opposite side for the City full-back and winger to take advantage of. Often, City would activate a fast breakthrough by switching play to that side.
That outlet has been effective in getting City into their opponents' halves quicker.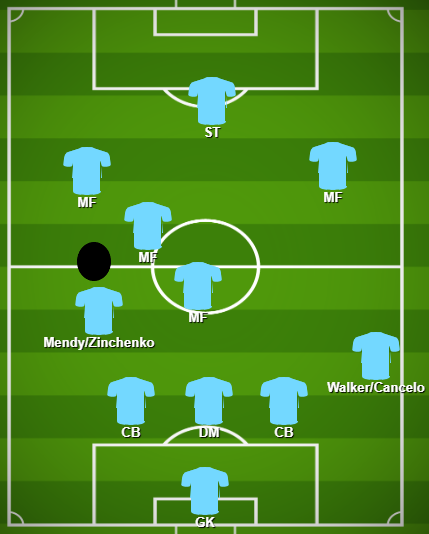 The problem of goal scoring has been a great concern for Pep, as a result, he has been forced to set up his team to focus on build-up play that brings the ball straight to the foot of whichever wide player is elected to lead the City forward line.
Injury problems of Gabriel Jesus and Sergio Aguero have also great contributors to this. However, Pep has found solace in the variety of goal scorers this season; 16 different goal scorers.
This might be the trump card needed in this quest to wrestle back the PL title from their North West neighbours Liverpool.
A tad early to make any predictions on the title challenge but on the back of the past 4 months, it is fair to say Manchester City have found their spark again.
Dias and Stones are earning plaudits already for their solid defensive partnership and Man City are scoring from all angles and positions, Pep will need to keep innovating to keep this run of form going as February will offer their sternest challenge so far as they face Burnley (A), Liverpool (A), Spurs (H), Arsenal (A), Mönchengladbach (A). March will start off with a Manchester Derby as well.
Pep has done well to reignite this charges but should his test pass the test of February, they would all but confirm their status as potential Champions elect if other results go their way.