"I'm done with football, and I don't want to have anything to do with the sport," a grim looking Ransford Osei says, with his head down.
At just 30 years, the once promising super star of Ghana football has called time on a career that promised so much, but delivered little. 
The dream start 
It's 2007, and Ghana's Black Starlets are competing in the U-17 FIFA World as one of three teams representing Africa at the competition.
As world football's lenses zero in on South Korea, 16 year old Ransford Osei from Kumasi is just three weeks away from announcing himself on the global scene. On the back of seven scintillating performances, the nimble-footed teenager emerges the competition's second highest goal scorer with 6 goals and takes home the Silver Ball.
His pace, skill, incredible instincts in the box climaxed with his amazing finishing ability, cemented his position as one of the best players in the competition, outshining the likes of Eden Hazard, James Rodriguez and Danny Welbeck.
In the months after the World Cup, he makes World Football magazine's list of the top 50 most exciting teenagers in world football, along with Gareth Bale, Mesut Ozil and Alexis Sanchez. Ransford Osei is slowly becoming one of the most valuable and sought after youngsters in the game.
But football, just like life itself, has shown that making it to the top requires more than just talent.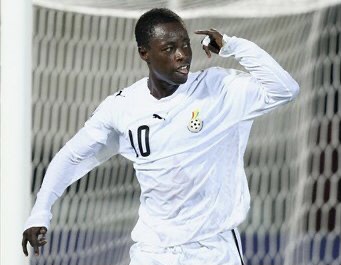 Beginning of a broken promise 
Osei returns to his club side Kessben FC after the World Cup, but he has his eyes set on one of the biggest clubs in the world. He just doesn't quite know how to get there yet.
Potential moves to Real Madrid and Dinamo Zagreb fall through, because of the failure of the said teams to meet Kessben's $1 million asking price.
Osei returns home from training one afternoon to a phone call. "Hi, is this Ransford Osei? My name is Pini Zahavi, a football agent, and I'm interested in you," the voice on the other end of the line says.
The super-agent, Pini Zahavi, who has helped broker some world football's biggest deals, including Didier Drogba's record move to Chelsea, watched him at the World Cup and is willing to move heaven and earth to acquire his services. The Israeli, eventually gets his way, getting Osei to fire his previous agent, and then goes on to pay Kessben FC $1 million for full ownership of the young forward.
Zahavi engineers a move to Manchester City for Osei. He sits on the same flight with the Da Silva twins, who are on their way to Manchester United, after impressing for Brazil, at the same World Cup. But after three months at the blue side of Manchester, Osei leaves, because of the club's difficulty in securing a work permit for him. His next stop is Maccabi Haifa, the Israeli champions, and a club closely affiliated to his agent.
The youngster struggles to replicate his fine form and is loaned to Dutch side FC Twente. From there, he links up with the Ghana U-20 team for their historic world cup win in Egypt. Like he did in South Korea 2 years prior, Osei is mercurial in his partnership with tournament top scorer Dominic Adiyiah, and contributes 4 goals himself, the 3rd highest tally at the competition.
It serves a reminder to the football world that his talents are still intact but a return to Twente is underwhelming as he fails to replicate the world cup form.
That costs him dearly as he is left out of the Ghana squad for the 2010 Africa Cup of Nations, where not less than 5 members of the triumphant U-20 team are picked for the competition.
But even that was nothing compared to the heartbreak of missing out on the FIFA World Cup in South Africa. Jonathan Mensah, Andre Ayew, Dominic Adiyiah, Samuel Inkoom and Daniel Agyei, all teammates from the U-20 world cup in Egypt, make the squad but he does not. It is a hard pill to swallow.
Eight months prior, it was difficult to imagine players making the leap to the Black Stars without Osei. But this is the reality that confronts him.
Crestfallen from the events of the last six months, he is shipped back to Israel at the end of the 2009/2010 season. Out of favour with his club, and seemingly out of Ghana's plans, Osei heads to Spanish outfit, Granada, looking to revive his rapidly sinking career. But the disappointment continues in Spain, as he struggles to play his way into the head coach's plans.
Starved of appearances, and slowly becoming surplus to requirements, Osei decides to put a hold on the European adventure.
He moves to South Africa and joins Bloemfontein Celtic, but yet again, he can't seem to find the form and brilliance that won him so many hearts earlier in his career. After just 4 appearances and one goal to his name, he returns home to join Ghanaian giants Asante Kotoko.
Here, he contends with a lot off field problems, which affect his already ailing game. Osei gets another opportunity outside Ghana, again in South Africa's Premier Soccer League, with Polokwane City, but the struggles continue. Moves to Finland and Lithuania follow, before injury strikes, and the 30 old finally decides enough is enough and hangs his boots.
At the end of his senior career, the once golden boy of Ghana has managed just 53 appearances, scoring 5 times. In other words, Ransford Osei scored more goals during the three week period at the 2007 FIFA U-17 World Cup, than his entire senior career put together.
What went wrong? 
"Early in my career, I wanted to stop football, because my coaches demanded too much from me at training. I was on the verge of giving up football, but Charles Taylor urged me to continue, because he felt I was talented enough to reach the very top."
Osei admits he has never had the strongest will, and is prone to giving up easily.
But nothing in life comes easy, and it takes a great degree of willingness, zeal and discipline to reach the top in the world of football, and it's clear that he lacked that from the very beginning.
Osei goes on to allude to how his love for women may have affected his focus during his career. He opens up about the overwhelming attention he received, once the fame started creeping in.
"I was a shy person, and never really approached women. But after the World Cup, the women began approaching me. They all wanted me, and I'm talking about very beautiful women too," he says with a smirk.

"I can't put a finger on what was the reason why my career never took off, but it seemed like anytime I felt things were going to change for the better, a setback happened," he continues.
Injuries affected him greatly during the early part of his senior career.
During his time at Asante Kotoko, he was very sure spiritual forces were involved in his struggles. "A supporter called and asked me to make time so they bath my in a certain river. Apparently is was custom for all new Asante Kotoko forwards, but I refused.

"I realized that anytime I played, I struggled with fitness. This wave of tiredness just overtook me after a short period on the field. That's when I started believing in "juju", he narrates looking downcast.
In Finland, it was a teammate badmouthing him to the head coach, which eventually led him to lose favour with the club's hierarchy, and subsequently his exit.
Fact is, nobody knows or can put a finger on exactly why he never made it, even himself. But the sad truth is that, he was supposed to be Ghana's answer to Samuel Eto'o and the heir to Tony Yeboah, but in the end, Ransford Osei's career has ended as if it never even began.