Manchester United manager, Ole Gunnar Solskjaer has made the bizarre claim that red banners at Old Trafford have hampered his side's home form this season and has had the bottom tier ones in the stands changed to black.
United go into their Europa League quarter-final second leg against Granada on Thursday with a 2-0 lead, having won the first leg in Andalusia last week. That was United's third win from three away from home in the Europa League, but they are yet to taste victory from two home matches in the competition this season.
In the Premier League, United's current 23-game unbeaten run away from home is bettered only by a 27-game run from Arsenal between April 2003 and September 2004, with all four of their league defeats coming at Old Trafford this campaign. And Solskajer has acted, in an unusual manner.
"If you look at all the banners around the edge they are not red anymore," Solskjaer said.

"We've looked into this," he said. "There shouldn't be a reason, really, but some of the players have mentioned that split-second decision you have to make where you look over your shoulder to see if your team-mate is there or not and the red shirt is on a red background with red seats.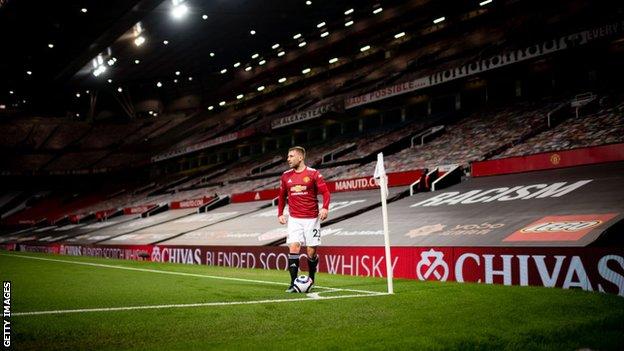 "I still think we've played some good football at home but we've tried to change that (backdrop) along with the anti-racism campaign. It was important it wasn't red anymore."

"When you have a 4-0 win away against Sociedad you don't have to win at home, and the first game against Milan, we conceded in the last minute. I still think we have played some good football at home.

"We started off badly with three defeats, Palace, Tottenham and Arsenal early on, but we have improved."