The football world was stunned when Chelsea's Timo Werner had a shot from point-blank range saved by Real Madrid goalkeeper, Thibaut Courtois, in the first leg of their Champions League semi-final on Tuesday.
Werner's ninth-minute miss, though not ultimately costly for Chelsea as they ended up with a crucial away goal in their 1-1 draw, was still shocking for many people.
While Blues fans tried to come to terms with another poor miss from the German striker this season, some rival fans were too astonished to even troll the player.
It appears even the players themselves could not understand how Werner had not scored.
Striker, Olivier Giroud, who was on the bench for Chelsea on Tuesday, who, rather than criticise his teammate for the miss, was more impressed with the save by Courtois.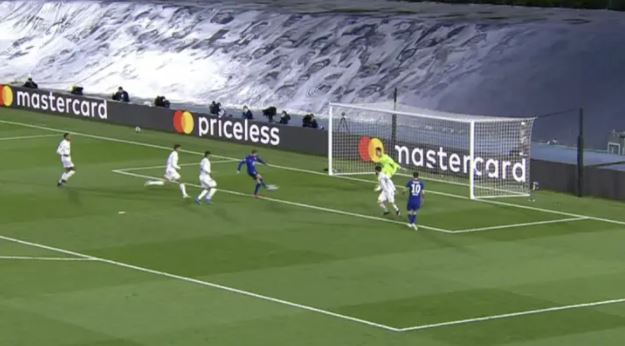 When they met in the tunnel at half-time, Giroud expressed his admiration for the Belgian keeper's effort to keep out his teammate.
"The save on Timo! pffff," Giroud said, describing it as incredible.
"All I did was stick my foot out like this," Courtois responded, demonstrating by sticking out his leg.
Christian Pulisic's opener for Chelsea was cancelled out by Karim Benzema's leveller, setting up a huge return leg at Stamford Bridge next week.
Olivier Giroud & Thibaut Courtois caught by RMC cameras talking about the Timo Werner miss last night.

Giroud: "The save on Timo! pffff."
Courtois: "All I did was put my foot out like this." pic.twitter.com/qwpvatJnyu

— Get French Football News (@GFFN) April 28, 2021
Take a look at the video below:
A la mi-temps du match entre le Real et Chelsea, Giroud et Courtois ont parlé du raté de Werner… pic.twitter.com/rp0pBbiI4c

— Le tacle assassin (@tacle_assassin) April 28, 2021