Fans of North London club, Arsenal were pleasantly surprised when it was revealed that they had added a new name to their ranks.
While his name might sound eerily familiar, 10-year-old Leo Messo is still an unknown quantity and joins Arsenal's academy.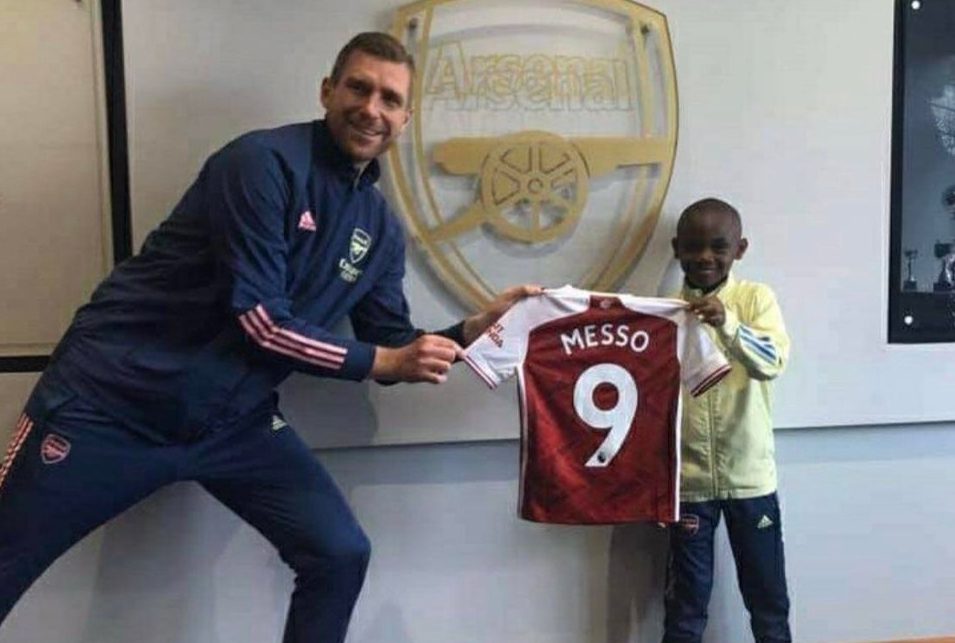 He was unveiled on Tuesday, with pictures of the Kenyan youngster posing with former Arsenal defender Per Mertesacker, who is also the current manager of the club's academy, being released on Wednesday.
Fans of the club have been digesting the news.
— Chris Wheatley (@ChrisWheatley_) May 19, 2021
While some acknowledge that it is a massive moment for the kid, others have responded in more humorous ways.
A few pointed out the obvious similarities between his name and that of Lionel Messi, stating that it's probably the closest the Gunners will get to signing the six-time Ballon d'Or winner.
Check out a few of the best reactions on Twitter below:
Closest we'll get to messi

— Ollie #KroenkeOut (@AFCOllie49) May 19, 2021
😂😂😂 I truly hope he makes it just for the name alone

— KING👑 (@_IKENNA_) May 19, 2021
No scout report needed the name 'MESSO' says it all.

— Orane (@oraneforlife) May 19, 2021
Best youngster itw screw Haaland mbappe mount foden

— afc_rajat (@afc_king_candy) May 19, 2021
So happy for this young Gunner!

— Red White Gooner (@RedWhite_Gooner) May 19, 2021
His father during his naming ceremony pic.twitter.com/SMF5IwVYeQ

— sandstorm (@Chinnan8) May 19, 2021
The boy has already won more trophies than Harry Kane.

— Engr Aminu Gawu (@AminuMineX) May 19, 2021
His brother is called Cristiano Ronaldi

— Simon (@shsharrington) May 19, 2021
Shades of old school Pro Evo when they didn't have the rights for all player names. Kid is delighted to sign for the London Reds. https://t.co/8HGgzaZBgB

— Simon Collings (@sr_collings) May 19, 2021
*Lionel Messi*: "username already taken"

Them: https://t.co/bodHEZDgS4

— DME 🇳🇦 (@dme__363) May 19, 2021
Balondor 2034 🔜

— Ismail™️ (@FcukKroenke) May 19, 2021
Go live up to the dreams of that name. If you achieve a quarter of what Messi has achieved, that will be a success!

— Dan Kurgat (@DanKurgat) May 19, 2021